Neatnik Saucer High Chair Cover ends 5/28
938 entries
782 Sandy VanHoey Enter Another Giveaway
Coby Snapp HD Digital Camcorder ends 5/30
3,822 entries
802 Michele Caldwell Lawrence Tweet About the Giveaway
4,928 entries
3349 Nancy Partin Tweet About the Giveaway
Terminix Mosquito Mister Lantern RV $80 ends 5/29
3,734 entries
2726 Sonya Morris Tweet About the Giveaway
Vtech Video & Audio Baby Monitor ends 5/28
3,993 entries
214 Dannyscotland Subscribe to OurKidsMom via email
*5 winners* SMOOBEE No Cry Hairbrush ends 5/28
2,554 entries
2140 Gladys Parker Tweet About the Giveaway
1558 Sherry Strode Enter Another Giveaway
762 Mary Cochrane Enter Another Giveaway
1638 Paul Tran Enter Another Giveaway
831 Diane K. Brimmer Bonus
Chuggington Wilson & the Ice Cream Fair DVD ends 6/4
735 entries
405 Christine Lamunyon Jessamine Subscribe to OurKidsMom via email
Miracle Grow Root Viewer Kit ends 6/4
1,329 entries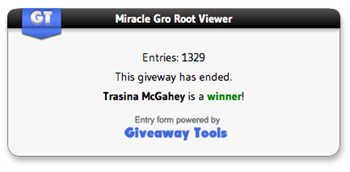 Tommee Tippee Bottles, Brush & Warmer ends 6/5
1,387 entries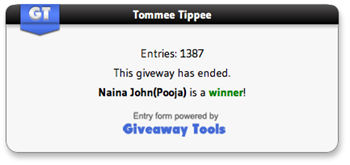 ConceiveEasy TTC Fertility Kit RV $152 ends 6/4
428 entries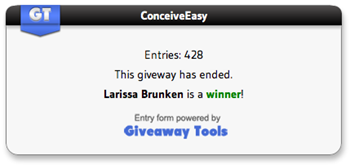 3 pcs French Toast School Uniforms end 6/6
592 entries
351 Taylor Marves Tweet About the Giveaway
Little Cosmetics Play Makeup ends 6/7
2,661 entries
Entry #399Nina K.
Carson Dellosa Learning Pack ends 6/8
844 entries
810 Tam Sweeps Enter Another Giveaway
Mohawk Area Rug RV $400 ends 6/8
5,098 entries
1401 Liz WiseowlDesigns Subscribe to OurKidsMom via email
Princess Diaries 1 & 2 Combo ends 6/8
1,007 entries
413 Heather Whowho Evening Tweet about the giveaway

A great big congrats to all the winners! All winning emails have been sent. Please respond within 48 hours to claim your prize and avoid a new winner being drawn.
More winners drawn next weekend!