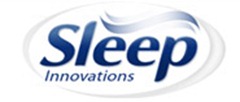 I have been on the hunt for a product that would help us get a better nights sleep without breaking the bank. With the extra expenses we've had this summer, a new mattress just wasn't in the budget.
A few months back I worked with Sleep Innovations on their REMedy kit for back to school. My daughter experienced some of the best sleep she's had in years on her mattress topper. When Sleep Innovations offered to have Shout! Media review their 4" Mattress Topper and Rejuvenation Pillow I was beyond excited.
4" Memory Foam Mattress Topper
Sleep in luxury on this 4-inch high memory foam mattress topper from Sleep Innovations. To ensure comfort and support, the king-sized topper combines 2 inches of pillow-like microfiber and 2 inches of 100-percent polyurethane memory foam with a 3-pound density. The memory foam responds to an individual's body weight and temperature as it conforms to embrace the body's shape. By hugging the curves rather than pushing back against the body, the topper offers pressure point relief to increase circulation. Memory foam also holds the body in proper alignment and minimizes motion transfer, enabling couples to sleep more soundly together. To optimize air circulation and regulate the surface temperature, the mattress topper includes patented open-cell technology.

A 300-thread-count 100-percent cotton quilted cover protects the topper; an attached bed skirt fits over the accompanying mattress to prevent the topper from sliding around. Removable for easy cleaning, the topper is washing machine-safe. An antimicrobial finish on the topper deflects mold and mildew while the memory foam's hypoallergenic nature provides comfort for those with allergies. A great compromise to a mattress purchase, the topper can be used on top of innerspring or memory foam mattresses alike and comes in twin, full, queen, and king sizes.  The King sized topper measures 80 inches long by 76 inches wide by 4 inches high.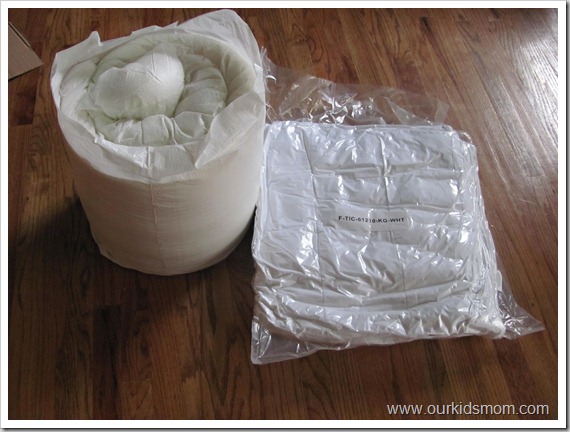 I was surprised when the package came and it was a fairly reasonable sized box. It weighed a ton though! To the left is the actual memory foam and to the right is the mattress protector/cover for the memory foam.
After unpacking the memory foam, letting it "rest" a bit and reading the directions I found that I should allow 72 hours for full expansion. The instructions mention that it is more than alright to sleep on it during the recovery period as our body heat will actually help in this process (good! I'm not sure we could have waited 72 hours to try it). I was pretty impressed with the initial expansion as it was thick and inviting to begin with.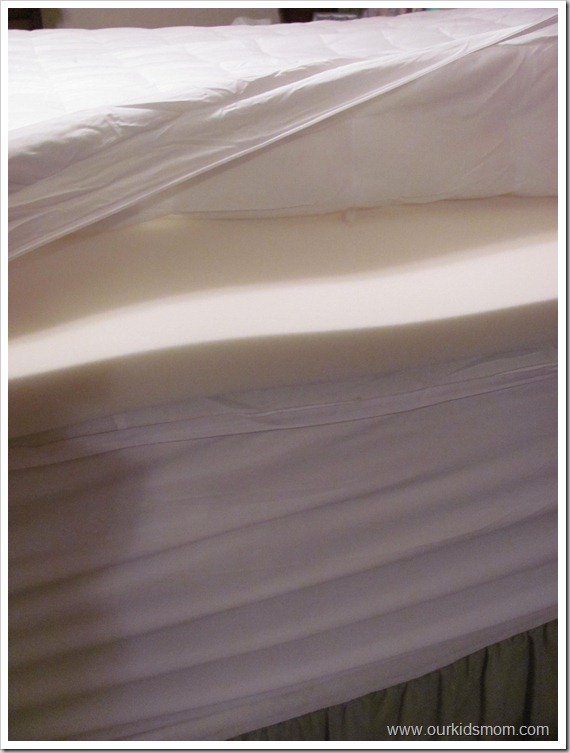 We put the mattress protector on, unzipped the cover and positioned the memory foam… then we zipped it up like a sleeping bag! The topper measures 80 inches long x 76 inches wide x 4 inches high when all is said and done.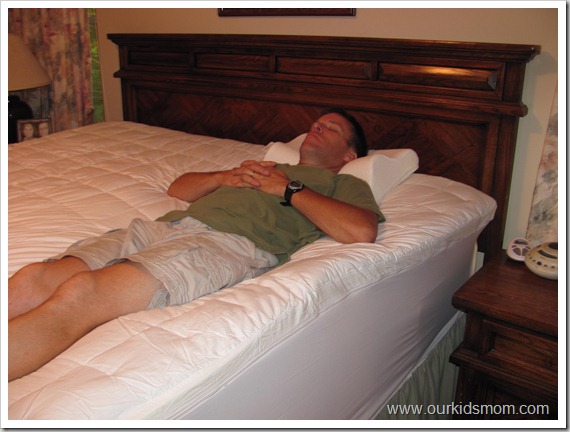 The cover features a quilted/padded top that mimics a pillow top. It was incredibly inviting and as soon as the camera was put down all of us climbed on the bed

.
So, how did the sleep test go? Our bed, before topper, has two big sags from where my husband and I lay. It's way beyond it's prime, but what are you gonna do when the money just isn't there? You can see that my husband did still sink a little when laying on the topper, but there was a plush support there that the mattress no longer supplies.
I fell asleep very quickly that night! Up to this night I had been waking at least twice a night and having difficulty falling back asleep around 2 am. Now I not only fall asleep quickly, I sleep more soundly and my 2 am awakenings are few and far between! I am so happy to have found a product that will extend the life of our mattress for awhile so we can save up to replace it. The mattress topper comes with a limited ten-year warranty, too!
Did you know that ….
A Memory foam mattress topper placed on a conventional mattress results in far fewer areas of pressure and less pressure compared with the same conventional inner spring mattress without the topper. Memory foam reduces pressure points by evenly distributing your body weight across its surface. The push-back pressure, (shown in red) experienced with conventional innerspring mattresses, is virtually eliminated with memory foam.
(The map is based on the same person lying in the same position Female – 150 lbs. – 5-'5″)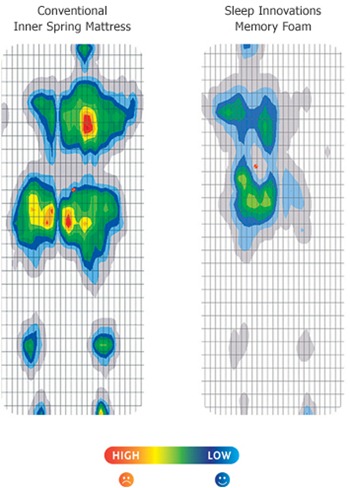 I would highly encourage anyone that has an older mattress set that they'd like to extend the life of to purchase a Sleep Innovations Mattress Topper.
****
Sleep Innovations also sent us a Rejuvenation Pillow to help us on our quest for a great nights sleep.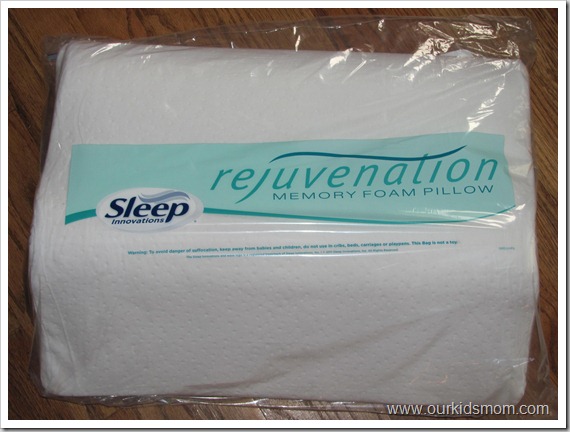 The Rejuvenation Pillow is designed to support you at the ideal sleeping angle, relieving pressure, keeping your air passages open and maintaining correct, comfortable head and neck alignment. You'll breathe better, so you'll fall asleep faster and sleep more soundly-with fewer nighttime awakenings and interruptions.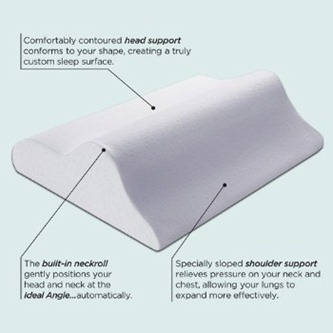 The Rejuvenation pillow is unique in that it not only helps you get a good night's sleep, but if will give you a deeply restful, recharged rest to get you ready for the morning.
 The Rejuvenation Memory Foam Pillow helps provide more REM (Rapid Eye Movement) sleep: the deeply restorative sleep you need most.  The increased air flow will provide vital oxygen your body tissues need to repair themselves overnight.
The Rejuvenation pillow offers a cradling comfort of top quality premium memory foam. Between the built-in neckroll and the shoulder support, your head and neck are at the ideal angle and you're the pressure on your neck and chest is relieved allowing your lungs to expand more effectively.
It was Kaytlin's turn to test drive a memory foam pillow. After all of us eagerly took our turn laying on it to see how it felt, she eagerly accepted the challenge. Although she has a Sleep Innovations mattress topper, she still has problems with her neck and shoulders on occasion. She is a side sleeper and was glad to see that the contour is as effective for side sleepers as it is for back sleepers. She hasn't complained of neck or shoulder pain in a couple of weeks now and when asked if someone else in the family can try the pillow, she refuses

. I am a little sad I didn't insist on sleeping on it a few nights as my initial test rest on it was very comfortable and the memory foam wasn't too hard (I've tried a few of those!). I'm happy that she has found her sleep solution, though.
BUY IT:
You can purchase the Dual Layer 4″ Mattress Topper (king size) for $154.65 (regular price $229.99)
and the Rejuvenation Memory Foam pillow for $59.44
WIN IT:
ONE OurKidsMom reader is going to win both the 4" Mattress Topper (choice of size) and the Rejuvenation Memory Foam Pillow!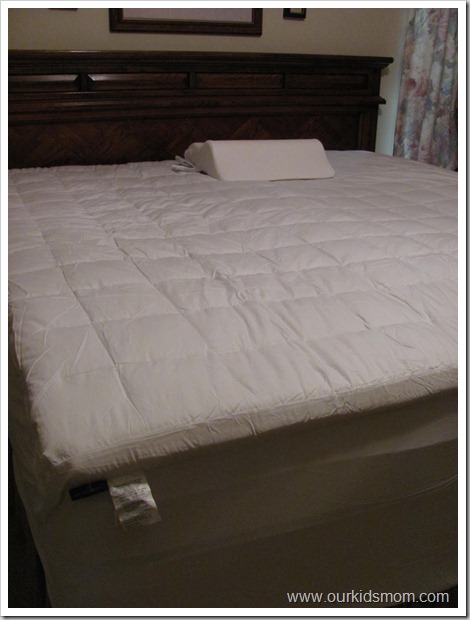 TO ENTER:
Simply follow the directions in the widget below. It's that simple.
COMMENTS DO NOT COUNT AS ENTRIES…
but they are still very much appreciated and adored :O)
****
This campaign is being cross promoted through Shout! Media.
Check out these other great reviews to hear their thoughts about Sleep Innovations!
Rules:
You do not have to be a blogger to enter/win. An email address is required to enter. The winner will be chosen randomly through Rafflecopter and contacted via email. A reply to the winning email is required within 48 hours before a new winner is chosen. One person entering per household please. U.S. only.
This giveaway ends at 12:01 AM EST on September 29, 2011.
Disclosure of Material Connection: I received one or more of the products or services mentioned above for free in the hope that I would mention/review it on my blog. I only recommend products or services I use personally and believe will be good for my readers. I am disclosing this in accordance with the Federal Trade Commission's 16 CFR, Part 255: "Guides Concerning the Use of Endorsements and Testimonials in Advertising." The opinions expressed in this post are entirely my own. Your experience with the product may differ from mine. The sponsor is responsible for prize fulfillment and will be shipping the winner(s) their prize(s). For more information read my disclosure policy.