SentrySafe Fire Safe ends 6/15
3,663 entries
2276 Birdie Skolfield Leave a Blog Post Comment
Chuggington Bubbles & Balls ends 6/11
1,510 entries
751 Sandy VanHoey Enter Another Giveaway
SimpliSafe Home Security System RV $479 ends 6/18
3,134 entries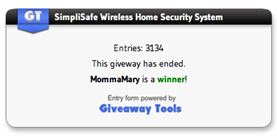 Pair of Curtains from IKEA ends 6/22
3,661 entries
257 Diane K. Brimmer Tweet About the Giveaway
Glow Bugs Diapers & Laundry Tarts Detergent ends 6/15
7,398 entries
2029 Jojo Viola "Like" The Laundry Tarts on Facebook
$50 gc Simple Stencil Vinyl Transfers ends 6/22
2,286 entries
1220 Kimberly Bauer Tweet About the Giveaway
Serenity Gel Pillow 2 Pack ends 6/22
6,563 entries
1055 Debbie Jackson Subscribe to Grinning Cheek to Cheek via email
12" Mrs. Fields Cookie Cake ends 6/25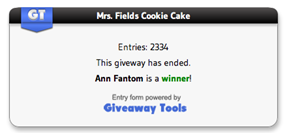 Hot Wheels Wall Tracks ends 6/25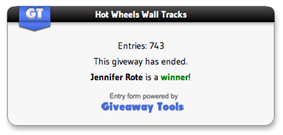 78720 total entries
Entry #42455 Regan S.
Quick Adjust Resistance Band ends 6/28
1,523 entries
1256 Mary Gardner Follow @ourkidsmom on Twitter

$100 Tea Collection GC ends 6/27
6,246 entries
4174 Athena Demetro "Like" Teacollection on Facebook

A great big congrats to all the winners! All winning emails have been sent. Please respond within 48 hours to claim your prize and avoid a new winner being drawn.
More winners drawn next weekend!