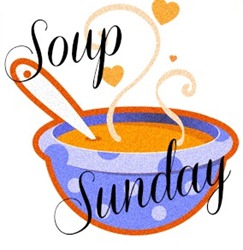 This week I tried a recipe that was mailed to me unexpectedly. I was surfing the web looking for a new recipe to try for the family and this popped up in my email. It was submitted to me by the founder of eMeals.com, Jane DeLaney. I substituted TVP for the ground beef and vegetable broth instead of chicken to make it vegetarian friendly.
My family devoured this soup in a matter of minutes. Emma is my ultra picky girl that doesn't like noodles. It was easy to sift through and pick the noodles out leaving a bowl of yummy soup she finished to the last drop. Leftovers were more "lasagna-like" as the soup solidified a bit and was more "stoup" than soup.
Lasagna Cheese Soup
* I substituted TVP (texturized vegetable protein) for the ground beef. You can also use Boca meat crumbles to make it vegetarian friendly. * I also used vegetable broth instead of chicken broth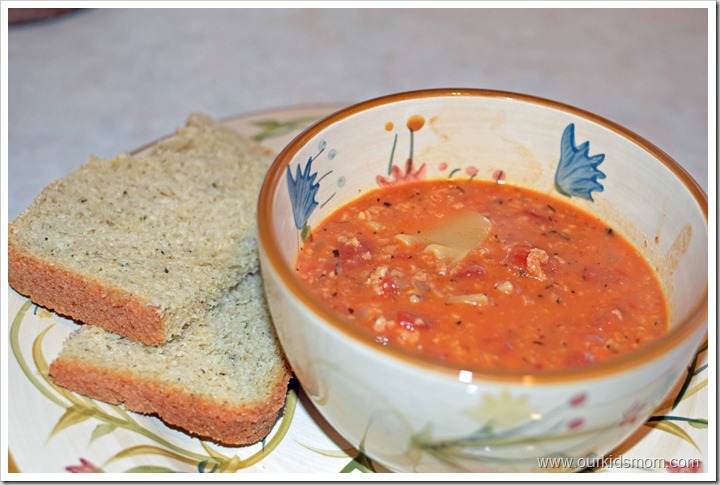 Ingredients
1 lb ground chuck (Veg Options: TVP or Boca Crumbles)
1 onion, chopped
1 tablespoon minced garlic
1 (32 oz) box chicken broth (We used Veg. Broth)
1 (14.5 oz) cans petite diced tomatoes
1 (15 oz) can tomato sauce
1 tablespoon brown sugar
2 teaspoons Italian seasoning
½ teaspoon salt
2 cups broken lasagna noodles (1 inch pieces)
1 (5 oz) package shredded parmesan cheese
Instructions
In a large soup pot, combine ground chuck, onion and garlic; cook over med-high heat for 8=10 minutes or until beef is browned and crumbly. Drain Well.
**** If using vegetarian options I dribbled a little olive oil in the pan and browned the onion and garlic. ****
Stir in broth, tomatoes, tomato sauce, brown sugar and seasonings (this is where I added the vegetarian "meat"). Bring to a boil; reduce heat and simmer for 15 minutes. Add noodles and simmer until noodles are tender. Stir in cheese.
I paired the soup with Italian Herb bread for the bread machine that I adapted from AllRecipes.com. This bread has a subtle Italian undertone that makes it great paired with this soup. If you want to take it up a notch, spread butter and cheese on it and broil… making garlic bread. Yum!
Italian Herb Bread for the Bread Machine Recipe
This is a mild italian seasoned bread that makes a great garlic bread or stand alone dipped in the Lasagna soup. I double the recipe to make a 2 lb loaf easily.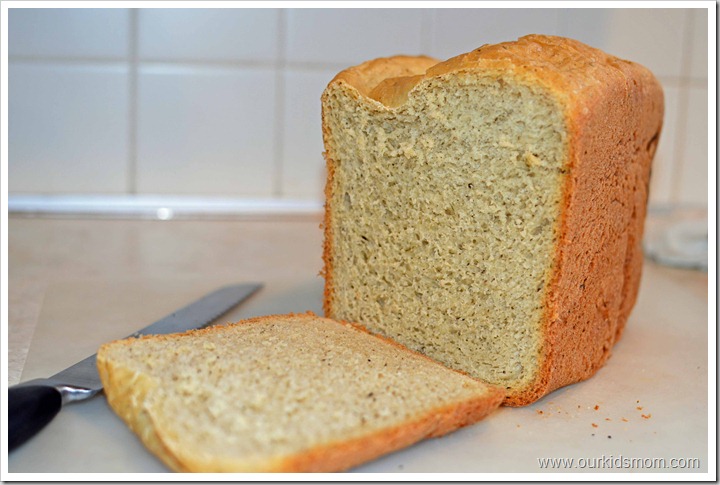 Ingredients
⅔ cup warm water (110 degrees F/45 degrees C)
1¾ cups bread flour
2 teaspoons dry milk powder
2 teaspoons white sugar
1 teaspoon salt
1 tablespoon grated Parmesan cheese
1½ teaspoons Italian seasoning
1½ tablespoons margarine (I used olive oil)
1¼ teaspoons active dry yeast
Instructions
Place ingredients in the pan of the bread machine in the order recommended by the manufacturer.
Select the Medium Crust and Basic/White Bread settings, and press Start.