Our family enjoys a good homemade pizza. For as long as I can remember we have used this no yeast pizza crust recipe, but this particular night I was craving a crust that is a little lighter and bread-like. I didn't have the patience to wait hours for multiple rises, so I needed a quick yeast recipe. I stumbled on this recipe and went to work.

Quick & Simple Yeast Pizza Crust Recipe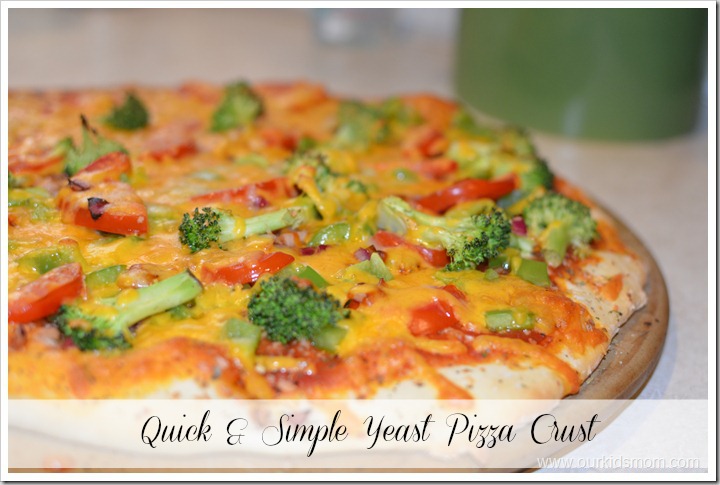 Prep time:
Cook time:
Total time:
Ingredients
1 (.25 ounce) package active dry yeast
1 teaspoon white sugar
1 cup warm water (110 degrees F/45 degrees C)
2½ cups bread flour
2 tablespoons olive oil
1 teaspoon salt
Instructions
Preheat oven to 450 degrees F (230 degrees C). In a medium bowl, dissolve yeast and sugar in warm water. Let stand until creamy, about 10 minutes.
Stir in flour, salt and oil. Beat until smooth. Let rest for 5 minutes.
Turn dough out onto a lightly floured surface and pat or roll into a round. Transfer crust to a lightly greased pizza pan or baker's peel dusted with cornmeal. Spread with desired toppings and bake in preheated oven for 15 to 20 minutes, or until golden brown. Let baked pizza cool for 5 minutes before serving.
Notes
Amount Per Serving Calories: 189 Total Fat: 4.1g Cholesterol: 0mg Sodium: 293mg Total Carbs: 31.9g Dietary Fiber: 1.2g Protein: 5.5g
We don't use prepared pizza sauce. We simply pour enough tomato sauce on the pizza to taste and sprinkle a little garlic salt, minced onions and Italian Seasoning on it. We like to top the pizza with a lot of veggies. This particular pizza was topped with green peppers, red onions, slices of Roma Tomatoes and broccoli. We were out of pizza cheese so we used a little cheddar and it was yummmmmmy!