Last November I introduced you to PartyLite and their 5-wick candles. PartyLite candles are high quality, long lasting candles with wonderful aromas.
I am excited to be able to introduce you to PartyLite's newest candle, the GloLite.
INTRODUCING THE MOST ROMANTIC CANDLES IN THE WORLD
An Entirely New Kind of PartyLite Candle – GloLite –Makes Its Debut
Candlelight is always romantic.  But the actual candle light?  It's usually just the sweet little flame at the top.
Now, however, PartyLite®, the world's number one direct seller of candles, candle accessories and home fragrance products, is introducing a totally different kind of candle.   It's called GloLite™.   It's absolutely gorgeous.  It's frankly irresistible.   (And bathed in its light, you may be, too.)
Imagine this: you light the wick of this stunning pillar, and the entire candle instantly begins to glow…and GLOW!   From top to bottom, its  richly textured wax becomes dramatically illuminated.  It radiates an elegant, compelling light you've probably never experienced before.
Suddenly, a simple pillar candle has been transformed into a beautiful, sensual piece of glowing sculpture.   You're intrigued.   You try three different heights together.  You dim the lights.  The glow becomes mesmerizing.  Now, you can't take your eyes off them.  You feel yourself being drawn to their light.
You set them an inch or two apart in groupings around the room.  Three on one table; three on another.  Five on the mantel.  A trayful in a corner. You turn off all the lights.
The entire room has changed!
Furniture, fabrics, and wall color all recede into the softly shadowed background.   What remains is a new, magically glowing space.  It looks and  feels amazing – organic, seductive, fascinating.
Now you've got the picture – romance in a whole new light.
GloLites are make right here in the United States. The outer wax is richly textured, and the glow is nuanced.  The experience feels genuine and organic.  Each candle is individually hand-crafted, so slight variations in color and texture may occur, and no two are exactly alike.  You will create the most drama by arranging these candles in odd numbers and in varied heights. They are slow burning and long-lasting, allowing you to enjoy the magic for longer than a comparable sized standard pillar candle (see below).
And what happens while the GloLites are glowing?  That's entirely up to you.
The new GloLite is available in two light and fresh fragrances. The white candles, Sea Salt & Driftwood, smell of salty air blends with watery notes and a touch of warm driftwood for a clean and calming fragrance. The blue candles, Calm Waters, smell of cool citrus tempered by soft, floral nuances that wash over you like a serene ocean breeze.
I was sent a set of three candles in the Calm Waters scent. The first thing I noticed was the fragrance. The citrus and floral scents mingled just right… I couldn't smell one over the other really. It was such a light and airy fragrance… nothing overpowering. Sometimes the scent from a candle can almost knock you over but this was more like a "background" scent.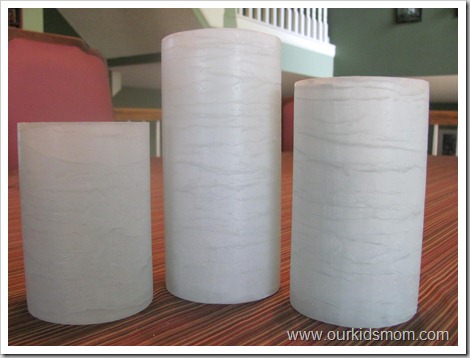 After reading about how each candle was handcrafted I was eager to check them out. I noticed that each candle has a lovely mottled surface that looks very textured and organic. The look is very unique and unlike any other you might find at the local "marts". After grouping and lighting them I noticed that the glow was mesmerizing… they were gorgeous and very romantic.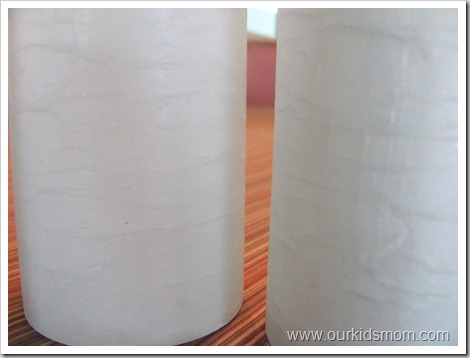 The pillars glow from top to bottom and burn down the inside leaving the outer core. The result adds to the organic feel and gives them an original look unlike an ordinary pillar candle. The burn time on these is fantastic… the 3×4 burns 40-55 hours, the 3×5 burns 60-75 hours and the 3×6 burns 85-105 hours. That's a lot of use from a little candle!  I like to burn my candles after sunset as a mood setter… to calm and settle down from a long day with the kids. They help me unwind and the scent is soothing. These go well in the living room, but the scents go well for bathroom use. Maybe mom could use them while soaking in a bubble bath this Mothers Day? *hint hint*
BUY IT:
GloLite candles come in three sizes and can be purchased at partylite.com (or call 1-888-999-5706):
3"x4"  – $14.95
3"x5"  – $16.95
3"x6"  – $18.95
3 Piece Pillar Garden – $44.95

WIN IT!
One OurKidsMom reader is going to win a set of 3 GloLite candles in their choice of scent!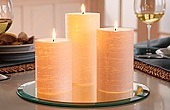 This giveaway ended at 11:59PM EST on May 13, 2011.
Disclosure:
This post was written me and was not edited by anyone. The opinions expressed in this post are entirely my own and have not been influenced in any way. I received a sample for review purposes only. I was not compensated for this post. The sponsor is responsible for prize fulfillment and will be shipping the winner(s) their prize(s). For more information please read my disclosure policy.