Oriental Coleslaw Recipe
I am not a coleslaw lover, so years ago when I was offered a scoop of this Oriental Coleslaw at a Boy Scout get together… well let's just say I accepted it so as to not hurt her feelings. Two bites in I realized how amazing this slaw was and as I finished off the scoop she gave me I was trying to figure out how to ask for seconds without looking greedy. I was fortunate that she was flattered when I asked for the recipe and I have been making it for family get togethers ever since. I have tweeked the recipe a little as our dietary focus changed, but the overall taste has never been better.
This recipe is perfect for upcoming spring & summer picnics and get togethers. It's easy to make, travels well and is packed with fiber, protein from the nuts and monounsaturated fatty acids from the olive oil.
Oriental Coleslaw Recipe
Perfect for spring/summer picnics, travels well and it packed with fiber, protein and monounsaturated fatty acids.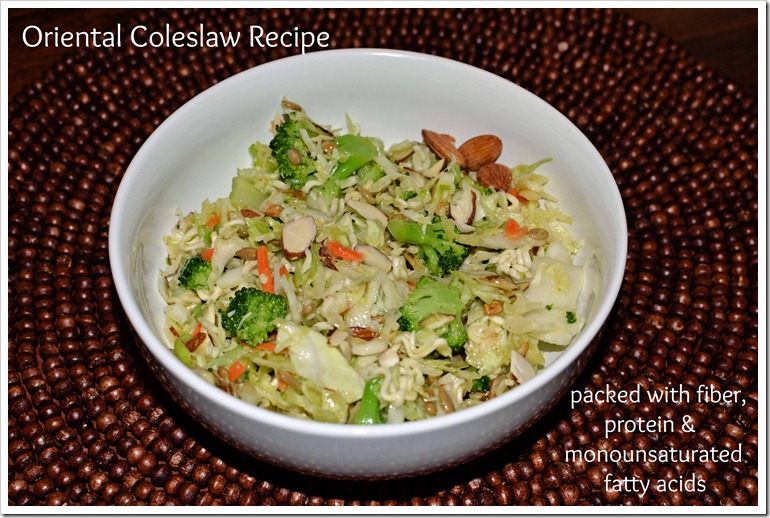 Ingredients
3 (16-ounce) bags of coleslaw mix
1½ cups sunflower seeds (raw or roasted)
1½ cups sliced almonds (raw or roasted)
3 packages Ramon noodles
frozen broccoli (optional & to taste)
1 bunch green onions (optional)
(dressing)
1½ cups olive oil
¾ cup sugar (organic, cane.. your choice)
⅓ cup white vinegar
3 seasoning packets from the Ramen noodles (optional)
Instructions
In a large bowl mix coleslaw mix, nuts and green onions (optional)
Put the Ramen noodles in a ziploc bag, seal and crush (I hit it with a rolling pin... it's theraputic)
Add Ramen noodles to the mixture
Mix olive oil, sugar, and seasoning mix if you choose to add (leave out for vegetarian)
Mix with a spoon or by hand. I find that tossing by hand is more efficient.
Keep chilled until ready to transport or serve.