We are continuing our Home Makeover series in the kitchen with the Amana Self Cleaning Electric Range.
Two summers ago, my oldest son dropped something on our glass cooktop stove… and it cracked. After a few tears on my part we began to search Craigslist for a replacement as our budget wouldn't allow a new replacement at the moment. We found this white range below in decent shape and brought it home.
Last summer our fridge bought the farm. This time our budget did have room for a new replacement… so we bought a stainless side by side. A few months after that our over the range microwave also stopped working. Again we purchased a new stainless model. Although, at the time, I said having a mixture of white and stainless didn't bother me… it eventually did.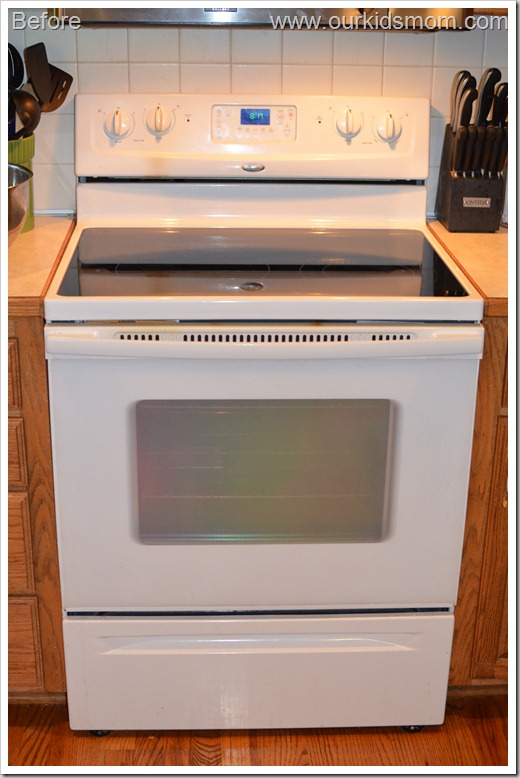 It was time to finally bid adieu to our white range and say hello to an Amana 4.8 cu. ft. Self-Cleaning Electric Range. I'm sure the delivery men thought I was a crazy woman standing outside in 100+ degree weather barefoot taking pictures, but I was excited to see them arrive!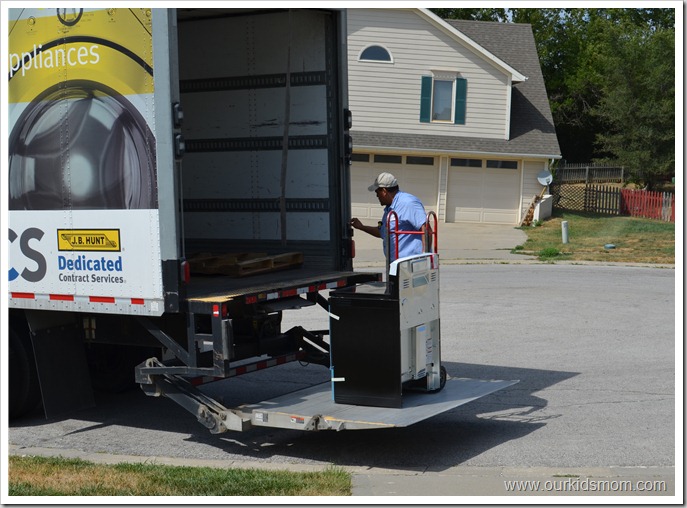 Some overall features

(2) 10″ 2,500 Watt &

(2) 6″ 1,200 Watt Ribbon Radiant Elements

Easy Touch Electronic Oven Controls

Adjustable Self-Cleaning Oven

Electronic Clock with Timer

Oven Control Features

Self Clean Oven Clean Time is Adjustable

Oven Light Switch On Control Panel

Oven Control Display Colors are Green

Oven Control Location on Console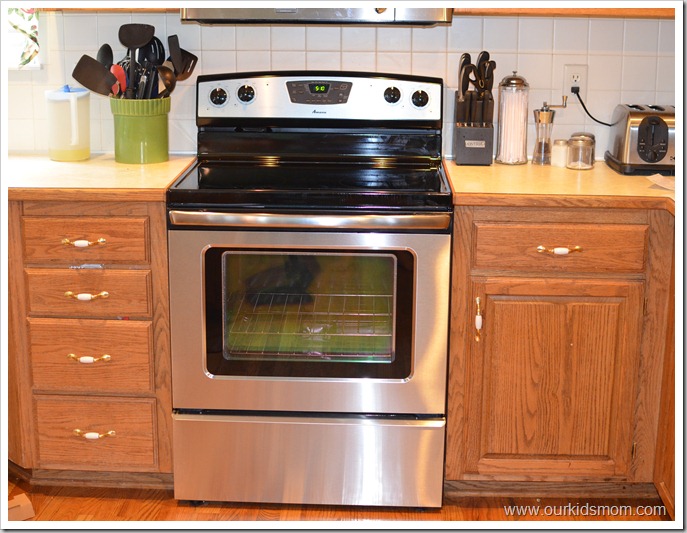 As you can see, the new range looks fabulous in it's new space. I am totally not used to having so much black in an appliance, but I have to admit that it does look sharp with the stainless. One thing I immediately noticed with the new range compared to my old one is that the window in the door is completely clear. My old range was frosted so I could easily hid a pot inside (I typically do this with our popcorn pan) without seeing it when glancing at the range. This isn't a huge issue… I just have to be a little less lazy and actually clean my pot now.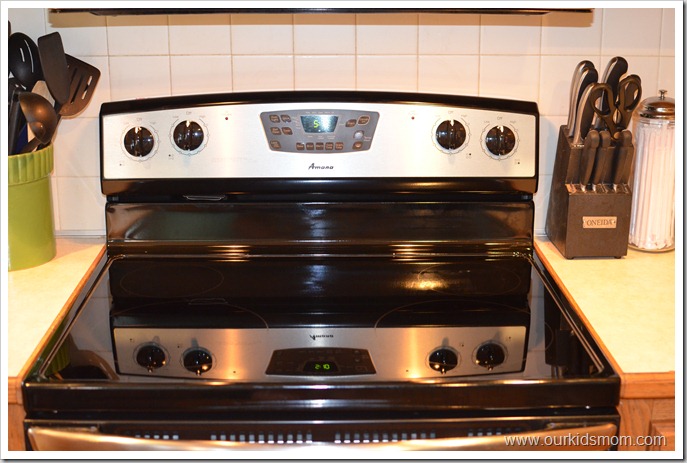 The cooktop is obviously glass, but what I failed to photograph well is that although the circular sections are completely smooth, the outer sections (the ones that don't get hot) are very slightly textured. I'm not sure of the functionality of this, but it gives a nice look.
As far as heating, we've tested all 4 burners now and all heat up quickly and evenly. We generally use the 2 front larger burners for our main cooking and keep the 2 back smaller burners for keeping things warm.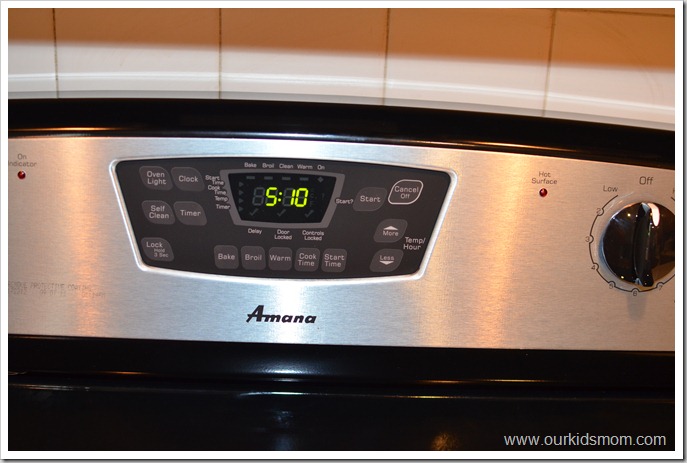 The "dashboard" is all digital. All of the available features are fairly self explanatory and user friendly. I have yet to crack open the manual to figure out how to use a specific feature. One thing in this photo that makes me giggle… take a look at the lower left hand corner you can see very faint lettering. It took me nearly 3 days to realize there was a removable protective film on the dash.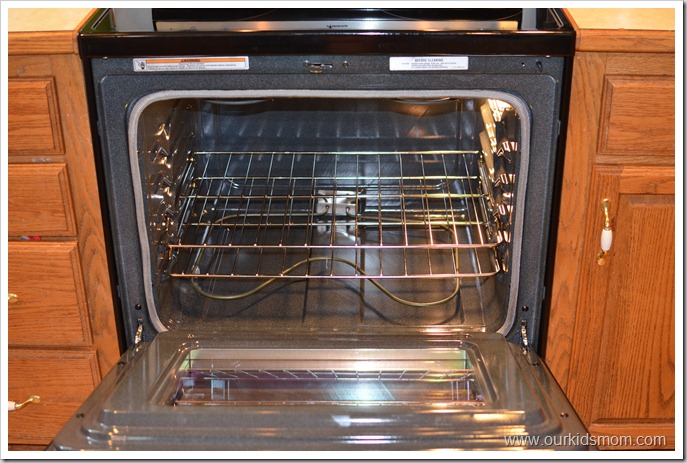 The interior of the range is roomy and fairly typical as far as ranges go. One thing we are loving about this range compared to our older one is the preheat time. Our old range had the heating element under the floor of the oven and it took forever to warm up. This oven makes cooking for my family easier on two levels… I have room for enough food for six and I don't have to pre-plan every meal to warm my oven for 15-20 minutes. The Amana range preheats in a matter of minutes which is perfect for spur of the moment cooks and bakers like myself.
My overall impression of the Amana Self Cleaning Electric Range is a very favorable one. It looks sharp, has plenty of room in the oven, the cooktop heats up evenly and cleans up nicely with glass cooktop cleaner, the oven heats up quickly and accurately and the controls are super easy to use!
Connect with Amana:

http://twitter.com/ourkidsmom/status/233970702385041408
Disclosure of Material Connection: I received one or more of the products or services mentioned above for free in the hope that I would mention it on my blog. I only recommend products or services I use personally and believe will be good for my readers. I am disclosing this in accordance with the Federal Trade Commission's 16 CFR, Part 255: "Guides Concerning the Use of Endorsements and Testimonials in Advertising." The opinions expressed in this post are entirely my own. Your experience with the product may differ from mine. The sponsor is responsible for prize fulfillment and will be shipping the winner(s) their prize(s). For more information read my disclosure policy.