Last year the kids and I were fortunate enough to go see Yo Gabba Gabba! Live! for Emma's 4th birthday. We had a good time and they talked about it for days afterward. So when we were given the opportunity to go see them again this year for Emma's 5th birthday we eagerly said YES!.
This year the show as being held at the Kansas City Music Hall. The minute we walked in and sat down we knew this was a much better venue. Last year the seats were small and close together (our knees were crammed in). The seats at the Kansas City Music Hall were ample with plenty of leg room.
We excitedly waited for the show, posed for pictures and played with our light sticks.

The kids were super excited when the show began. It opened in a very similar fashion to last years show… DJ Lance showed up on the tv screen… talked a little and then phased onto the stage to appear in real life. I was happy to see Emma and Ethan so involved and when it came time to shout Yo Gabba Gabba! to bring them to life they were all set to YELL!
Make sure you take a peek at the video below… you will see the surprise the kids got when they yelled Yo Gabba Gabba! loud enough!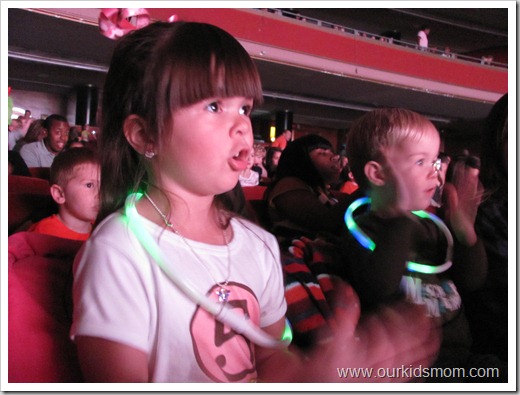 The first half of the show included several skits that included our involvement. Emma and Ethan got their sillies out, did the wiggle wiggle wiggle stop and a couple of others.  There was plenty of out of seat enjoyment… then it was intermission. Just like last year, we could text a message in and it scrolled across the screen. Emma was thrilled to see her birthday message!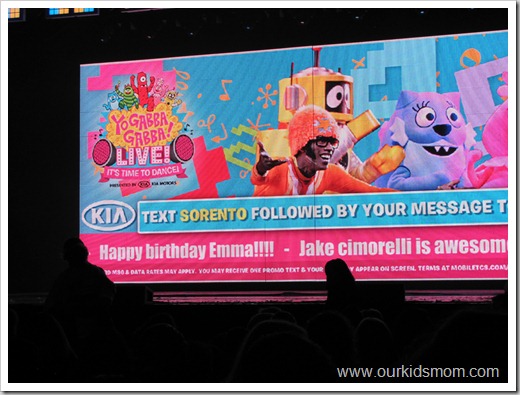 I wasn't sure how Emma and Ethan would react to the rappers skits. Last year it was a little long and lost their attention. This year was much cuter and the audience was asked to participate. Although they didn't know who those gentlemen were, the kids had a good time with it.
Some of our favorite parts were filled with confetti. I think I counted 4 times we were showered with confetti… once we were covered in it (check out the video). Because our seats were on the floor in row M, we had some great exposure to that excitement.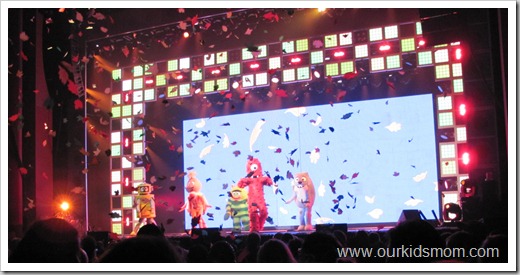 The last part of the show was exciting and fun. The kids danced, sang and played in the snow (yep… check out the video). Then it was time for it to end…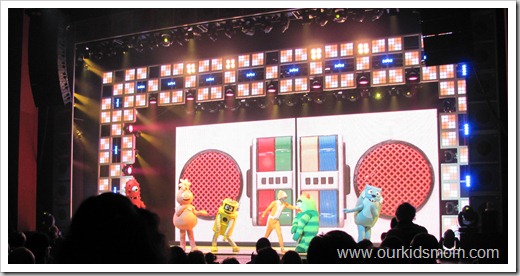 You know they enjoyed themselves and had a great time when… well… Emma cried her heart out because the show was over. Yes, seriously. She was a huge teary mess. She wasn't the only one either. I saw at least two other children leaving down our aisle that were in tears also. Ethan was handling the disappointment a little better, but they were both sad that it had to end. (check out the photo with Muno… see Emma's red face? poor baby…)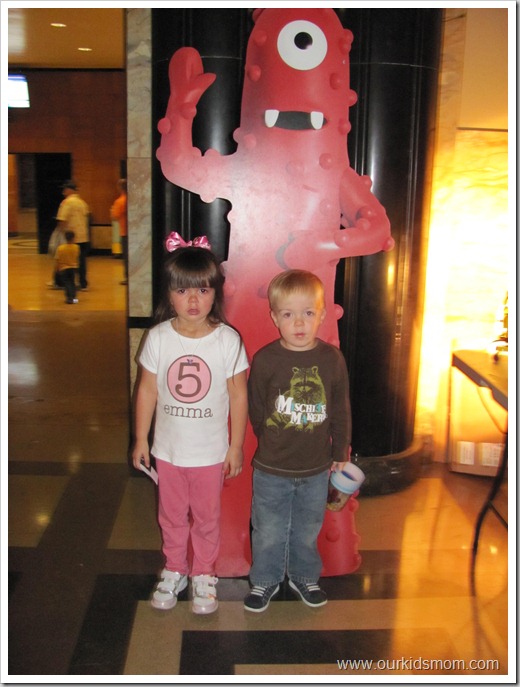 We were one of the last out of our section, so we let the kids gather some of the longer confetti to distract themselves from the fact the show was over. On the way back to the car Ethan decided to use it as a leash. So cute…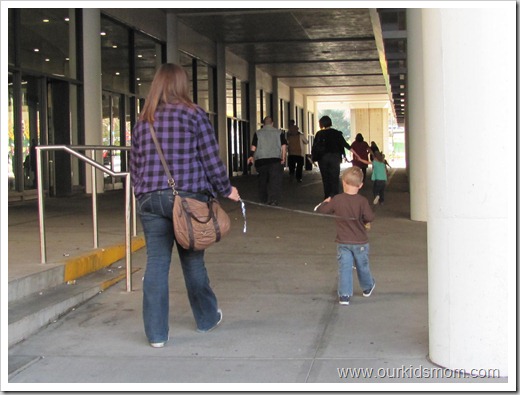 My final thoughts… after talking with Kaytlin, we both agreed that this years show was 100 times more fun. There were several factors that influenced our enthusiasm. The first was the venue. Our comfort level influences how well we can focus and enjoy the show. The comfortable seating was a huge bonus as was where our seats were located.
The involvement factor was much higher this time around. It could have been that we had more floor space to move around versus last year (we were in the balcony and it was difficult for Emma to get up and dance… this year we were on the floor) but we felt like the cast asked the children to participate a lot more bringing the energy level (and enjoyment) much higher.
The use of confetti… lots and l o t s of confetti made it fun, too. Last year, if I remember correctly, they used confetti once. It only covered the audience on the floor, but those of us in the balcony were later covered in balloons. Because we were on the floor this time we experienced showers of confetti. I never realized how fun that was!
Overall our experience was fabulous. It's been over a week and the kids ask on a daily basis if we can go back to Yo Gabba Gabba! today. We are looking forward to next year already!
Check out the highlights of our experience!
For more information on the tour and how you can purchase tickets visit www.yogabbagabbalive.com!
November 9
Salt Lake City, UT
Kingsbury Hall

November 11
Vancouver, BC
Queen Elizabeth Theatre

November 12-13
Seattle, WA
Paramount Theatre

November 15
Sacramento, CA
Sacramento Memorial Auditorium
November 16
Reno, NV
Reno Events Center

November 18
Fresno, CA
Save Mart Center

November 19
San Jose, CA
San Jose Civic

November 20
San Diego, CA
San Diego Civic Theatre
November 22
Bakersfield, CA
Rabobank Theater

November 25-26
Los Angeles, CA
NOKIA Theatre L.A. LIVE

November 27
Las Vegas, NV
Orleans Arena

November 29
El Paso, TX
Abraham Chavez Theatre
November 30
San Antonio, TX
Lila Cockrell Theatre

December 2
Houston, TX
Verizon Wireless Theater

December 3
Grand Prairie, TX
Verizon Theatre at Grand Prairie
December 4
Cedar Park, TX
Cedar Park Center

December 6
New Orleans, LA
Mahalia Jackson Theater for the Performing Arts

December 7
Tallahassee, FL
Tallahassee Leon County Civic Center

December 9
St. Petersburg, FL
Mahaffey Theater

December 10-11
Fort Lauderdale, FL
Broward Center for the Performing Arts
Do you enjoy OurKidsMom and the giveaways?
Please take a second to vote for us on Top Mommy Blogs! One click on the banner below and you're done…
thanks!
Disclosure of Material Connection:  I received one or more of the products or services mentioned above for free in the hope that I would mention/review it on my blog. I only recommend products or services I use personally and believe will be good for my readers. I am disclosing this in accordance with the Federal Trade Commission's 16 CFR, Part 255: "Guides Concerning the Use of Endorsements and Testimonials in Advertising." The opinions expressed in this post are entirely my own. Your experience with the product may differ from mine. The sponsor is responsible for prize fulfillment and will be shipping the winner(s) their prize(s). For more information read my disclosure policy.