Your Guide to the Perfect Snow Day
School's out, the roads are iced and you're not even attempting to get down the driveway. It's officially a snow day, and we all know what that means. PJ's all day. Hot chocolate. Snow men. The works. Not sure where to start? We've got you covered. Below you'll find a detailed guide to enjoying the perfect snow day. So settle in and snuggle up — we've done the work for you on this one.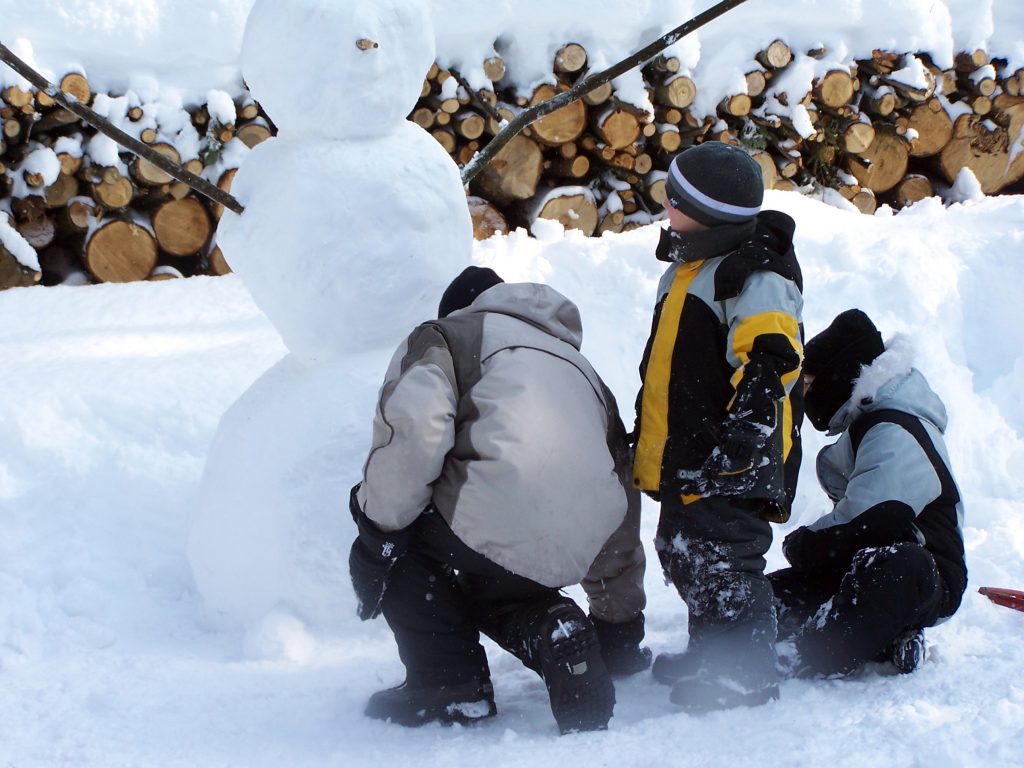 Sled and Make Snow Men
It's time to take advantage of all the classics. We're talking sledding and all kinds of snow play. Grab the family or friends, a sled (or tray if you need to get creative) and head to the biggest hill. The rush of winter sledding is one that sticks with you well into adulthood, so don't miss the chance to relish in it while you can. When you're over the adrenaline rush, stay out and build a snowman. Decorate him with hats, carrots and scarves. Take pictures and post them on Instagram (and make all your friends jealous with all the fun you're having). Make snow angels, and if you're with a group coordinate an epic snowball fight. Be a kid again and have fun. After all, not every day can be a snow day. Use the photos you have to create a fun Christmas collage on Shutterfly—Snow Day and Christmas card all wrapped up in one neat package!
Make Snow Cream
If you haven't tried the deliciousness that is snow cream, now's the time to get in on that action. It's easy to make; simply scoop up a gallon of fresh (and clean) snow, stir in a cup of sugar 1 tbsp. of vanilla extract and 2 cups of milk. Mix well, serve immediately and enjoy immensely. Trust us, this is one sweet snow day treat you don't want to miss.
Movie Marathon
Cuddle up with some classics. Put on the biggest PJ's you can find, drag out the pillows and blankets (a pillow fort is totally appropriate in this situation) and press play. Nothing says relax after a long day of in the snow like a movie, so pick a few of your favorites and settle in for the night. If you have a small family, let everyone choose their favorite and go for a full marathon. Better yet, if it's around the holidays choose a few Christmas classics to get the full effect of the season. Again, clothing makes a difference here, so make sure sweatshirts, men's flannels and warm socks are part of your snowed in wardrobe. Outfit the whole family with thick, woolen bad boys designed to keep out the cold; shop Stance.com for everything from socks for him to socks for toddlers.
Hot Chocolate and a Fire
There's no better way to end a snow day than with a steaming cup of hot chocolate and a roaring fire. Cliché? Maybe, but too perfect to pass up. Don't settle for the instant kind; put in a little extra effort and make your own. You can go classic or festive with peppermint. If you really want to spice it up, try Mexican hot chocolate, which includes cayenne pepper for a little extra kick. Of course you can't forget the fire, which should be lit as much as possible during your snow day. It sets the perfect ambiance for a nice night in.
Baked Goods
Haven't had your fill of sweets yet? Good, because snow days are made for baking. Once you have the fire roaring and the snow falling, all you need is the smell of cookies in the oven to complete the ultimate snow day. If you're home with family, get everyone involved and prepare a few family favorites. Obviously if it's around the holidays you'll have plenty of cookies to choose from, or just go classic chocolate chip for something easy that everyone can participate in. And don't stop at cookies — there are cakes and pies to be made as well. Everyone knows calories don't count on snow days, right?
Hit these highlights the next time a snow day rolls around, and you'll be ready to enjoy the day to its full, snowy potential.