Sample received. All opinions are my own.
My son just turned 2 and is a very busy toddler. He is a tactile learner and is so curious about how things work, you can almost see the wheels turning in his mind. I received the Yookidoo Discovery Playhouse, and set it up for Archer the night before his birthday, so that when he woke up, he had a surprise waiting for him. He was so excited when he saw the Playhouse, and started playing right away.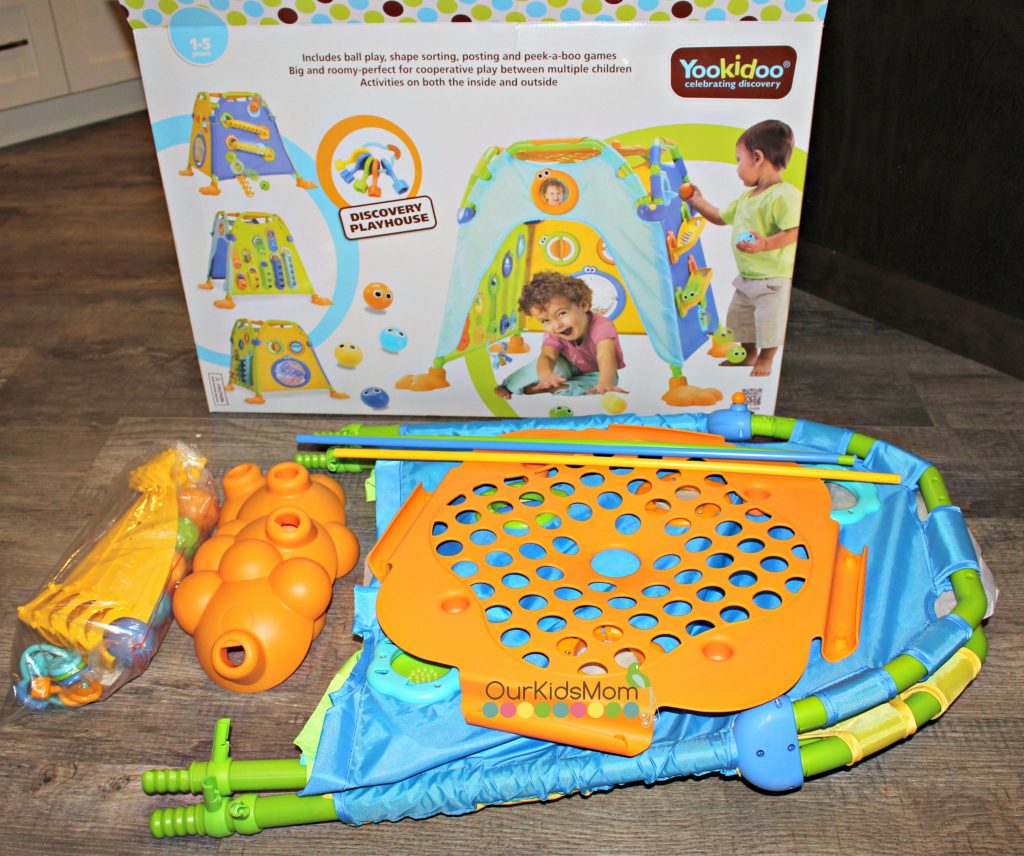 The playhouse came folded up, and we were able to set it up in less than 5 minutes. It was very straightforward, which was nice, and came together with ease. It can also be taken apart very easily, and is compact for storage or transport. At the bottom of ¾ of the sides, a bar slides through the canvas and snaps in nicely to each corner piece to keep it sturdy, like a tent peg. The other side has the opening on it. The top of the tent is a single plastic piece that holds all four sides together, and also acts as a convenient holder for all four feet during storage. The playhouse as a whole is lightweight but also durable for my active 2 year old.

Each side has something to stimulate the brain. Peek a boo, shape sorting, spinners, a roller coaster ball, counting and more.   My son's favorite is the roller coaster ball activity. The ball starts at the top and goes down a tube inside and outside of the wall, back and forth. At the bottom, it comes out of a hole and rolls down a tube. He has played with that for hours! He has even tried to give some of his other toys a ride down the coaster. He hasn't quite figured out the shape sorting activity, but that is something to look forward to, as he developmentally matures. The age suggestion is 1-5 and at this point, I do think that is appropriate for this playhouse.

Overall, this is a great activity center, and has already provided many hours of play for my son, and will continue to be a toy that is played with for a long time. Looking for a great Playhouse or activity centre for a gift? Get your Yookidoo Discovery Playhouse today!