It's never too early to get your child enthusiastic about machines with wheels. Introducing the YBIKE balance bike – perfect for toddlers. It not only looks smart, but is also tough, with injection moulded construction, which eliminates weak points and offers more design freedom, hence the sleeker curves and smooth, superior finish.

Start 'em young! Keep 'em learning! The all-new YBIKE will not only help your young ones develop their coordination skills but will also help improve their overall balance. They'll be riding a big-kids bike in no time!
We have been thinking about a bike for Ethan for a little while now, but as he was only 29 months at Christmas we thought maybe he was too young. We tried a tricycle last summer but he tipped over on it almost every time he tried to ride it. We also tried a "big wheel" type bike, but his legs were just a little too short to reach the peddles. Just about every outing in the front ended in tears from frustration. He wanted to ride, but just couldn't.
When approached to review a YBIKE, I was curious. What is a YBIKE? YBIKE is a new line of balance bikes and scooters for toddlers. It was launched in Europe and is available to the US consumer for the first time this year.  YBIKE introduces young toddlers to balance and coordination that is required before learning to pedal a tricycle. How would this bike be any different for Ethan? Would this just be another frustration inducing toy for him?
From the website:
When it comes to kids, safety is the main concern. For this reason the front wheel is considerably further forward, affording a bigger turning circle, which reduces the risk of falling over the front when turning. The back wheel is also covered to stop children from riding over their feet. The YBIKE body is designed for better clearance of obstacles and the larger wheels produce a safer ride on uneven surfaces.
Enjoy the freedom of the outdoors and the joys of cycling from as early as 1.5 years old. The YBIKE will help your child develop an early sense of balance and control, along with independence, self-confidence and happiness!
Kids who tested the bike for 20-30 minutes twice a week showed the following improvements:
Substantial improvements in both static and dynamic balance
Substantial improvements in bilateral coordination
Observable improvements in physical self-confidence
These are just some of the YBIKEs great features:
* Balance & Movement
* Designed and engineered to help your child build the skills, balance and coordination needed to ride a big-kid bicycle
* Large Wheels
* Larger wheels were designed for safer play and easier riding on uneven surfaces
* High Ground Clearance
* The ground clearance of the body is high enough to ensure safety regardless of terrain
* Safety First
* Other similar products use a process called blow-moulding. It reduces design freedom and tends to have weak points – Not YBIKE!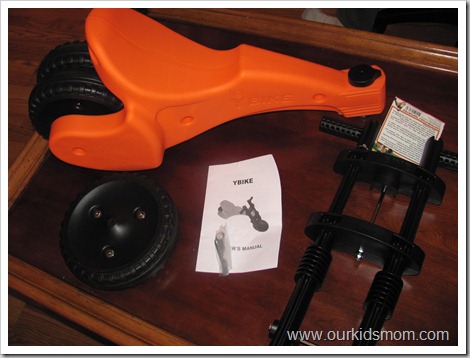 After reading up on it, I decided that maybe we needed to give it a shot. Ethan's YBIKE arrived just in time for Christmas. The photo above is what Santa's helper was greeted with when it came time to assemble the bike. Only three pieces and the bike was together. How refreshing! I noticed when taking the bike pieces out of the box that the bike was made of a nice heavy duty plastic and the construction seemed very sturdy. The back wheels peaked my curiosity as they were double wide and I noticed that the entire bike had a  low center of gravity. I had hope that Ethan would get the hang of this bike!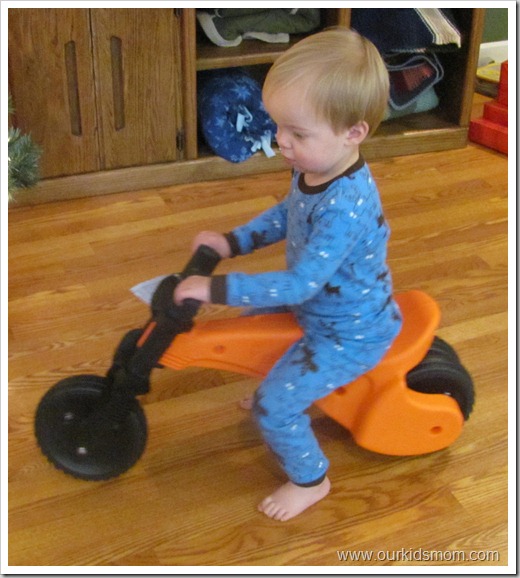 Ethan didn't spare a second and jumped on the bike immediately. He seemed a little surprised that he was a bit wobbly, but with the back wheels a little wider than a traditional bike he seemed to find his balance and took off riding back and forth with his big sister in no time.
Although he hasn't had the opportunity to ride this bike outside yet, we have allowed him to freely ride in our lower living room since Christmas (I knew our long living room would come in handy some day!). He is becoming quite the balance expert and even does tricks (see the video!). He asks us to ride on a daily basis now and I can totally see him transitioning to a bike without training wheels as his next step! For now, he is happy (and so am I!) with this new found skill and he is gaining confidence and coordination on a daily basis! I am sure, with time, he will be confident enough to want to pick up some speed. I'm confident that the tires will be able to grip the pavement better than my wood floor and that he will gain a little momentum outside. But hey, he's 2 and he's balancing and having fun!
Here's a short clip of Ethan on his YBike…
Interested in ordering or have questions?
Stay connected with YBike

Disclaimer: This post was written by me and was not edited by anyone. The opinions expressed in this post are entirely my own and have not been influenced in any way. I received product for review purposes only. I was not compensated for writing this post. For more information please read my disclosure policy.