THE YELLOW BRICK ROAD LEADS TO STARLIGHT THEATRE
National tour arrives June 10-15, features new songs by Andrew Lloyd Webber, Tim Rice
I'm excited to share that my husband and I will be attending the Wizard of Oz at Starlight June 10th… a perfect night out the day before his birthday! A story from both our childhoods brought to the stage to entertain all ages!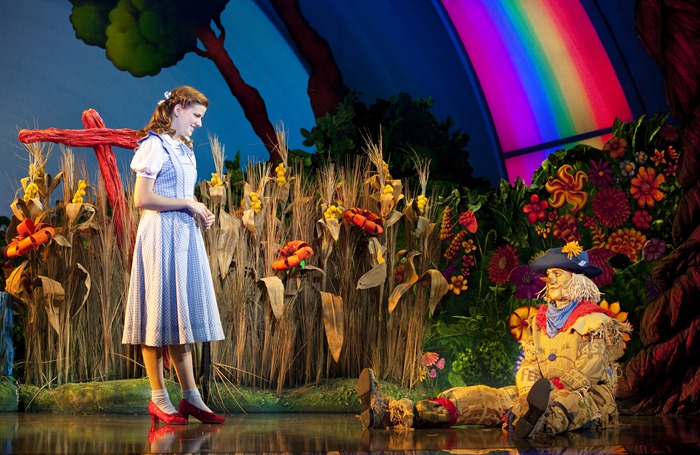 Starlight Theatre is proud to open its 64th Broadway season with the new North American tour of the classic musical The Wizard of Oz. This touring production of The Wizard of Oz was adapted by composer Andrew Lloyd Webber and director Jeremy Sams; it features new songs by Webber and lyricist Tim Rice.
It has been seven years since Starlight spotlighted the adventures of Dorothy, Toto and friends on its Cohen Community Stage. The musical has been staged nine previous times at Starlight, perhaps most famously in 1991 when comedienne Phyllis Diller perfected an evil cackle and demonstrated her flying skills as The Wicked Witch of the West.
Before the Show Activities:
Before audience members sit down to enjoy the sights and sounds of Oz, Starlight invites them to arrive early to take part in two pre-show events, free to all who have a ticket to the show:  The Wizard of Oz Opens Starlight Theatre's 2014 Broadway Season on June 10-15
Starlight's Yellow Brick Bash is a pre-show festival offering games, crafts, performances, photo opportunities, the Twisted Twister inflatable slide, caricatures and other activities for families and kids of all ages. Located in the group pavilions adjacent to Starlight's north concourse, the Yellow Brick Bash is open 6-8 p.m. each night.
Inspired by Toto/Nigel's story of adoption success, Starlight is partnering with five Kansas City area pet shelters and agencies to host the Take Home Toto on-site dog adoption event. From 6-8 p.m. every night but opening night, shelter volunteers will introduce adoptable dogs to Starlight guests in the Helzberg Fountain and Garden of the Stars area on the theatre's east side. Starlight patrons can talk with agency representatives, learn about available dogs and begin the adoption application process if they find their perfect four-legged match.
Tickets for The Wizard of Oz at Starlight Theatre are on sale now for $10 to $95. Tickets are available online at www.kcstarlight.com, by calling 816.363.STAR (7827) or at the Starlight box office at 4600 Starlight Road, Kansas City, MO 64132. All performances begin at 8 p.m.