Special thanks to Worlds of Fun for our night of fun.
Our family has been season pass holders at World's of Fun for a couple of years now. I personally have been visiting the park since I was around the age of 10, so sharing these fond memories with my own children always brings me joy. Our family tries to visit the park several times during the season to soak it all in.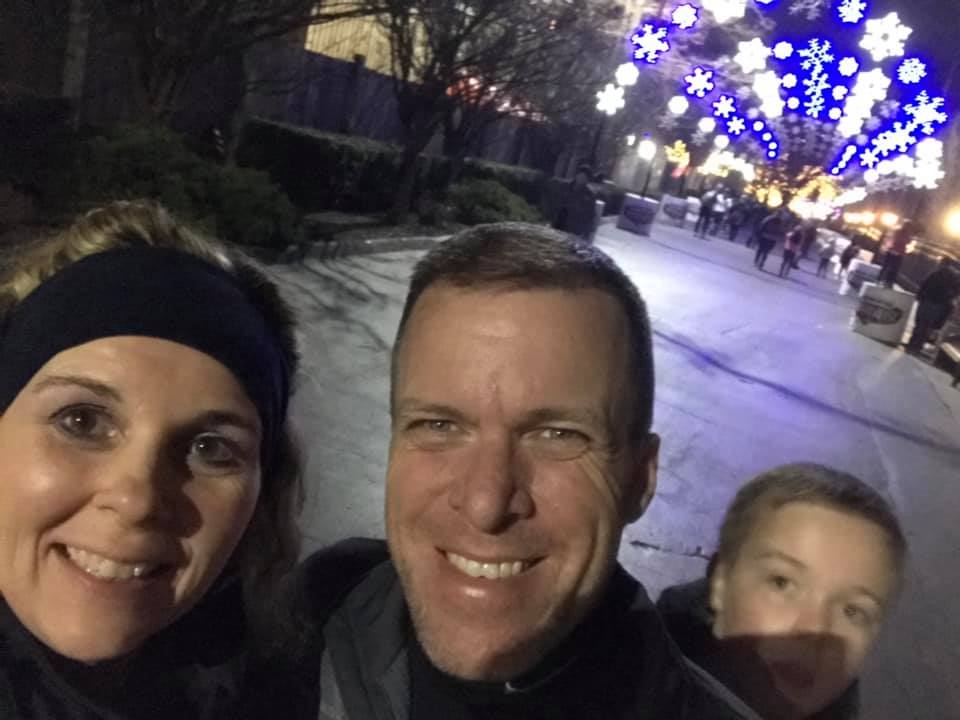 In 2016, Worlds of Fun added a new holiday celebration called Winterfest. Winterfest is a fun family activity that will easily turn into a holiday tradition for your family over holiday break! The park transforms into a twinkling winter wonderland so that you can immerse yourself in the season's spirit. Before you even enter the park you are greeted with an archway of snowflake lights to spark the excitement of it all.
(photo collage above from 2017 visit)
There are so many activities at Winterfest it's easily a multi-day activity. No chance of boredom for this bunch! You can check out our first visit to Winterfest last year, where we were able to pet the nativity animals and even participated in a live show!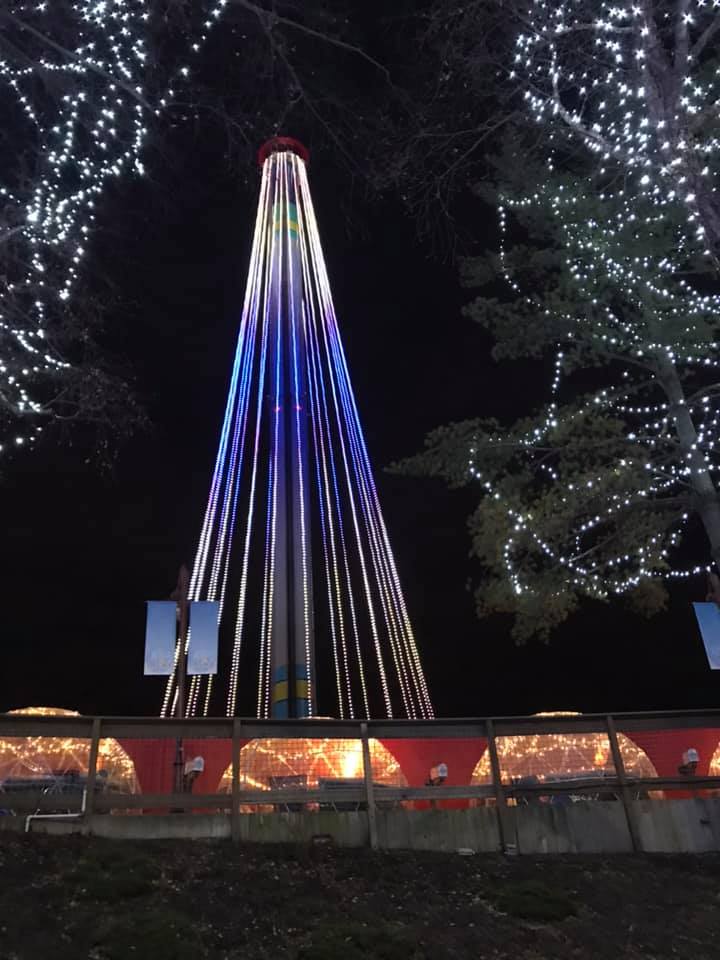 This year we decided to try one of the new offerings, Jack Frost's Igloo Village. I'm not gonna lie … as much as I enjoy going to Worlds of Fun, when it's cold outside you practically have to beg me to go. Cold and I are not friends … it's actually quite painful for me to be cold. I was so excited to see how access to a warm comfy igloo would make my visit more enjoyable.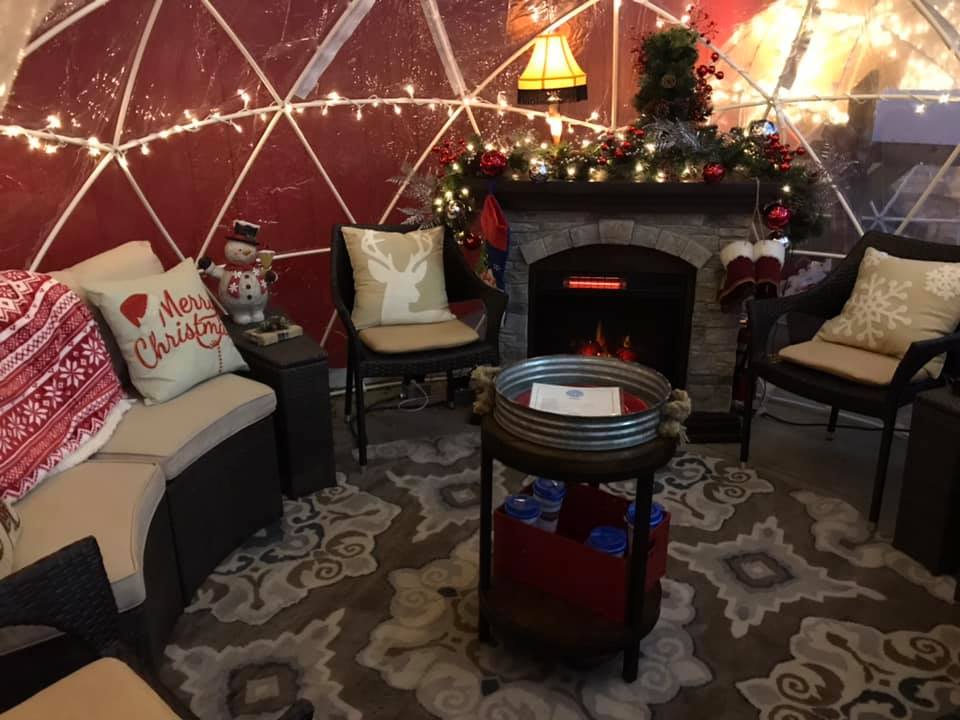 Basic reservations for igloos include up to 4 people, but up to an additional 4 can be added for an added fee.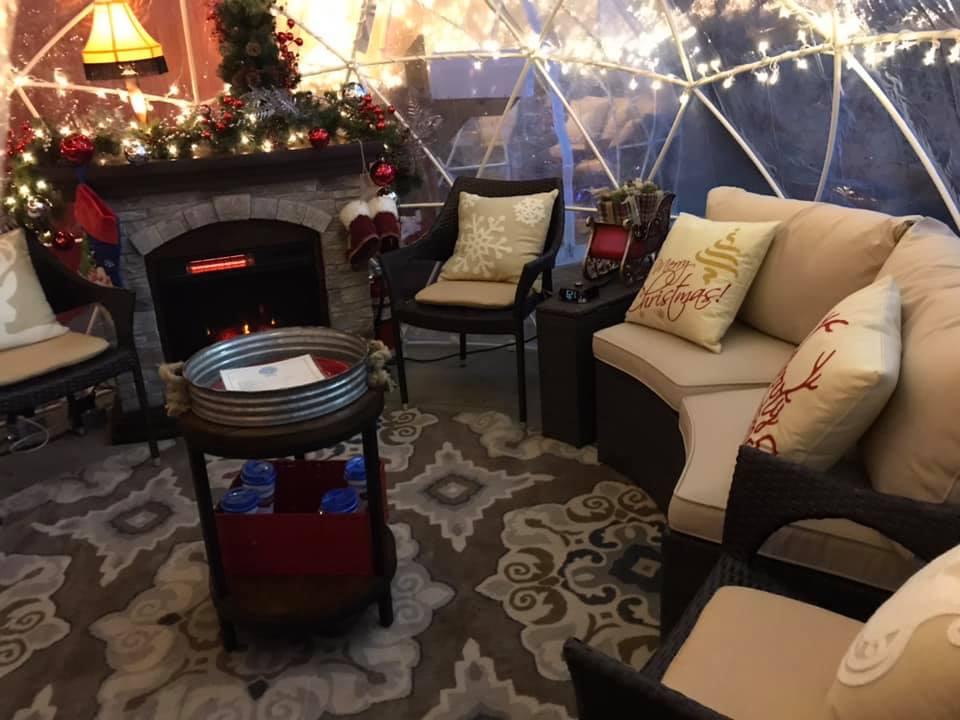 As you can see, the inside of the igloo has plenty of seating, it's decorated to the nines for the holidays and the fireplace is on and adjustable for your preference of warmth.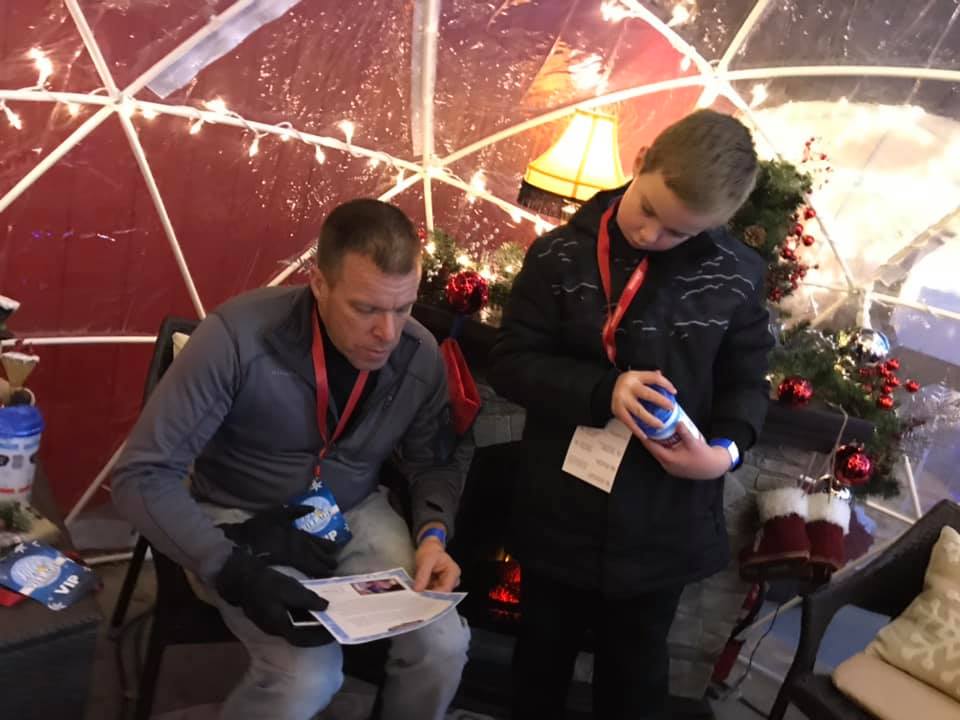 Included in your reservation are concierge services such as: igloo food & beverage delivery (added fee), event host to plan-out your night, souvenir mugs for hot chocolate, reserved show seating, a cookie decorating session in Mrs. Claus' Kitchen, and a complimentary ice skating or carriage ride session.
Jack Frost welcomes you to your igloo with a personal note from him as well as your hot chocolate cups.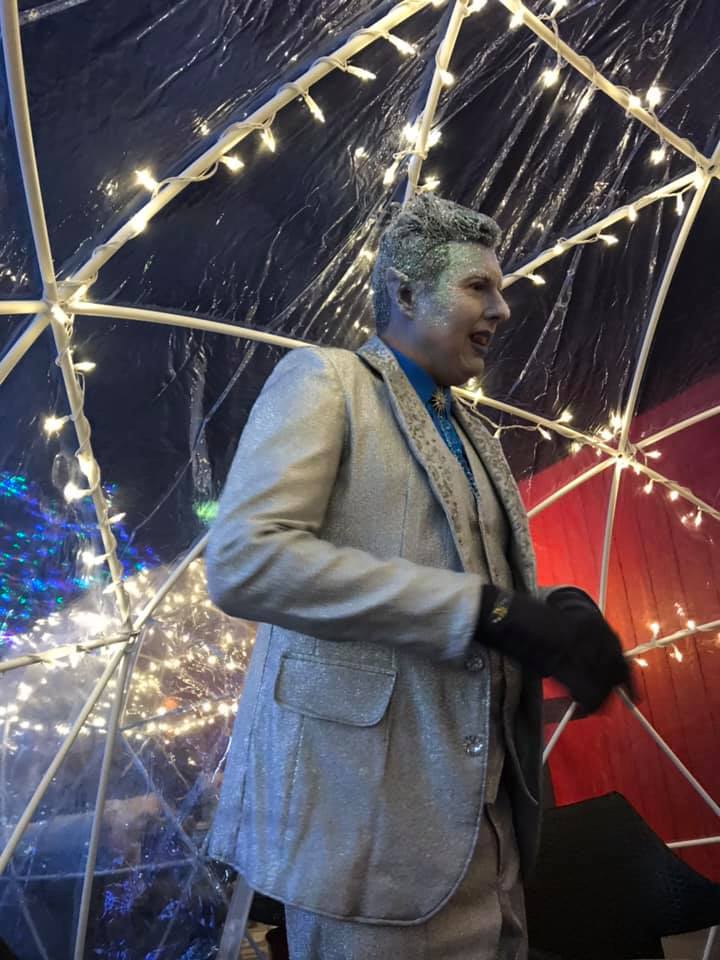 Later in the evening we even had a surprise visit from Mr. Frost himself! He had me in stitches … I was laughing so hard! It was a very entertaining visit.
The ice skating rink, Snow Flake Lake, is within view of the igloo. If you'd prefer not to skate but want to watch a little it's a small step out of the igloo to the railing for viewing.
Skating is included with the igloo, and we chose the first session available to play. I was pleased to see the "walkers" available for anyone to use and the rink wasn't crowded at all.
After skating we decided to head over to Mrs. Claus Kitchen for a little cookie decorating. I love our decorating cookies tradition, and this takes it just a step further. Create a huge sugar cookie for Santa, or enjoy it yourself!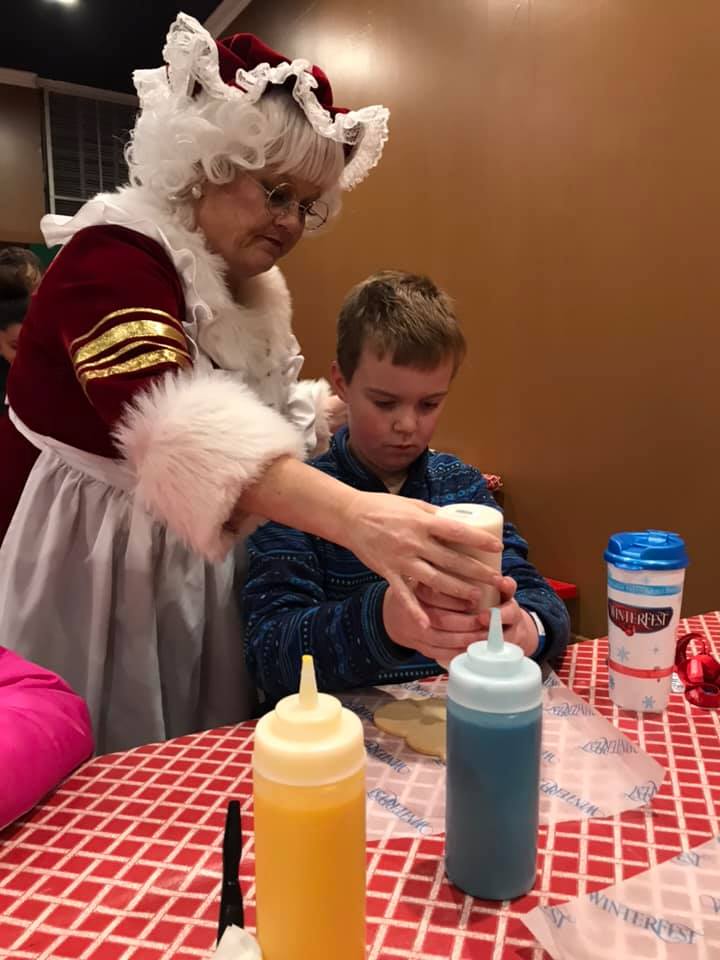 Mrs. Claus makes the rounds to visit, check on the icing bottles and spread a little cheer.
After you choose your cookie at the counter, you head to the table to begin icing. There is a topping station for you to choose a few sprinkles to accent with.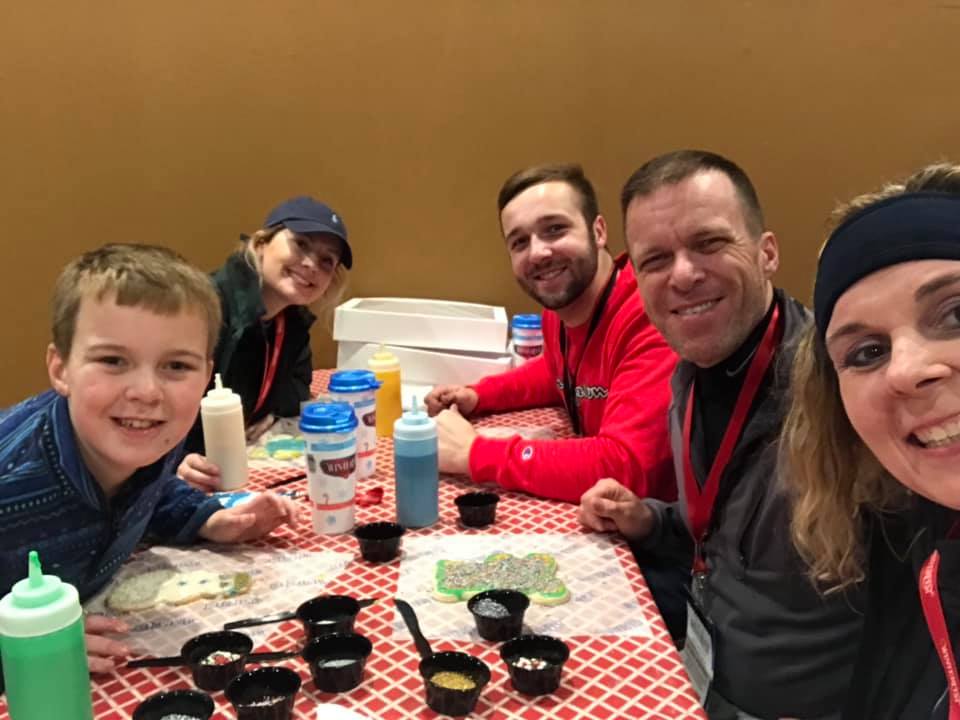 It was fun to see the creative side of young and old(er) come out while perfecting our perfect cookie. We all had a great time and plan to visit again next year.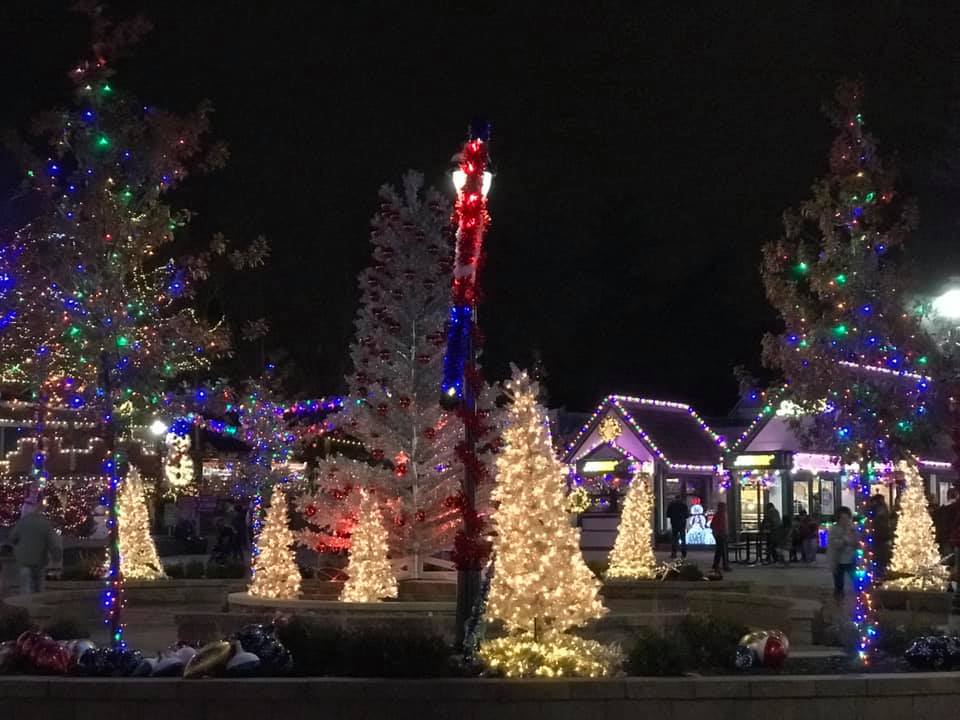 Thankfully we had the igloo to take our cookies back to so we could enjoy the sites and on the way to a show.
Every inch of the park is sparkling with holiday lights. We used to drive hours to find houses adorned with lights or sit in a slow moving car bumper to bumper driving through a park for the experience. It's all here at Winterfest.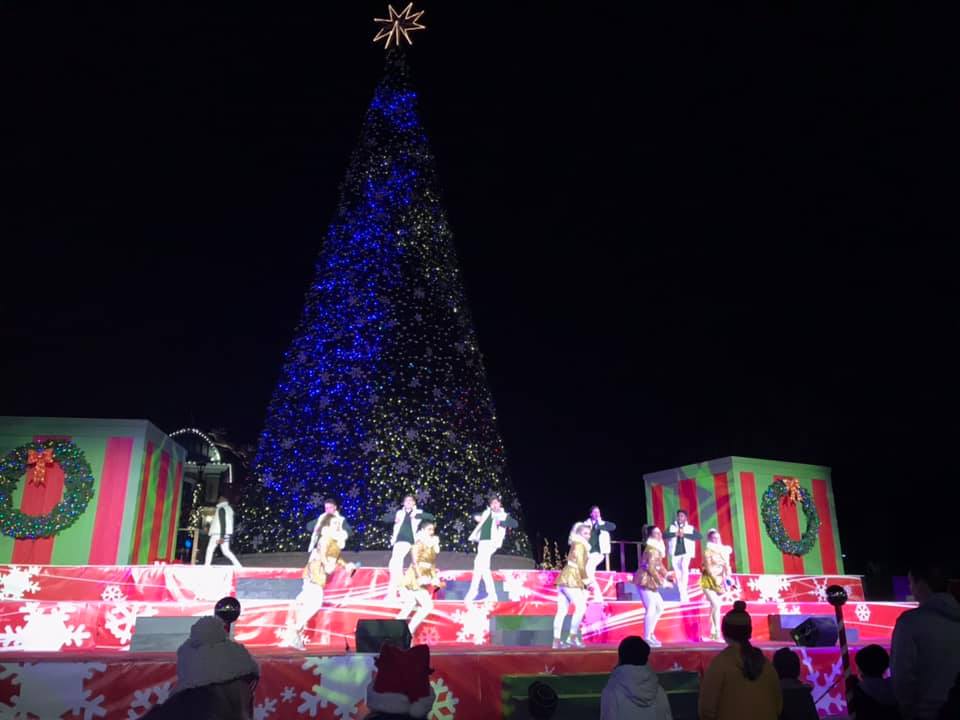 If you're interested the shows, your Igloo reservation also includes reserved show seating as well!
There is so much to do and see at Winterfest. The igloo helped make my visit so much more enjoyable, too! When I started to get just a little too cold I'd head back, refill my hot chocolate and warm up by the fireplace. I'd say WOF topped themselves this year! I can't wait to do this again next year.
There is also exciting news!!!! World's of Fun extended their operating dates clear through New Years Eve!
If you are looking for something family friendly (and FUN!) to do to ring in the New Year, check out New Year's Eve at Wintefest. Arrive as early as 5pm and stay until 2019!