If you haven't heard yet… Windows 8 is coming SOON!

This week, Microsoft announced the a Windows Upgrade Offer—a great solution for those that need a new Windows PC now, but want to make sure they can get Windows 8 when it hits retailers.  With the Windows Upgrade Offer, anyone can buy a new Windows 7 PC now and later. Then you can upgrade to Windows 8 for just $14.99!
Get the PC you need today and upgrade later
Buy a Windows 7 PC between June 2, 2012 and January 31, 2013. *

Register for the offer at windowsupgradeoffer.com before February 28, 2013.

Microsoft will send you an email with your promotion code and purchase instructions when Windows 8 Pro is available.

Download and install Windows 8 Pro on a compatible Windows-based PC with Windows Upgrade Assistant.
Plus, the offer includes 90 days of Microsoft technical support at no charge.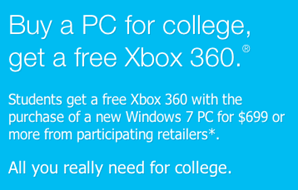 And there is even better news for students, the new Windows Upgrade Offer can be combined with the recently launched buy a PC, get a free Xbox 360 offer!
A new PC, a free Xbox AND upgrade to Windows 8 for just $14.99 – what a deal!
For additional details on the PC/Xbox offer visit the Windows Experience Blog. The Windows Upgrade Offer will be available for purchase at participating retailers and on MicrosoftStore.com beginning June 2.
Disclaimer: I posted this as part of the Microsoft Windows Champions Blogger program. I did not receive compensation for sharing.