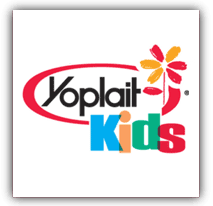 Yoplait Kids has an excellent source of both calcium and vitamin D, a good source of protein and the delicious taste kids demand. It also contains 25% less sugar than the leading kids' yogurt, and has no high fructose corn syrup, artificial colors, flavors or sweeteners. Yoplait Kids yogurt is a snack you can feel confident about serving to your kids!
With tasty flavor options, as well as calcium, vitamin D and protein to help build strong bones, Yoplait Kids yogurt is sure to be popular with parents and kids alike. A great value at just $2.00 for a pack of four, this yogurt comes in three delicious flavors, including Strawberry, Strawberry Banana and Vanilla. Kids will love finding their favorite friends, like Dora the Explorer, Lightning McQueen from the hit movie "Cars" and the Disney Princesses, on every cup.
Yoplait Kids has also partnered with well-known mom-blogger, Christine Coppa, Mama's Boy blogger at parenting.com and author of Rattled! (Broadway Books, 2009), who has developed helpful snacking tips for moms with young children including:
Tips about healthy snack ideas
Tips about portable snacks
Tips about making snack time fun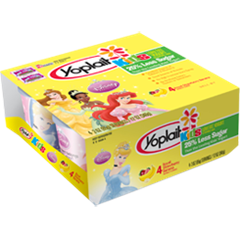 Emma & Ethan absolutely love yogurt. I cannot have one without them finding out and begging for one of their own.
When I introduced them to Yoplait kids they were very excited! The packaging has characters like Dora, Disney Princesses and Cars on it. What a great way to entice children to want to try something that is good for them  (instead of sugary cereals etc).
Emma and Ethan like to eat it straight, but we also dip fruit in it or mix granola in for a crunchy change. It's not just for breakfast around here, either! Snack time if often accompanied by a yogurt and some fruit.
The packaging should catch their attention, but the creamy texture and the yummy fruit flavors will bring them back for more and more.
The fact that it is good for them with calcium, vitamins and protein they need with 25% less sugar than other leading kids yogurt will have you purchasing it time and again.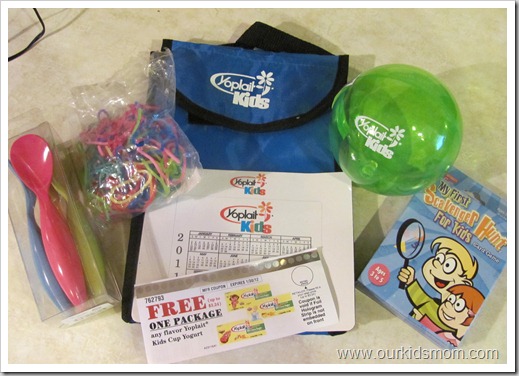 BUY IT:
You can purchase Yoplait Kids at a local store down the street.
Download and print a .50 off coupon here!
WIN IT!
ONE OurKidsMom reader is going to win the same prize pack I received
(prize pack includes a coupon for a free 4 pack of Yoplait Kids yogurt, a foldable travel cooler, zak! spoon set, a magnet picture frame, alphabet-shaped "Kiddie Bands", a great big bounce ball and a "My First Scavenger Hunt" card game for some after-snack fun.)
*This coupon offer for a free four pack of Yoplait Kids yogurt is not valid in some states, including California, Idaho, Louisiana, Minnesota, Nevada, New Jersey, North Dakota and Tennessee.
This giveaway ended at 11:59PM EST on March 14, 2011.
Disclosure:
This post was written by me and was not edited by anyone. The opinions expressed in this post are entirely my own and have not been influenced in any way. I received a coupon, prize pack, and  information from Yoplait through MyBlogSpark for review purposes only. MyBlogSpark is responsible for prize fulfillment and will be shipping the winner(s) their prize(s). For more information please read my disclosure policy.