Is your New Years Resolution to watch your waistline?
… eat a little healthier?
… lose a few pounds?
According to a recent survey by Yoplait Fiber One, Americans are fed up with flavorless, boring snacks – and claim they are a contributor to diet failure.

With 50 calories, 5 grams of fiber and 0 grams of fat, Yoplait Fiber One Blueberry yogurt is a perfect solution, packed with real fruit and the great taste of blueberries that you´ll love. As an added bonus, the deliciously creamy yogurt also contains vitamins A and D and is a good source of calcium and protein.
I've recently become a yogurt lover… I have to have at least one every day. It's sweet, refreshing, filling and good for you! I have even gotten Emma & Ethan into the yogurt lovers club. If I'm having one and haven't offered one to them, they both come over and beg for some of mine.
Eaten as a snack or as part of a meal, Fiber One yogurt helps keep you satisfied. Fiber One has the added benefit of providing at least 20 percent of your daily nutritional needs of fiber, which helps keep you fuller longer. The fiber also helps aid in digestion to keep you regular, avoiding the discomfort of constipation. If all that wasn't enough, soluble fiber also helps lower your cholesterol levels by decreasing the bodies ability to absorb it in your digestive tract. Lower cholesterol levels lowers your risk of developing heart disease.
Yoplait Fiber One yogurt is approved by Hungry Girl!
BUY IT!
You can Fiber One Yogurt at a local store down the road!
You can download a $1 off coupon good towards a Fiber One 4 – pack.
WIN IT!
One OurKidsMom is going to win a Fiber One prize pack!
(towel, water bottle, blueberry stress ball, ball point pen, food diary and 1 coupon for a free 4-pack)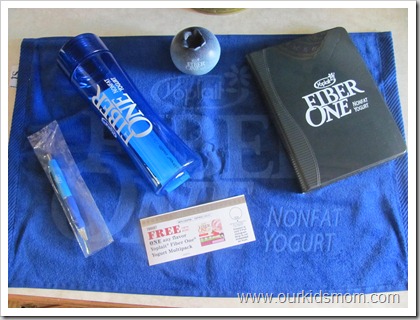 This giveaway ended at 11:59 PM EST on January 26, 2011.
Disclosure:
This post was written by me and was not edited by anyone. The opinions expressed in this post are entirely my own and have not been influenced in any way. I received product for the purposes of review only. The coupon, prize pack, information and giveaway were all provided by Yoplait and Fiber One through MyBlogSpark. For more information please read my disclosure policy.