Yonanas Healthy Frozen Dessert Maker

Our family has been phasing out processed foods including most of those yummy desserts from the freezer section that my children clamor for nightly. I first noticed Yonanas at our local Target store while browsing. The thought intrigued me but I seriously wondered if my children would happily eat "ice cream" made from frozen bananas.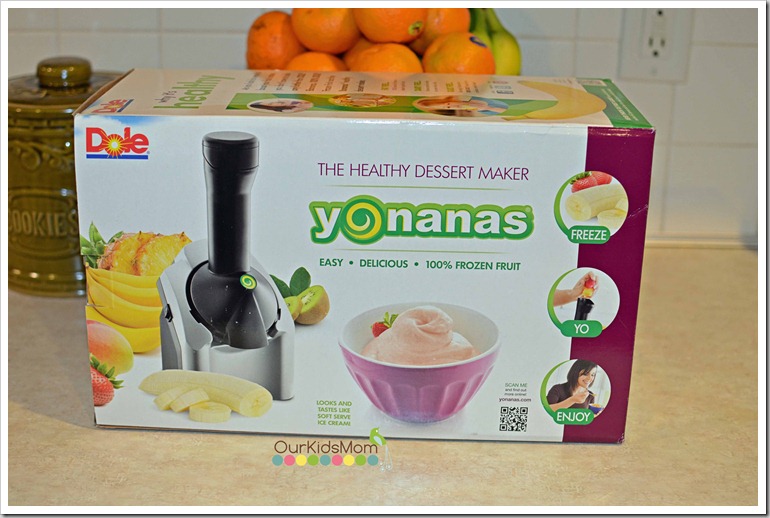 The simplicity of the Yonanas machine reeled me in. The only ingredients in this dessert are 100% all natural frozen fruit. The box says that it will turn those over-ripe bananas into a delicious and creamy treat that looks and tastes like soft serve ice cream. I figured if I mixed in more than just bananas it might just make it past the clan.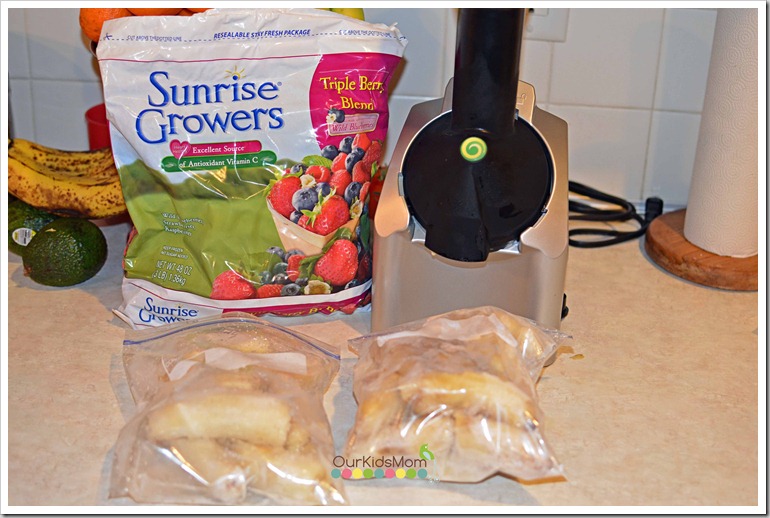 I am excited to have the option of serving my family a healthy frozen treat after dinner instead of the high fat, high sugar processed junk they had been eating on a cone.
Here's why Yonanas is healthy:
A bowl of Simply Yonanas (1/2 C serving) = approximately 100 calories. Add in your favorite fruits like blueberries and raspberries or even some high antioxidant dark chocolate and you have created a healthy and delicious treat. The calories may bump up a little bit but you started with an amazing fruit foundation!
Bananas are high in potassium, a mineral that helps in the building of muscles and protein synthesis.
Bananas contain all natural energy from three natural sugars: sucrose, fructose and glucose. No other fruit contains more digestible carbohydrates.
Bananas contain NO sodium, fat or cholesterol.
Bananas are high in fiber and much of its fiber is soluble, the kind that can help lower cholesterol.
Bananas are called "brain food" because of its high level of potassium, important for the brain to function.
Called the "good mood food", Bananas contain Vitamin B6 and tryptophan content, which help elevate feelings of pleasure.
Yonanas are a great natural source of vitamin A, vitamin C, calcium, iron, thiamin, riboflavin, niacin, pantothenic acid, vitamin B6, potassium, phosphorus, magnesium, zinc, copper, and even protein
When you add in other fruits and nuts like raspberries, strawberries, blueberries, peanuts, almonds to the base of bananas, you add more nutrition including: vitamin C, vitamin K, magnesium, folate, iron, calcium, protein, manganese, more potassium and dietary fiber, and loads of antioxidants, making Yonanas a super Superfood.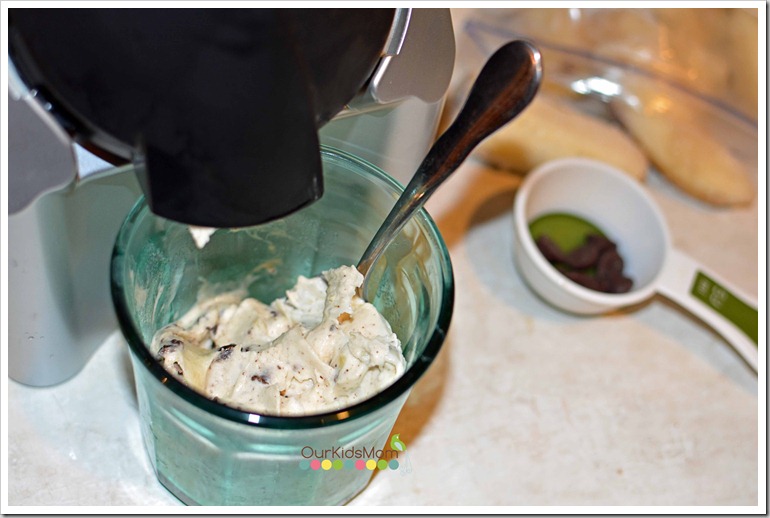 Setting up the Yonanas machine was very simple and uncomplicated. I had frozen some of our overripe bananas ahead of time by cutting them in pieces and places them in a freezer bag. The instructions mention to set the frozen fruit out for several minutes until they begin to "sweat" a little before using.
Making the Yonanas was as simple as turning the machine on and inserting the fruit. Using the plunger to gently push the fruit through we began to see our Yonanas! The kids took a quick nibble and decided they wanted to get creative. The plain banana was "ok" as they said, but they wanted "all that jazz". They pushed through some peanut butter and a few dark chocolate chips (yes, I know those are processed a bit… baby steps).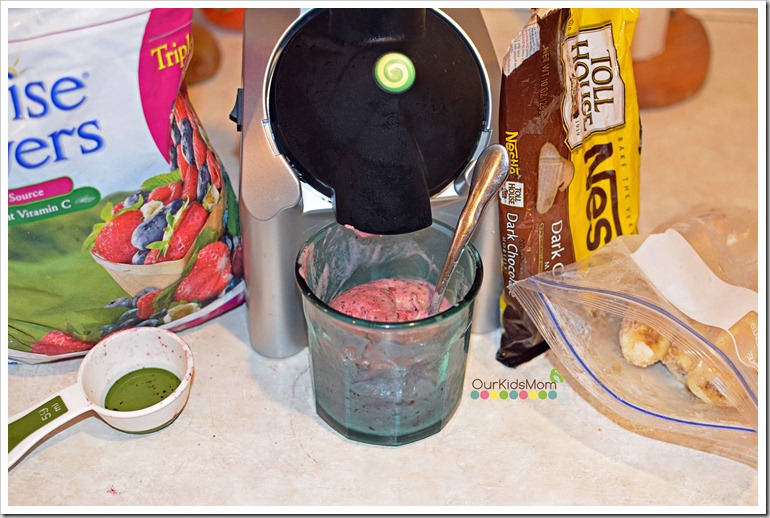 Once they realized you could be creative the gears started moving. Out came a bag of frozen mixed fruit to add to the mix. This time we started with the banana base, then mixed fruit and some dark chocolate chips.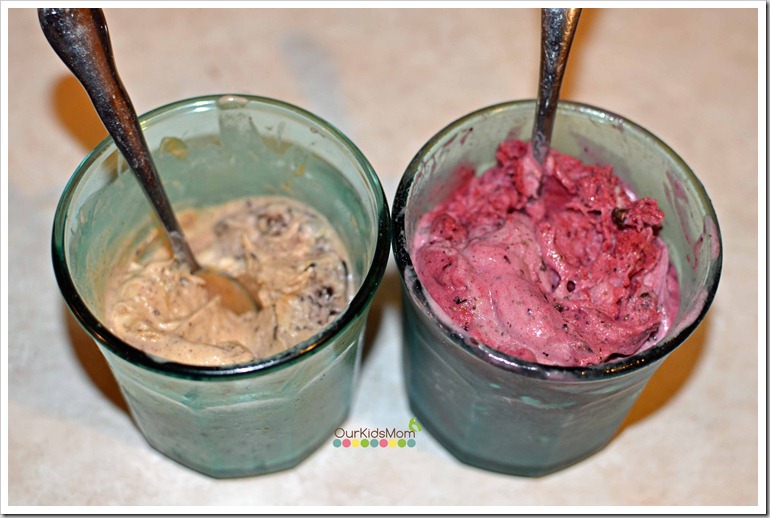 Here are our finished products side by side. Once you've pushed all of the ingredients through, you give it a good turn with a spoon to mix it all together and you have a fabulous finished product.  So… they look beyond yummy… but how did everyone like it?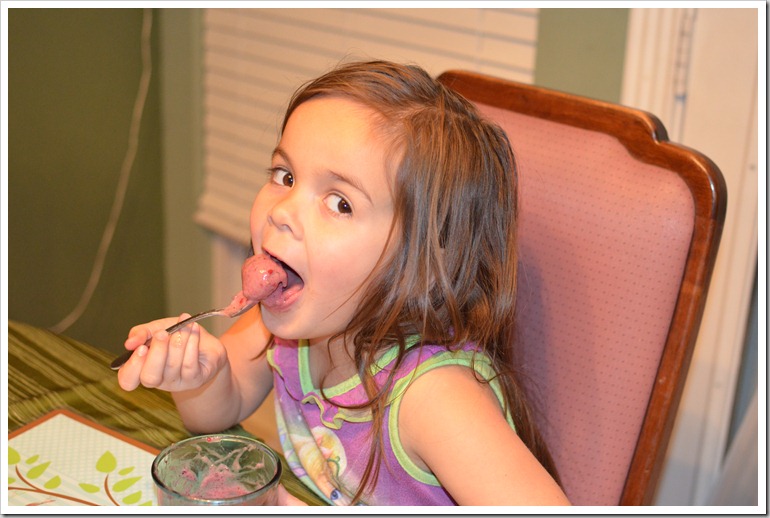 Yonanas was a huge hit! My biggest critics were my happiest customers. Since that night we have used the Yonanas machine several times a week for our nightly snack. The kids enjoy creating their own concoctions and I love that even if they ask for a BIG bowl I can say yes. There are so many possibilities with the Yonanas machine. Check out their recipes page to view just a few of them!
Connect with Yonanas:
BUY IT:
You can purchase Yonanas at Amazon.com
Do you enjoy OurKidsMom and the giveaways?
Please take a second to vote for us on Top Mommy Blogs! One click on the banner below and you're done…
Thank You!
Disclosure of Material Connection: I received one or more of the products or services mentioned above for free in the hope that I would mention it on my blog. I only recommend products or services I use personally and believe will be good for my readers. I am disclosing this in accordance with the Federal Trade Commission's 16 CFR, Part 255: "Guides Concerning the Use of Endorsements and Testimonials in Advertising." The opinions expressed in this post are entirely my own. Your experience with the product may differ from mine. The sponsor is responsible for prize fulfillment and will be shipping the winner(s) their prize(s). For more information read my disclosure policy.