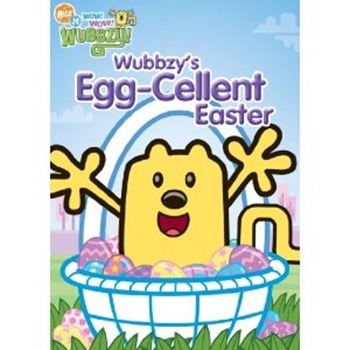 "Wow! Wow! Wubbzy!" has been a hit with young viewers and their families since its 2006 TV premiere on Nickelodeon®, and the show currently airs daily on Nick Jr.  Wubbzy is a fun, lovable, curious little guy who just likes to play, play, play with his friends in the eye-popping town of Wuzzleburg.  The top-rated series supports preschool social skills – sharing, listening, compromising, helping and appreciating others, self-awareness and the use of humor as a coping skill.Although their world is more fanciful and imaginative than our own, Wubbzy, Widget, Walden and Daizy, deal with the same social and developmental issues faced by preschoolers.  They learn how they fit into a group, how to understand their own feelings and those of others, how to get along with one another and the value of friendship and community.
This was Emma & Ethan's first exposure to Wow! Wow! Wubbzy. He is a strange looking little creature with a crocked tail and a high pitched voice… that stole their hearts.
I sat and watched this with them. To be honest, I kind of liked it too. One episode in particular that sticks out is when Wubbzy is getting ready for the big Easter hunt. He's all set up to start decorating the eggs when Widget visits. Widget invents several machines to do all the work involved in an Easter egg hunt, including decorating, hiding and finding the eggs. Wubbzy finally tells Widget that part of the fun of an Easter egg hunt is decorating eggs, hiding them and then hunting for them. Although the machine did all the work and they could relax, Wubbzy enjoyed the work involved and missed it.
I've decided Wubbzy is welcome to visit anytime and he has. Emma has popped this DVD several times over the past week to watch Wubbzy and the gang get ready for Easter.
**********
To help celebrate the release of the brand-new Wow! Wow! Wubbzy! DVD, Wubbzy's Egg-Cellent Easter, now available, one lucky Wubb fan can win a one-of-a-kind, original piece of Wubbzy-inspired artwork, from series' creator and artist, Bob Boyle. 
For more information about the sweepstakes, and to enter, please visit: www.Wubbzy.com.  The sweeps is live March 21 – April 10, 2011.
BUY IT:
You can purchase Wubbzy's Egg-Cellent Easter for $11.49 at Amazon.com (RV $16.98)
WIN IT!
One OurKidsMom reader is going to win Wubbzy's Egg-Cellent Easter on DVD
This giveaway ended at 11:59PM EST on April 19, 2011.
Disclosure:
This post was written me and was not edited by anyone. The opinions expressed in this post are entirely my own and have not been influenced in any way. I received product for review purposes only. I was not compensated for this post. The sponsor is responsible for prize fulfillment and will be shipping the winner(s) their prize(s). For more information please read my disclosure policy.