As a Chuggington Conductor I am excited to share one of the newest play sets in the line from Tomy… Wilson's Wild Ride. I got my first peek of this at BlogHer in New York at the beginning of the month and was excited to get home and let the kids play with it.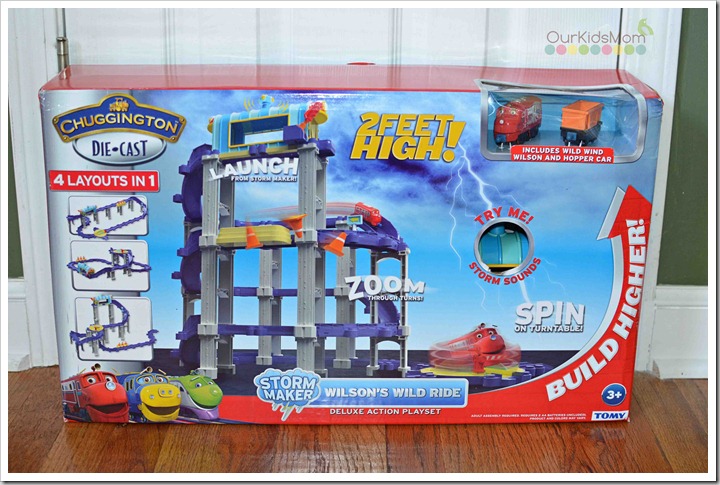 I am one of those moms that detests toys with a lot of set up time. I don't mind helping out a bit and playing with them, but if it's going to take me 15-30 minutes to assemble a toy that they will play with for a few minutes and then want to come back to later (but yet, it's so big it's in the middle of my living room floor)… I will look for a different toy to purchase.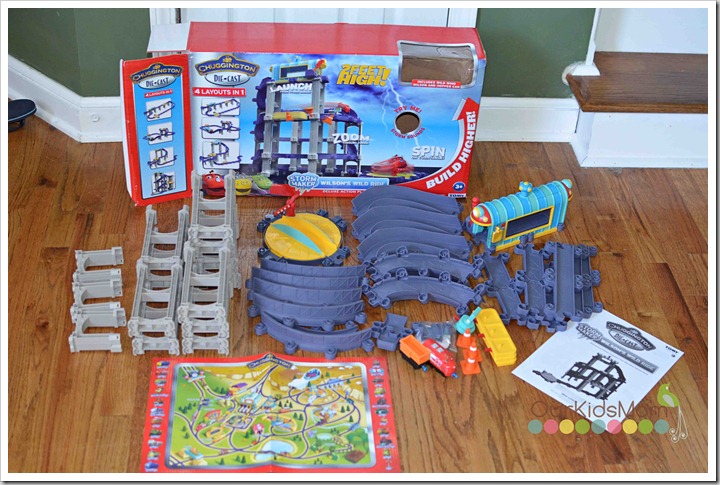 Wilson's Wild Ride is pretty straight forward and has minimal parts. Although it comes with a set of directions to assemble a spiral track, these are free play friendly meaning you can assemble them in multiple patterns and they will still function correctly.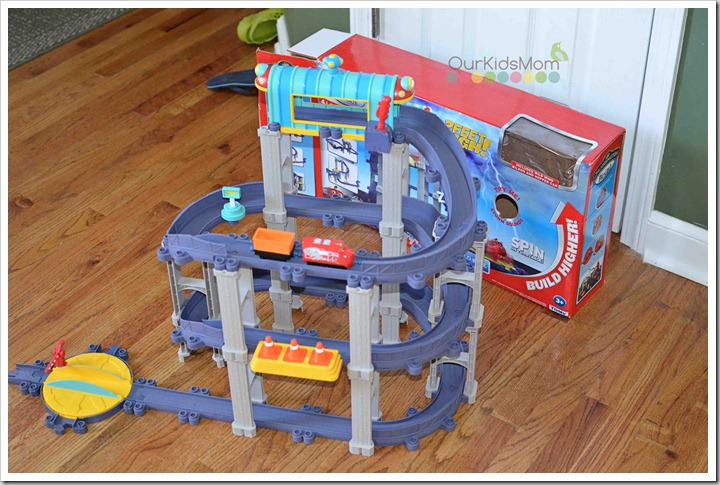 I was impressed with how sturdy the set felt as I snapped the pieces together. My kids tend to get a little out of their heads when they are excitedly playing and will knock tracks (and get upset when our wooden high rise sets crash). This set holds up to knocks and pushes well. Everything interlocks and the gray risers snap into each other and the track. We've had it up for several days now and even transported it to another room and it's still in one piece.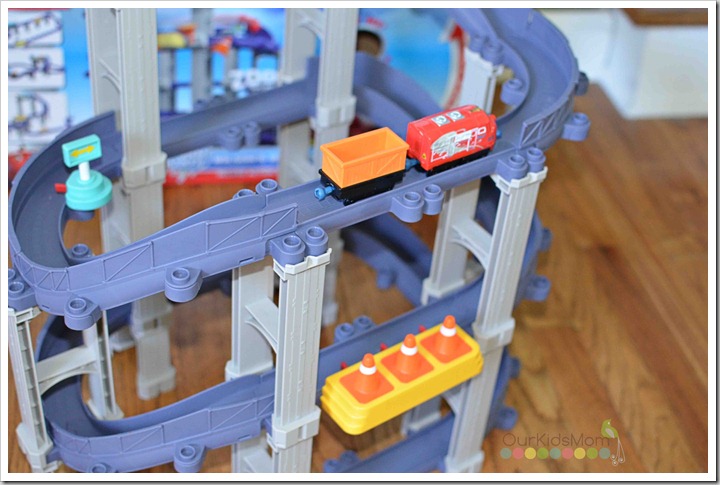 The set comes with Wilson and a cargo car with a few fun accents like construction cones that go flying and a weather meter that spins in circles when the train comes by.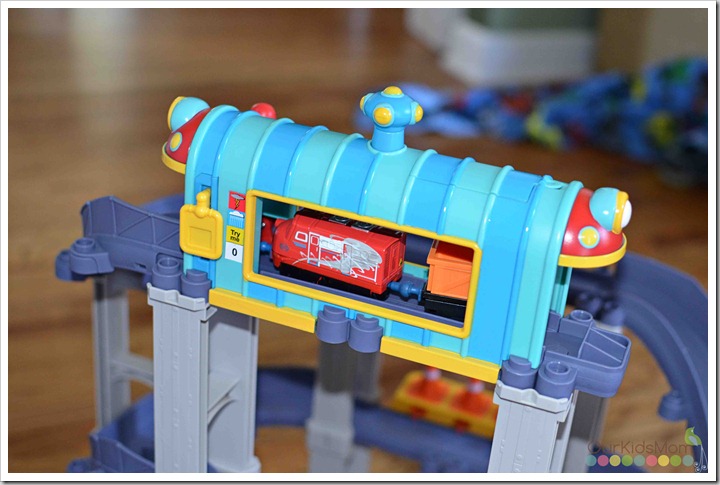 The storm maker has an electrical storm mode and a rain storm mode. The kids like to push the blue button on top just to hear the noise, but if you life the level to set the train in motion it will also activate and lasts long enough for the train to reach the end of the track.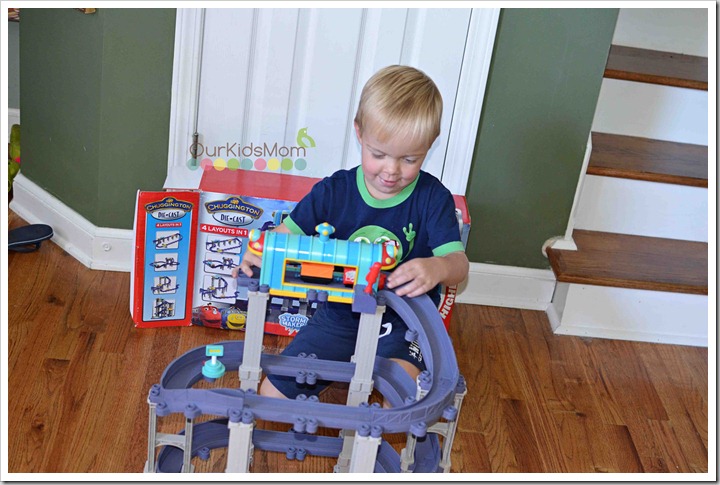 Ethan just turned 4 and was able to figure out quickly how to get Wilson into the storm maker and set him on his way. He was excited to see the train spin down the spiral track.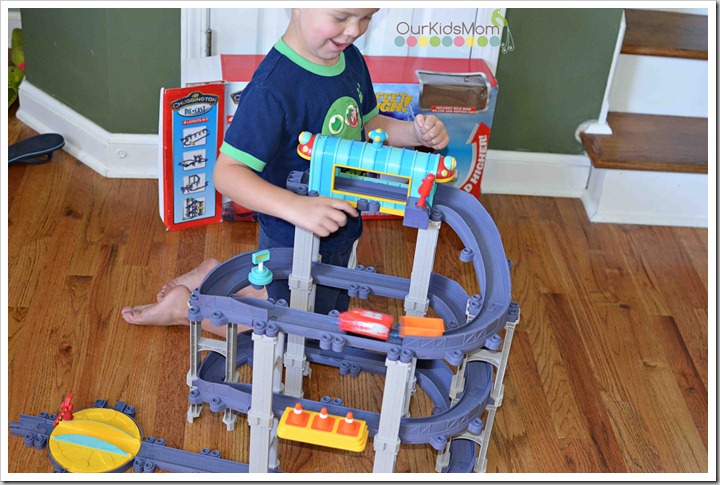 The train races down the track towards the weather meter. As you can see the combination of the sound from the storm maker and the train racing down the track brought big grins to Ethan's face.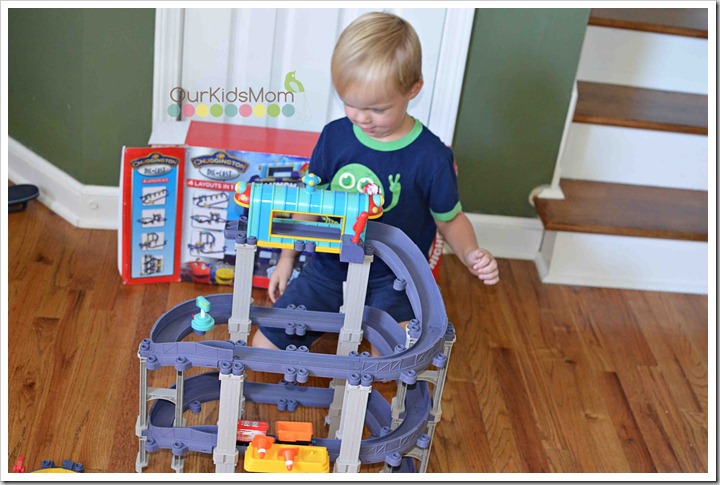 As Wilson races past the construction cones they pop off!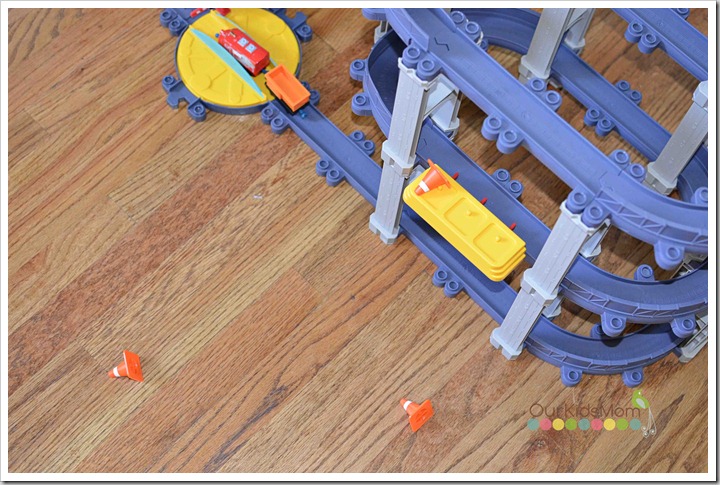 As Wilson races by he pushes the red levers on the side and the cones pop off.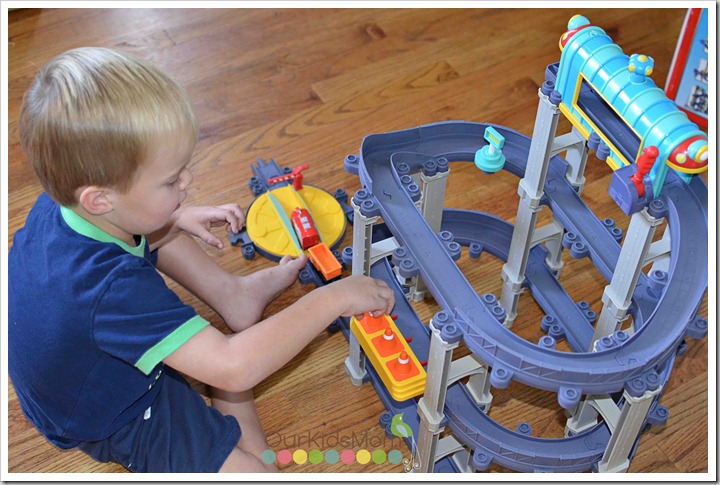 Setting up the cones was simple enough for Ethan to do as well. Ethan learned quickly to set the stage by pushing down the yellow button and then putting the cone on top.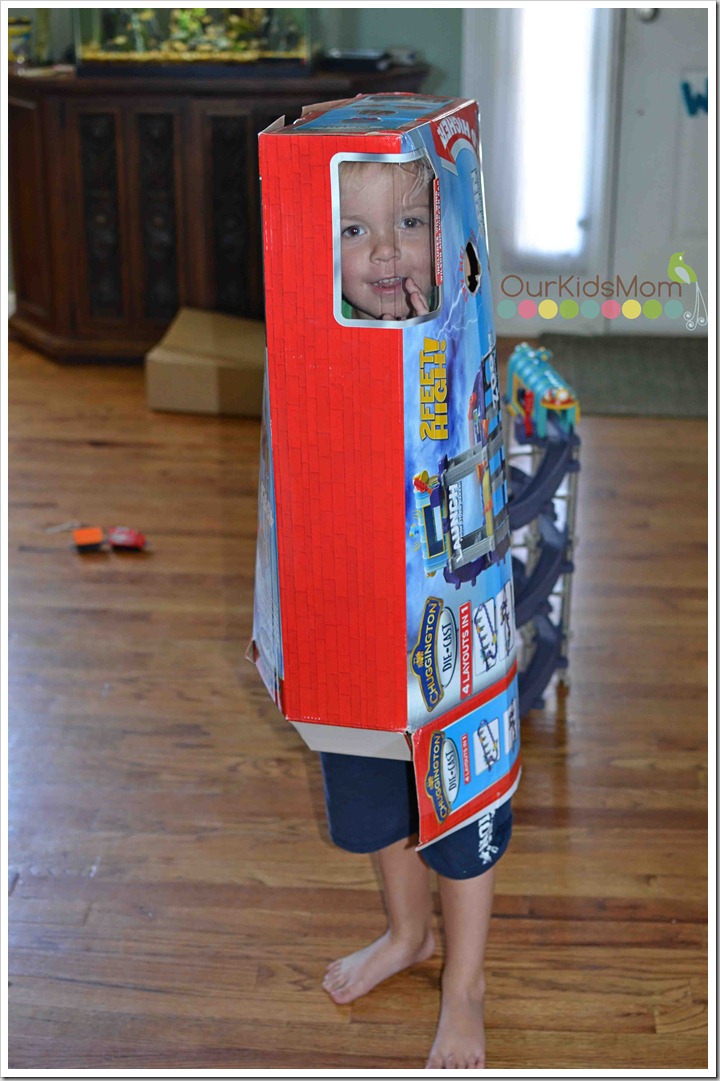 And of course, if you give a boy a new train set he has to play with the box as well (no waste, right?).
This is my new favorite track. It is simple to put together, sturdy with everything clicking together and it has fun little actions that happen when the train races down the track. The weather maker (starting point) was genius as the kids get excited when they hear it and it brings all kind of imaginative play with it. This new set also comes with a special piece that will make it compatible with older sets. My only wish would be for a few more pieces so that we could attach this set at more than one point.
Connect with Tomy Toys:
BUY IT:
You can purchase Wilson's Wild Ride at Toys R Us, Wal-Mart, Target or Amazon.
WIN IT:
ONE OurKidsMom reader is going to win Wilson's Wild Ride!
This giveaway ended at 11:59 PM EST on September 3, 2012.
Disclosure of Material Connection: I received one or more of the products or services mentioned above for free in the hope that I would mention it on my blog. I only recommend products or services I use personally and believe will be good for my readers. I am disclosing this in accordance with the Federal Trade Commission's 16 CFR, Part 255: "Guides Concerning the Use of Endorsements and Testimonials in Advertising." The opinions expressed in this post are entirely my own. Your experience with the product may differ from mine. The sponsor is responsible for prize fulfillment and will be shipping the winner(s) their prize(s). For more information read my disclosure policy.