Tollytots is a vertically integrated, design, marketing, and manufacturing company with special emphasis on the girl's doll and accessory category.  Our mission is to create unique and innovative products that combine classic toys with leading edge interactive technology.  We want to create a whole new play experience for children and their caregivers.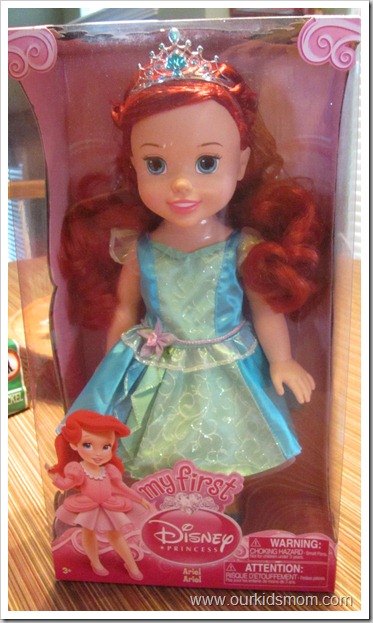 Tollytots makes several Disney Princess items. When we were asked to review a princess doll in baby or toddler form I jumped on the opportunity. Emma has a mild obsession with Disney Princesses and was so excited when we "window shopped" online for a new doll. It didn't take her long to decide that she needed the Ariel doll.
I was a bit surprised when she chose Ariel. Emma's "go to" princesses have been Cinderella and Sleeping Beauty. I was worried that she would be disappointed with Ariel, and to tell you the truth… I wasn't impressed with the stock photo of Ariel at all. But, she insisted… so I ordered it.
 I was more than pleasantly surprised when Ariel arrived. She was remarkably cuter in person than in the stock photo. Emma was jumping up and down while I removed the strings holding her in.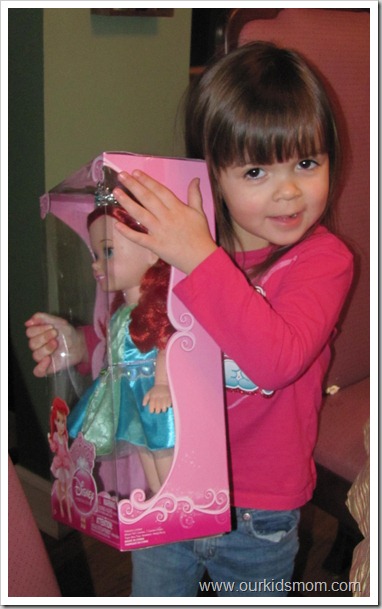 The first thing I noticed was Ariel's flowing red locks of hair. They are so shiny, pretty and curly… I felt my inner child want to brush it. Her dress was well made and is holding up well to frequent clothing changes. Surprisingly, Emma has not lost Ariel's shoes yet either. Her shoes are a nice quality rubbery plastic and fit nice and snug.
Emma has had this doll for a few weeks now. Ariel has been hugged, drug around, cuddled with, slept with, brought on a car ride and almost made it into the bath tub! This doll has taken a lot of abuse and is still holding up well.
I would love to own the entire set for Emma. They have Cinderella, Belle, Sleeping Beauty, Tiana and Ariel.
I definitely recommend it for the Disney Princess lover on your gift list!
BUY IT:
You can purchase a Disney Princess Ariel Toddler Dolls for $19.99 at Toys R Us
WIN IT!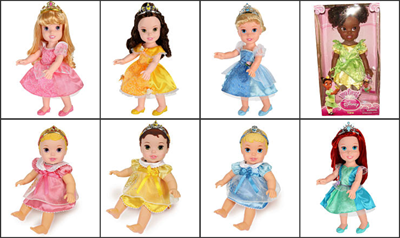 This giveaway ended at 11:59PM EST on February 28, 2011.
Disclosure:
This post was written by me and was not edited by anyone. The opinions expressed in this post are entirely my own and have not been influenced in any way. I received an Ariel Doll for the purposes of review only. The sponsor is responsible for prize fulfillment and will be shipping the winner(s) their prize(s). For more information please read my disclosure policy.