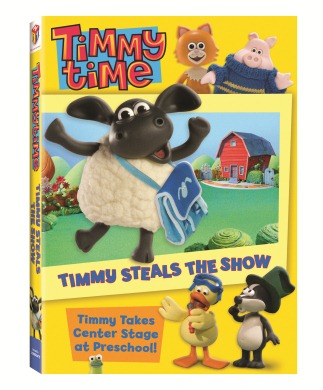 SYNOPSIS:  Timmy Time follows the adventures of Timmy, a little lamb with a lot to learn as he enters preschool. Fans of Aardman's hit children's series Shaun the Sheep will recognize Timmy as the baby lamb on the farm who is frequently drawn into all kinds of chaotic adventures by the mischievous older sheep. Used to having his way by being "the only lamb in the flock," Timmy is now heading to preschool to graze on some important life lessons about playing nicely with others, namely his fellow classmates of the furry, feathered and spiky types.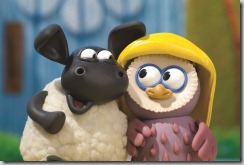 Fun, laughter and surprises take center stage when Timmy performs groovy dance moves, genuine acts of kindness, and also learns the true meaning of saying "I'm sorry." Included in these five lovable tales.
"Timmy Steals the Show" – While bossing everybody around during rehearsals for the nursery's talent show, diva Yabba loses her voice! Yabba is crestfallen that she may not able to perform, but Timmy saves the day by performing for her.
"Timmy's Picnic" – The class is off on a picnic! But during a game of soccer, the ball bursts on Apricot's spikes. Apricot feels guilty that the little animals no longer have a ball to play with, but soon finds a good use for her prickly spikes – picking up the picnic litter!
"Timmy Brings a Smile" – Apricot has brought her favorite blanket to the nursery – of which she will not let go! But when she briefly puts it down, the other animals mistake it for a rag which they use to clean up paint and mud. Timmy tries to console Apricot with substitutes, until he discovers a pleasant surprise in Stripey's sand pie!
"Timmy Can't Dance" – Led by Harriet and Osbourne, the class is exploring various dance styles, from hula dancing to line dancing. But Timmy just cannot get into the groove! He soon discovers a passion for hip-hop music and wows his friends with his break-dancing moves.
"Timmy Says Sorry" – Timmy accidentally kicks a soccer ball through the preschool window! After a time out, he tries to be more careful, but ends up knocking down Otus' sandcastle with a careless kick of the ball. After much soul searching, Timmy realizes it's not enough to say sorry, you have to show you're sorry, too.
Playhouse Disney fans will recognize Timmy from his supporting role on Shaun the Sheep. This is Timmy's first DVD, which is sure to be a hit. Like Shaun, Timmy never utters a word but keeps everyone's attention with a hoot, cluck, mew, cluck, bark, oink, quack or bleat. We follow his day and watch him learn lessons of friendship and trial and error. Both Emma & Ethan like to watch them and giggle while Timmy is acting silly. Emma calls Timmy "The funny sheep movie".
BUY IT:
You can purchase Timmy Time: Timmy Steals the Show for $10.99 (sale price… regular $14.98)
WIN IT!
ONE OurKidsMom reader is going to win a stuff Timmy and a copy of Timmy Time: Timmy Steals the Show on DVD!
This giveaway ended at 11:59PM EST on March 9, 2011.
Disclosure:
This post was written by me and was not edited by anyone. The opinions expressed in this post are entirely my own and have not been influenced in any way. I received a DVD for review purposes only. The sponsor is responsible for prize fulfillment and will be shipping the winner(s) their prize(s). For more information please read my disclosure policy.