Timmy Time: Picture Day
PROGRAM DESCRIPTION
The fun and learning never stops when Timmy, of new preschool series Timmy Time™, is ready for his close-up! The all-new Timmy Time: Picture Day! comes to DVD  from Lionsgate and HIT Entertainment just in time for back to school. Whether struggling to keep clean for class photo day, celebrating the color blue, jamming with the school band or just playing with his pals, you know you're in for a barnyard-sized bunch of hilarious antics and adventures with Timmy!
With slapstick humor yet not a single line of dialogue, Timmy Time follows a day in the life of a preschooler where they learn lessons about friendship and trial and error to which every young child can relate. Timmy Time airs weekdays (5:30 a.m. and 7:15 a.m. ET/PT) on Disney Channel's Disney Junior programming block for kids ages 2-7 and their families, airing in more than 99 million U.S. homes.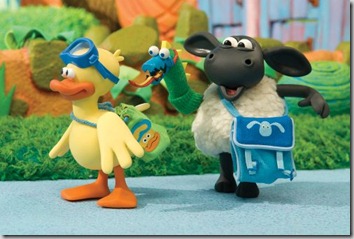 DVD SYNOPSIS:
Come along for a picture perfect day of fun with your preschool pal Timmy! The Oscar®-winning creators of "Wallace and Gromit™" and "Shaun the Sheep™" will make you smile in these fun-loving adventures featuring Timmy and his nursery friends. From good, clean fun during school photo day to drumming up music lessons, these wonderful stories filled with surprises will have you laughing in a flash. So snap up these five adorable tales with a big focus on fun!
"Snapshot Timmy" – It's time for the class photo, but Timmy just cannot keep himself clean – jumping into puddles, kicking muddy footballs and getting splattered by jam sandwiches!
"Timmy Wants The Blues" – Timmy is having a blue day, collecting all the blue toys, blue cushions and blue paint. But when it comes to painting a picture, he quickly discovers he's going to need more than just one color!
"Timmy Wants The Drum" –During a music lesson, Timmy decides he wants to play the drum! But when it is given to Yabba, and a triangle to Timmy, he goes about trying to get the drum for himself…
"Timmy's Puppet" – On his way to preschool, Timmy's homemade sock-puppet falls out of his backpack. Poor Timmy doesn't realize until he arrives to see everyone playing with their own puppets! Crestfallen, he begins an unsuccessful search until Harriet offers to help him make a new one.
"Timmy The Builder" – Following Otus's example, the class begin building dens for themselves. Otus offers to help Timmy with his, but Timmy's pride gets the better of him – he can do this on his own! However, the little lamb soon has to admit that two heads may be better than one.
DVD BONUS FEATURES
Shaun the Sheep: Animal Antics
PROGRAM DESCRIPTION
Ready to sow some seeds of fun? Join the always delightful, baaaaa-dest sheep in the flock, Shaun, in the all-new Shaun the Sheep™: Animal Antics coming to DVD from Lionsgate and HIT Entertainment. In these seven wild and hairy farm adventures released for the first-time-ever on DVD, Shaun and his barnyard buddies deal with a fiendish fox, attempt some clever catering, take to the links, run a farmer's market, stage a daring rooster rescue and more! With his woolly cronies in on the fun, "ewe" can't go wrong with Shaun!
Five minute shorts of the series currently air in the U.S. on the Disney Channel and the series ranks in the top five animated shorts on the network!
DVD SYNOPSIS
Get ready for farm-fresh fun and laughter with Shaun the Sheep and his barnyard buddies, as they set the scene for more mayhem on the farm. Laugh out loud as Shaun tries to outfox a fox, Bitzer discovers his jazzy side, and the sheep try to sell everything on the farm to the highest bidder. Shaun and his friends deliver seven hilarious adventures full of animal antics that will make the whole family cock-a-doodle doo!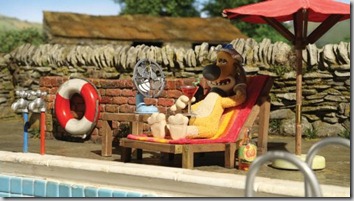 Episodes include:
Foxy Laddie: A fox arrives at the farm, disguising himself as a handsome ram to infiltrate the flock and eat Timmy! All the lady sheep are beguiled by this charming new arrival – especially Shirley. Shaun becomes suspicious when the fox's cunning disguise begins to fail.
Whistleblower: Bitzer loses his precious whistle and tests out the Farmer's trumpet as a replacement. Before long, the power of the trumpet goes to his head and his fanfares and jazz-styled bugling drives the flock around the bend.
Frantic Romantic: The Farmer is trying to impress his new date by cooking her a romantic dinner. Unfortunately, the Farmer can't cook and Bitzer is a useless maître d'. Can Shaun and the flock save the day when they take over the catering behind the scenes?
Who's the Caddy: The Farmer discovers his old golf clubs and decides to knock a few balls around in the field, instantly putting his back out. Shaun takes the opportunity to learn how to play while Bitzer, who desperately wants to show off his golfing prowess, is forced to tend to his injured master inside the house.
Everything Must Go: The Farmer has set up a stall by the side of the road, selling produce from the garden. He leaves Bitzer in charge for the day. But lazy Bitzer soon gets bored and gives Shaun the job while he puts his feet up by the pool. Shaun proves to be a much better salesman than Bitzer and the flock is only too happy to get stuck in selling pretty much all of the Farmer's worldly possessions!
In the Doghouse: When Bitzer's kennel is accidentally destroyed he hopes the Farmer will replace it with a new deluxe model. But when he sees his master's clumsy attempt to build a new kennel, Bitzer is so horrified he packs his bags and leaves home. Shaun hopes to tempt Bitzer to return with the kennel of his dreams.
Cock-a-Doodle Shaun: The rooster is missing and there's no one to wake up the farm. When Shaun discovers the rooster has been snatched by the greedy fox, he sets off with Bitzer on a daring rescue mission. Will they get the rooster back in time to wake up the rest of the farm?
DVD BONUS FEATURES
Building-A-Pig Game

Timmy Time Sneak Peek -Timmy's Tune #2
Timmy & Shaun are cute, mischievous and fun to watch. The kids never grow tired of watching them but mommy doesn't like to watch (claymation weirds me out LOL). The characters find themselves in situations preschoolers are faced with daily. The problem solve, learn to play by the rules and get along with others.
BUY IT:
You can purchase Timmy Time: Picture Day for $11.99 (RV $14.98) at Amazon.com
Shaun the Sheep: Animal Antics can be purchased for $11.99 (RV $14.98) at Amazon.com
WIN IT:
ONE OurKidsMom reader is going to win Timmy Time: Picture Day & Shaun the Sheep: Animal Antics on DVD!
One win per title per person/household please.
TO ENTER:
Simply follow the directions in the widget below. It's that simple.
COMMENTS DO NOT COUNT AS ENTRIES…
but they are still very much appreciated and adored :O)
Rules:
You do not have to be a blogger to enter/win. An email address is required to enter. The winner will be chosen randomly through Rafflecopter and contacted via email. A reply to the winning email is required within 48 hours before a new winner is chosen. One person entering per household please. U.S. only.
This giveaway ends at 12:01 AM EST on September 12, 2011.
Disclosure of Material Connection: I received one or more of the products or services mentioned above for free in the hope that I would mention/review it on my blog. I only recommend products or services I use personally and believe will be good for my readers. I am disclosing this in accordance with the Federal Trade Commission's 16 CFR, Part 255: "Guides Concerning the Use of Endorsements and Testimonials in Advertising." The opinions expressed in this post are entirely my own. Your experience with the product may differ from mine. The sponsor is responsible for prize fulfillment and will be shipping the winner(s) their prize(s). For more information read my disclosure policy.