Timmy Time : Hide and Seek
Coming to DVD September 20, 2011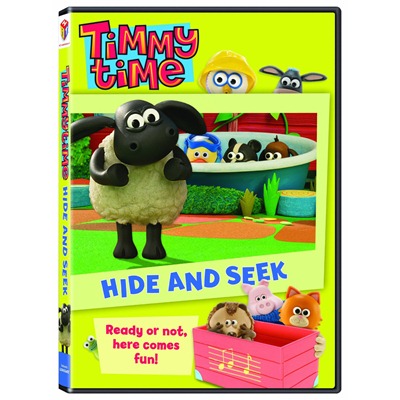 Ready or not, here he comes! Preschool favorite Timmy and pals Yabba, Paxton, Bumpy, Mittens, Stripey and the rest are back for five all-new, antic-filled, good-hearted episodes in Timmy Time™: Hide and Seek, available on DVD September, 20 2011 from Lionsgate and HIT Entertainment.
With slapstick humor and not a single line of dialogue, "Timmy Time" follows a day in the life of preschoolers, where they learn lessons about friendship and trial and error to which every young child can relate. "Timmy Time" airs on Disney Channel's Disney Junior programming block for kids ages 2-7 and their families, airing in more than 99 million U.S. homes. The show is created by Aardman studios, the Academy Award®-winning creators of Wallace and Gromit™.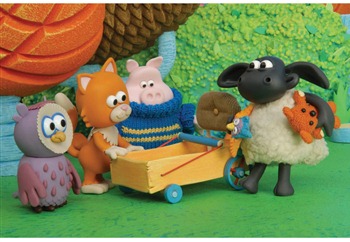 DVD SYNOPSIS:
Come out, come out wherever you are to join Timmy and his preschool playmates for hide and seek and so much more! From finding the perfect hiding place for noisy Paxton to making paper boats with a sneezy Stripey, Timmy and his friends uncover adventure and surprises filled with fun and laughter in these five adorable stories that the whole family will enjoy.
"Timmy Tries to Hide" – The class is playing Hide and Seek, but no one wants to hide with the noisy Paxton, who keeps giving them away. Timmy finally helps Paxton by hiding with him behind some hay-bales. But they're so well hidden that when it comes to Snack Time, no one can find them!
"Timmy Gets the Job Done" – It's time for spring cleaning in the Preschool, but all Timmy wants is to go outside and play. Rushing his chores, he ends up making more of a mess, getting himself into trouble and being sent to sit on the Naughty Stump. Timmy finally learns to finish his jobs properly so he can join the others in their play.
"Timmy Goes Bang" – After hearing thunder during a storm, Timmy becomes fixated with loud noises, banging anything he can find! But poor Apricot is frightened by all these sounds, until she finds something to bang for herself…
"Timmy Wants the Beret" – Ruffy is wearing a beret… and Timmy wants it! After successfully getting hold of it, Timmy also takes Otus' hand-puppet and Mittens' wagon! But he doesn't know what to do when his beloved teddy-bear goes missing…
"Timmy Afloat" – The class is making boats, but Timmy has been paired with a very sneezy Stripey, who keeps ruining his efforts. When Stripey accidentally breaks Otus' boat, Timmy is forced to give the little owl his boat. Finally, Stripey's sneezing comes in handy and pushes the pair's new paper-hat boat to the finish line!
DVD BONUS FEATURES
Timmy Time Sing-Along
Timmy's Days of the Week (educational special)
BUY IT:
You can purchase Timmy Time Hide and Seek for $11.99 (RV $14.98) at Amazon.com
WIN IT:
ONE OurKidsMom reader is going to win Timmy Time Hide and Seek on DVD!
TO ENTER:
Simply follow the directions in the widget below. It's that simple.
COMMENTS DO NOT COUNT AS ENTRIES…
but they are still very much appreciated and adored :O)
<
Rules:
You do not have to be a blogger to enter/win. An email address is required to enter. The winner will be chosen randomly through Rafflecopter and contacted via email. A reply to the winning email is required within 48 hours before a new winner is chosen. One person entering per household please. U.S. only.
This giveaway ends at 11:59 PM EST on September 28, 2011.
Disclosure of Material Connection: I received one or more of the products or services mentioned above for free in the hope that I would mention/review it on my blog. I only recommend products or services I use personally and believe will be good for my readers. I am disclosing this in accordance with the Federal Trade Commission's 16 CFR, Part 255: "Guides Concerning the Use of Endorsements and Testimonials in Advertising." The opinions expressed in this post are entirely my own. Your experience with the product may differ from mine. The sponsor is responsible for prize fulfillment and will be shipping the winner(s) their prize(s). For more information read my disclosure policy.