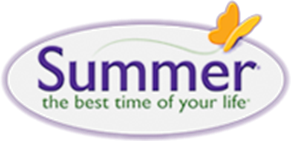 For parents looking for the ultimate stylish color video monitor that allows them to view baby both day and night, there's the Slim & Secure Handheld Color Video Monitor from Summer Infant.  It's small, sleek and stylish design makes parents feel like they're watching the little one on their cell phone.  It's today's most sought after baby monitor and gives parents the reassurance they need by allowing them to hear and see baby – day or night.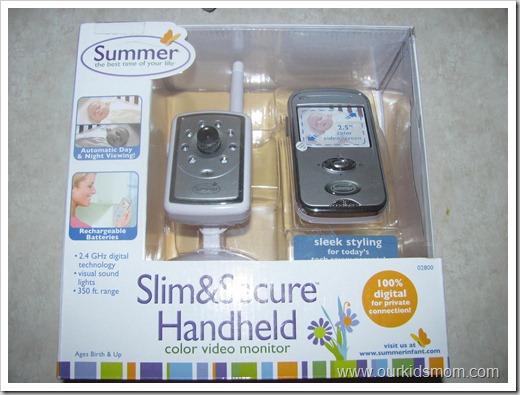 My husband teases me (often) about being an over protective mom. It is not enough for me to hear what is going on in Ethan's room… for my peace of mind I need to see what is going on as well. I wasn't like this with Kaytlin and Josh. Sitting here trying to figure out what is different now from then… the only thing I can think of is that Ethan uses a sound machine so there is always white noise coming through the audio. A lot of times this can mask the fact that Ethan is up and around (and sometimes climbing on things he shouldn't be… he's all boy!).
Our old video monitor bit the dust (not the monitor's fault… but that's another story) so I contacted Summer to see if we could review one of their units. When they agreed I was giddy with joy!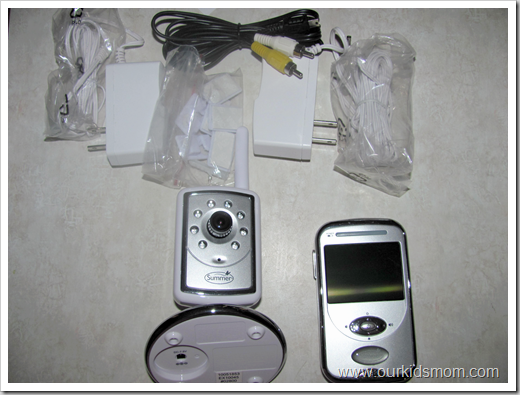 The Summer Slim & Secure Color Handheld Video Monitor comes with everything seen above. The camera, receiver, two a/c plugs, mounting tabs (use if needed) and the cord to plug it into the television for family entertainment viewing or DVRing (and yes, it's can be entertaining!).
We mounted the camera to the wall, plugged it in, plugged the receiver in and then we were in business! Ethan was a little freaked out at first, but he is a strange bird and does not like new "things" in his room when he goes to sleep. He will ask us to take it out when we leave after reading to him. It doesn't happen as often, but it still does. I actually took this photo in a pitch black room… I knew where to aim because the camera has a little green light on it to let you know it's on.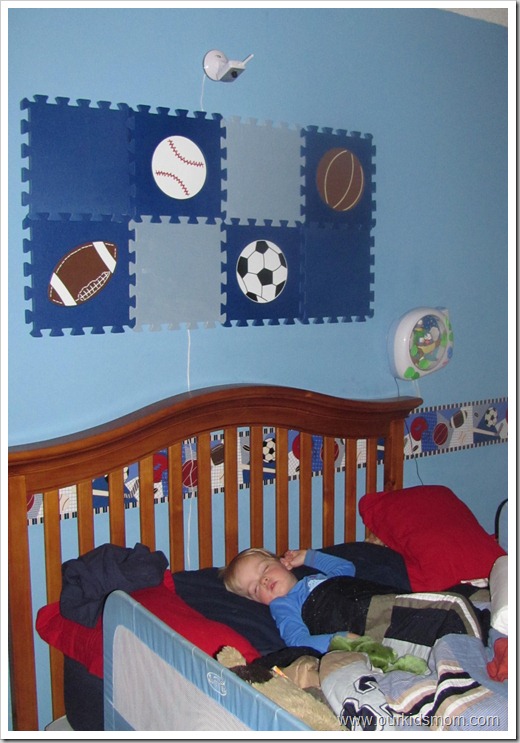 The next photo is a shot from the receiver. Remember, I mentioned that when I went upstairs the room was completely dark. The camera has a small infrared light that allows you to view your child even in complete darkness. The picture is a bit grainy and in black and white… but you can totally see what is going on in the room. Daylight viewing is crisp and in color.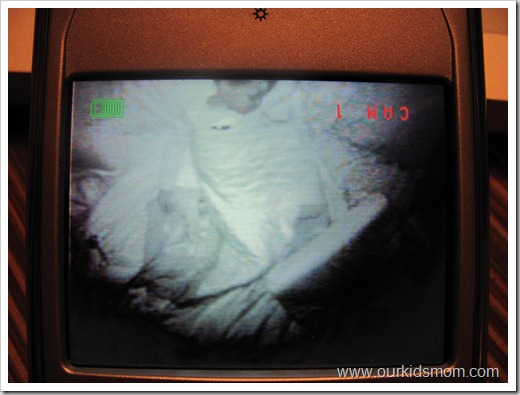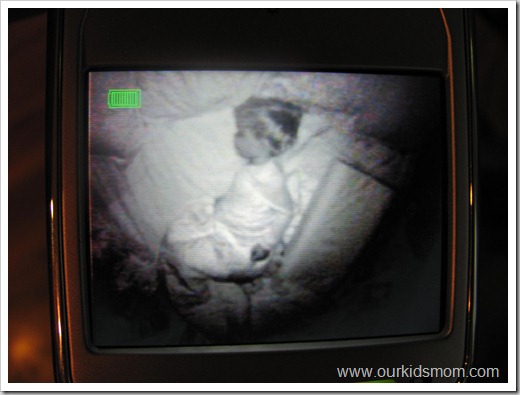 I love everything about this video baby monitor. The ease of installation, the size (both the camera and receiver are very compact), the ease of use (plug and go), the picture quality, the rechargeable battery in the receiver, and the peace of mind that comes with being able to peek at your child without disturbing them. Although it is not a necessity, being able to plug it into a television for family viewing (and DVRing) is a nice plus. Children tend to chatter while in bed… they are practicing words and sounds they learned that day. It is so much fun to hear and watch them during this winding down time. I would highly recommend this video baby monitor to anyone. The peace of mind (and better sleep because you aren't worrying) is worth the price.
BUY IT:
You can purchase the Summer Slim & Secure Color Handheld Video Baby Monitor for $199.99 at Babies R Us
WIN IT!
One OurKidsMom reader is going to win a Summer Slim & Secure Color Video Baby Monitor!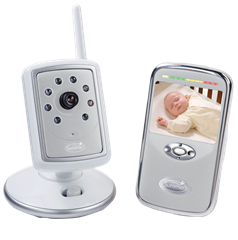 This giveaway ended at 11:59PM EST on June 14, 2011.

Disclosure:

This post was written by me and was not edited by anyone. The opinions expressed in this post are entirely my own and have not been influenced in any way. I received product for review purposes only. Your experience with the product may differ from mine. I was not financially compensated for this post. The sponsor is responsible for prize fulfillment and will be shipping the winner(s) their prize(s). For more information please read my disclosure policy.