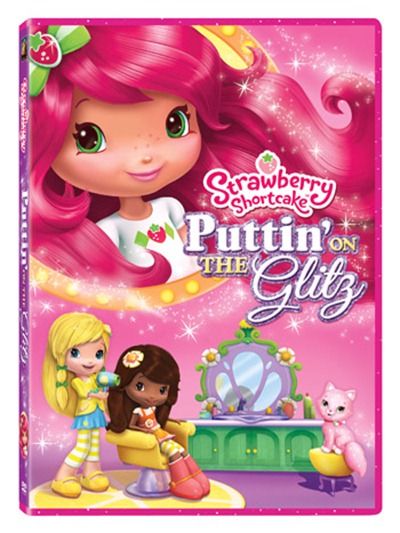 Just in time for Easter!
STRAWBERRY SHORTCAKE: PUTTIN ON THE GLITZ
An All-New DVD Just Released March 22 From Twentieth Century Fox Home Entertainment and American Greetings
Fabulous new fashions, sparkling musical 'Glamicures' and delightful new 'Dos' have Strawberry and her friends 'Puttin' on the Glitz'!  But all that dazzles quickly unravels with a misunderstanding until the girls find creative and kind ways to be honest with their feelings and with their friends. It's heart-to-heart makeover magic as the girls learn that nothing looks as beautiful as friendship feels!
As a child I had every Strawberry Shortcake doll there was. I can still remember the distinct smell of each doll. Strawberry and friends received a well deserved makeover/update in this new movie.
This was Emma's first exposure to Strawberry Shortcake and she was instantly draw in. The dolls/characters are as cute as ever and the updated storyline has distinct learning opportunities. This particular DVD focuses on being kind and honest with your friends. I look forward to the next Strawberry Shortcake video and I'm sure the dolls will be on Emma's "want list" very soon!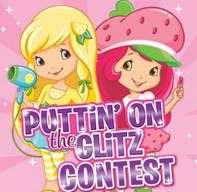 There is a fun new contest that has been created in conjunction with the release of Strawberry Shortcake Puttin' on the Glitz.  American Greetings is hosting a competition in which you can style your Strawberry Shortcake doll's hair (or any of her friends) and share your flair by sending in a photo of your doll's glitzy new do from now until April 18th, 2011.  Winners will receive a Strawberry prize package valued at $75!
You can find the contest information here
BUY IT:
You can purchase Strawberry Shortcake Puttin' on the Glitz for $10.99 at Amazon.com (RV $14.98)
WIN IT!
One OurKidsMom reader is going to win Strawberry Shortcake Puttin' on the Glitz on DVD!
This giveaway ended at 11:59PM EST on April 19, 2011.
Disclosure:
This post was written me and was not edited by anyone. The opinions expressed in this post are entirely my own and have not been influenced in any way. I received product for review purposes only. I was not compensated for this post. The sponsor is responsible for prize fulfillment and will be shipping the winner(s) their prize(s). For more information please read my disclosure policy.