Stompeez – Slippers with Personality
 
Stompeez are the comfy, fun slippers that will leave your kids eager to take their shoes off at the door! They will be Stomp, Stomp, Stomping their way to fun in no time, because with each stomp of the foot, Stompeez reveals the playful Stompeez character on the face of your slippers. Stompeez are colorful! Stompeez are soft! Stompeez are fluffy! Stompeez are also built to last and provide many STOMPING FUN NIGHTS!!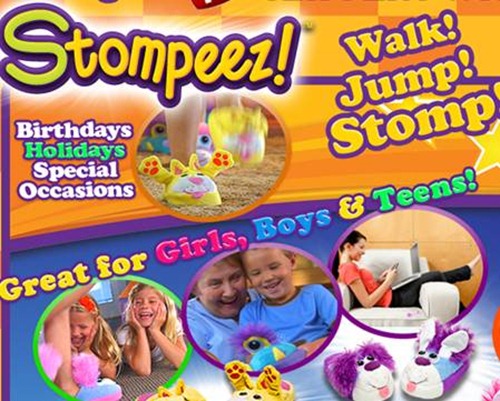 Stompeez™ animated slippers skyrocketed in popularity last year during the holidays, thanks to the soft, playful characters kids wear on their feet for stomping fun. And while popularity is a good thing, it also overwhelmed the brand, which at that time was new. Now under new management, Stompeez has stepped up its production and distribution efforts to ensure it will be able to meet this year's holiday demand with ease. The company works hard to create, promote and sell products that children and parents will love.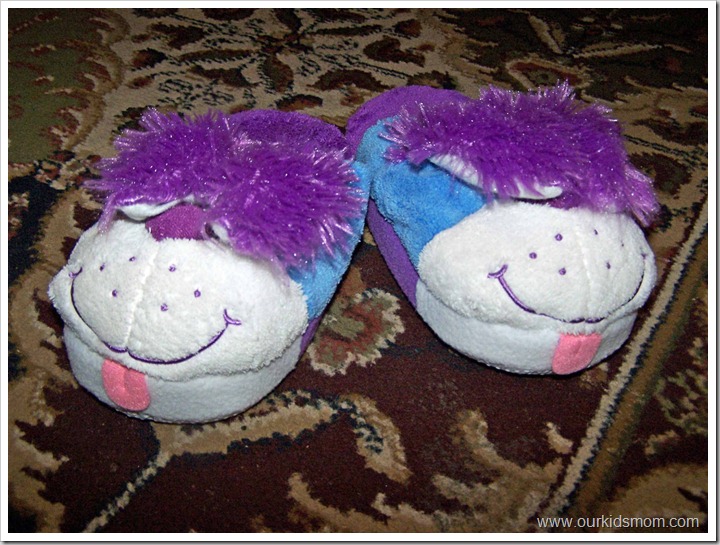 My youngest, Mikenah, is at the age where everything she sees, she wants to get.  Stompeez are no exception.  She has seen Stompeez on TV & has been asking for them for the last couple of years.  When given the chance to review a pair, I was excited!  These slippers are so adorable & I couldn't wait to see Mikenah try them out.
I chose the purple and blue "Playful Puppies" for her & when they came in the mail, I was thrilled!  These slippers are so stinkin' cute!  I've gotta admit, I couldn't wait for Mikenah to try them on, so I slipped them on myself.  🙂  Oh my goodness!  So cute!  The ears pop up with every step, uncovering the eyes.  They are so soft, warm & comfy too!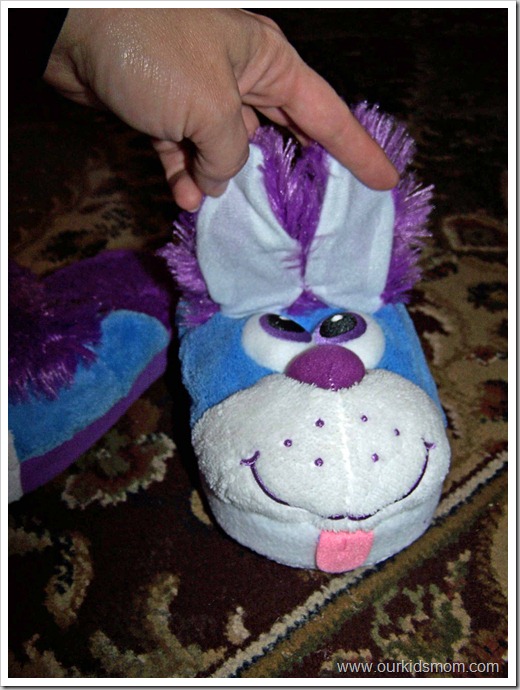 I recommend Stompeez for pretty much anyone.  They have several different styles and colors.  You can choose from a unicorn, dragon, bunny, kitty, monster or 3 colors of puppy slippers.  There is also sizes small, medium and large to range from toddler to teens/adults.  I wonder if hubby would want a pair for Christmas?  With a 60-day money-back guarantee that backs up the quality and value of each pair sold… Hmmm…
BUY IT:
You can purchase Stompeez on their site
*** Coupon Alert ***
Just in time for the holidays and they don't expire until after Dec 31, 2012:
       1) Get $5.00 off your order by entering promo code SLIPPER at check out
2) Customers who order two or more pairs at StompeezClub.com enjoy free same-location shipping on the additional pairs (after S&H paid for 1st two pairs).
Disclosure of Material Connection: I received one or more of the products or services mentioned above for free in the hope that I would mention it on my blog. I only recommend products or services I use personally and believe will be good for my readers. I am disclosing this in accordance with the Federal Trade Commission's 16 CFR, Part 255: "Guides Concerning the Use of Endorsements and Testimonials in Advertising." The opinions expressed in this post are entirely my own. Your experience with the product may differ from mine. The sponsor is responsible for prize fulfillment and will be shipping the winner(s) their prize(s). For more information read my disclosure policy.