Is one of your New Years Resolutions
… to get into shape?
… start running?
… walk more?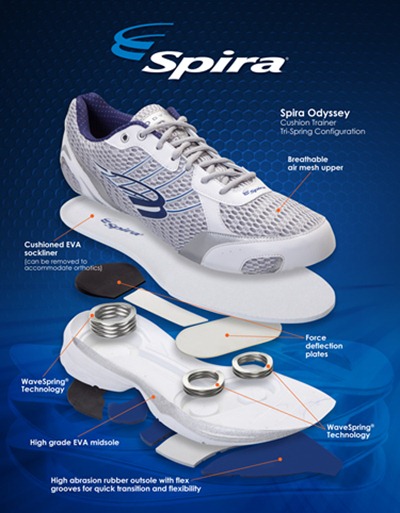 The WaveSpring® Technology
We are convinced that the WaveSpring® technology has the potential to revolutionize the footwear industry, and in the process, forever change the purpose and function of footwear. Unlike traditional coil or conical springs, the WaveSpring is laterally stable, compact and lightweight. As a result, we have developed a remarkable energy return technology for footwear. According to a biomechanical study conducted by the Shoe Lab at Michigan State University in 2001, our springs return an astounding 87-96% of energy otherwise lost to the ground. The highest energy return score of any shoe every tested. Accordingly, our shoes allow people to participate in physical activity for longer periods of time with far less stress on the body. Recovery time following vigorous activity is greatly reduced. What's more, because our midsole system is mechanical, it never breaks down. As Popular Mechanics concluded in a recent footwear technology review, "Unlike rubber and polymers, the springs have an almost infinite fatigue life. The shoe will fall apart before the spring performance degrades." Perhaps most exciting is the fact that we can put the technology in almost any type of footwear. While we presently produce lines of walking and running shoes, we have plans to introduce casual men's dress, basketball, and sandals in the near future.
My husband has always enjoyed running, but it does a number on his knees and back. As my 13 year old has become interested in running, my husband decided to pick up his running shoes and give it a try again. Fortunately for us, Spira Footwear had recently contacted me to review a pair of their shoes.
We were sent a pair of Odyssey Running shoes. Here is some information on them from the website:
Product description
A well cushioned training shoe that provides excellent forefoot and heel cushioning. The patented WaveSpring® technology is located in both the heel and forefoot for maximum impact absorption and energy return that will not break down over the life of the shoe. The mid-foot is supported by a molded external shank support structure to aid in torsional stability.
Intended use
A mid to high mileage training shoe for the serious runner looking for a performance shoe that provides excellent long term cushioning front and rear combined with a high level of responsiveness.
Runner type
For runners who are looking for maximum full length cushioning that provides exceptional protection against impact shock and fatigue.
Technology
The WaveSpring® cushioning system in the forefoot and heel provide maximum energy efficiency in conjunction with a high level of cushioning that is very responsive for running. The WaveSprings are low profile, light-weight, and are made of stainless steel to resist rust.
Last type
New semi-curved training last with proven fit characteristics.
Lasting method
Strobel lasted construction with EVA sock for additional comfort and durability.
Upper materials
Breathable air mesh top vamp combined with a non-stretch support mesh in the lower vamp provides maximum comfort and fit. A molded TPU heel counter offers increased fit and support. The Spira® logo and heel accents are made of reflected material for safety.
Sockliner
The 5mm molded EVA foot-bed/insole can be removed to accommodate orthotics.
Outsole
High abrasion rubber at heel strike increases durability. A 3-pod construction process in the forefoot includes flex grooves for quick transition and flexibility through the gait cycle.
Midsole
A single WaveSpring® in the heel and a dual WaveSpring® configuration in the forefoot, are surrounded by compression molded EVA for superior shock absorption and fatigue reduction. A built in arch shank offers added torsional stability and support.
After unboxing them be both remarked that they were a nice looking shoe. It was lightweight with breathable material to help keep his feet cool. He put them on and mentioned that they felt nice and he couldn't wait to try them out.
So… on to the test. You see, my husband and son decided to go ahead and sign up for a 10k here at the end of January. This is a very brave action for my husband, as he usually didn't run much over 2 miles because of pain. He developed a training program online and has been following it for the past several weeks while wearing the Spira Odyssey running shoes.
His first run with the new shoes had him a little confused. His right foot was sore after his run which was completely unexpected. After talking we decided he had that particular shoe tied a bit too tight. His next run he decided to adjust the tightness and give them another shot. He was very pleased with this particular run and found the shoes to be very comfortable, light, breathable and he commented that he really couldn't feel that they are on his feet.
I am pleased and proud to say that he has worked his way up to 5 miles while wearing these shoes and he even commented after that run that he felt like he could have kept going! He has been relatively pain free (only the expected soreness etc. from a new workout) since wearing his Odysseys while training and is now talking about working his way up to a half marathon and then a marathon! We both thank Spira Footwear for giving this element of his life back to him.
BUY IT!
You can purchase a pair of mens Spira Odyssey running shoes for $114.95
WIN IT!
One OurKidsMom is going to win a pair of Spira Shoes!
HERE'S HOW TO WIN!
(Please remember you must have your email in your entry or viewable in your profile in order to win)
1 entry –

This entry is MANDATORY.

If not completed all other entries will be DELETED!
* Follow OurKidsMom via Google Friend Connect
(found on the right sidebar under "Followers")
and
* Visit Spira Footwear's Website and tell me a product you like, something you liked or something you learned.
BONUS Entries! You may do any or all of these in any order after the mandatory entry above has been completed. If you have already completed these actions let me know you did! Remember, you can't win if you don't enter!
#WIN Spira Footwear Running/Walking Wavespring Shoes RV $115 @SpiraFootwear @ourkidsmom ends 1/31 http://tinyurl.com/2ugkkrc #S4YR 
1 entry per giveaway entered- Enter any of my current giveaways and leave a comment here
2 entries- Grab my button and leave the direct link to where I can find it
2 entries- Add my link to your blog roll and let me know where to find it
3 entries- Blog about this giveaway with a direct link here. Come back and leave a direct link to your post so I can see it

1 entry each

–

Share this on Facebook, Digg, Stumble, Google Buzz, etc (you can find the buttons at the bottom of this post labeled with "share the love")
Due to a change in Top Mommy Blog rules, I can no longer give entries for voting. If you enjoy my blog and my giveaways I would love it if you would take a second to vote for me on

Top Mommy Blogs

. One click and you're done… your click is your vote (pretty please?)

! You can click

here

or on the brown button on the right sidebar.
Rules:
You do not have to be a blogger to enter/win. An email address is required to enter. The winner will be chosen via random.org and contacted via email. A reply to the winning email is required within 48 hours before a new winner is chosen. One set of entries per household. This giveaway ends at 11:59 PM EST on January 31, 2011 and is open to residents of the US.
Disclosure:
This post was written by me and was not edited by anyone. The opinions expressed in this post are entirely my own and have not been influenced in any way. I received product for the purposes of review only. The sponsor is responsible for prize fulfillment and will be shipping the winner(s) their prize(s). For more information please read my disclosure policy.
***************************
This giveaway is part of the Solutions for Your Resolutions Blog Hop.
Please take a minute to check out the other participating blogs…
Here's a comprehensive list of current Solutions for Your Resolutions giveaways: