About Us
We started our company in 1996 in a tiny apartment in Leucadia, California, a northern suburb of Sunny San Diego. As newlyweds, Rich and Sundi Yousko were thrilled to begin this new phase of life together and decided it was time to create what we had often talked about: launching our own family business. When we combined our forces, we realized that our most valuable asset and distinct competitive advantage was our ability to relate and listen to our customers.
Outstanding customer service is the foundation that SJ Creations is built upon.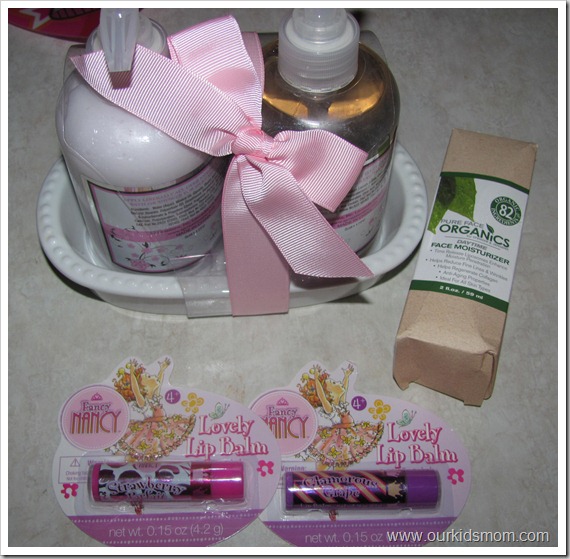 I was given the opportunity to sample a few items from a couple of different categories from the SJ Creations website.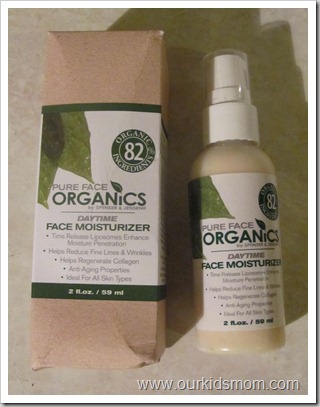 Pure Face Organics – Day Moisturizer
* Organic daytime face moisturizer delivers time release liposomes to enhance moisture penetration.

* Formulation helps reduce fine lines and wrinkles while regenerating collagen and providing anti-aging properties.

* Helps balance overall skin tone without clogging pores.

* Hypo-allergenic makes it ideal for all skin types.

* 100% paraben free with no sodium lauryl sulfates, this product is also silicon and petroleum free.

* Made with Eco-Cert certified ingredients, there are no artificial colors and no synthetic fragrances.

* 100% biodegradable and has never been tested on animals.

* Use after cleansing and serum in the morning.
My face takes a beating in the winter. I get dry patches and flake like crazy from the dry air. I am a pretty simple girl and have always purchased my moisturizer from "the marts". I must say, though, that I am now a spoiled girl! I'm not sure I can "go back"! I've been using this moisturizer for a few weeks now. It does not leave my face feeling greasy… it absorbs very quickly. It only takes two tiny squirts to more than cover my face and neck (I use the excess on my hands). I have not had any acne problems since starting this product, I've noticed fine lines lessening and I love that it is organic and cruelty free!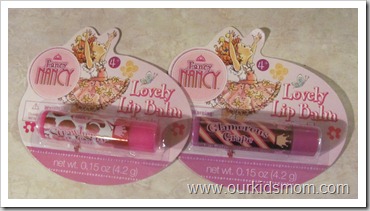 Fancy Nancy Lip Balm
Nobody knows fancy like Nancy! Keep your lips moisturized and smelling delicious with this Lovely Lip Balm. Buy both fragrances for one low price!
0.15 oz.
Strawberry Parfait & Glamorous Grape
Tested for children safe use.
My Emma is a little diva… and almost always has chap stick or lip gloss in her pocket (and on her lips). Emma loves this particular lip balm and walks around asking "Do you want some Fancy Nancy on your lips?". She loves the smell, it goes on smoothly and it has a teeny tiny bit of sparkle in it. It doesn't hurt that the packaging has princess crowns on it, too.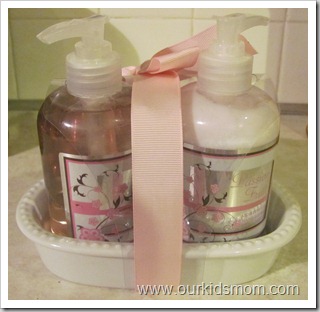 Passion Fruit Hand Lotion & Wash in Ceramic Caddy
Keep your hands clean and soft with this coordinating pair of cleansing hand wash and moisturizing lotion in an attractive, reusable home accent caddy.
* 12 fl. oz. Cleansing Hand Wash
* 12 fl. oz. Moisturizing Hand Lotion
* Reusable Ceramic Caddy
* Made in China
I saved this for last because it is one of my favorite items received.
First of all, I love the ceramic caddy. I like to keep my lotion and hand wash out, but I don't like a bunch of loose bottles cluttering up the countertop. The ceramic caddy fits my bathroom decor and it makes the lotion and wash look like they "belong" on the counter.
Next, let's get to the scent. I must say that I normally go for apple type scents, but I wanted the caddy (okay, don't laugh at me!). This scent sold me the minute I put the lotion on my hands. One squirt goes quite a way… I oftentimes will find someone nearby to "share" my excess with (and they gladly receive it!). My hands don't feel greasy… it absorbs well, and the scent hangs around for a while for me to adore.
I admit that I am a bit lazy and will skip moisturizing my legs and arms in the winter because I don't want to dig the lotion out from under the sink. Because this caddy is on my countertop, I have been moisturizing on a daily basis and the constant nagging itchies on my legs have dwindled down to almost non-existent now.
BUY IT:
You can purchase:
Pure Face Organics Day Moisturizer for $9 (sale price.. regular $18)
Fancy Nancy Lip Balm 2 pack for $5
Passion Fruit Hand Lotion & Wash in Ceramic Caddy $20
OurKidsMom readers can save 20% off orders of $20 or more using coupon code: Love20
FREE shipping on orders of $35 or more!
WIN IT!
One OurKidsMom is going to win what I reviewed!
This giveaway ended at 11:59 PM EST on February 10, 2011.
Disclosure:
This post was written by me and was not edited by anyone. The opinions expressed in this post are entirely my own and have not been influenced in any way. I received product for the purposes of review only. The sponsor is responsible for prize fulfillment and will be shipping the winner(s) their prize(s). For more information please read my disclosure policy.