Is your New Years Resolution to take better care of your skin?
… use more natural products on your face?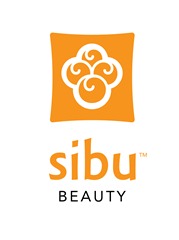 Beautiful People. Beautiful Earth.
We are proud to offer an exclusive line of health & beauty products that will improve the way you look and the way you feel. But we are also sensitive to the constant stress on our environment due to chemicals, overflowing landfills, and irresponsible management of our forests and other valued resources.
For these reasons, Sibu Beauty is also proud to announce a range of sustainability initiatives which respect the earth and the resources it provides. From our easily recycled plastic and our partnership with the Forest Stewardship Council, to our fair trade harvesting practices in Tibet and philanthropic outreach, Sibu Beauty want to make a difference for your health and for the planet.
Sibu Beauty is the only North American company to incorporate the Sea Buckthorn Berry into their products.
WHAT IS THE SEA BUCKTHORN BERRY?
For literally hundreds of years a bright orange berry that grows wild throughout Southeast Asia has been bettering the beauty and health of millions of women, men and children. This sacred fruit, the sea buckthorn berry, has more nutrients than practically any other food source on the planet; it contains over 190 bio-actives, Omegas 3, 6, 9 and the highly elusive Omega 7 (Palmitoleic acid) which is a key component of healthy skin that most of us don't get enough of.  Additional studies have shown sea buckthorn may also improve the health and function of hair and nails as well as the cardiovascular and gastrointestinal systems.  Some of the most loyal sea buckthorn fans are women experiencing symptoms of menopause, which have been reduced, due to the benefits associated with sea buckthorn to the urogenital system.
When I was approached to review these products, I was intrigued by the information I read about the sea buckthorn berry. I was sent the following products to try at my leisure: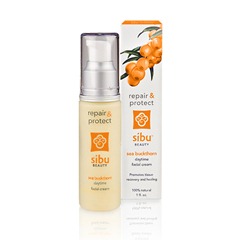 Sea buckthorn repair & protect facial cream
Promotes tissue recovery and healing
Rejuvenates sun-damaged skin
Protects against environmental stress
Preserves healthy skin tone and texture
Boosts collagen production
Helps reduce the appearance of wrinkles and fine lines
Helps address rosacea and eczema symptoms
100% natural
1 fl. oz.
Our sea buckthorn facial cream, with omega 7 fatty acids, helps boost collagen production and creates the perfect barrier to moisturize, rejuvenate, repair and protect. This light, non-greasy cream is ideal for daily use and offers a pleasing, light citrus scent. It is paraben-free and cruelty-free, and contains NO dairy, yeast, wheat, gluten, sodium or preservatives.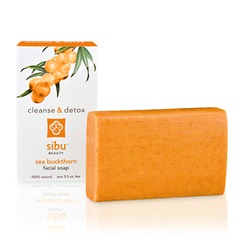 Sea buckthorn cleanse & detox facial soap
Cleans, conditions, and moisturizes skin
Natural astringent
Inhibits bacterial growth
Revitalizes skin cells
Promotes tissue recovery and healing
Helps address rosacea and eczema symptoms
Made with whole sea buckthorn berry puree
100% natural
(1) 3.5 oz. bar
Awaken your skin in the morning or wash away a day of stress and pollutants with pure, simple, clean and powerful Sibu Beauty sea buckthorn facial soap. Lathers thick and rinses with ease to cleanse, detox and moisturize, and repair the skin while creating a protective barrier against UV rays and cell damaging free radicals
Ingredients: Coconut oil, palm oil, safflower oil, glycerin, purified water, oatmeal, sodium hydroxide, sea buckthorn puree, sorbitol, sorbitan oleate, fragrance orange/lemon, soybean protein, sea buckthorn leaves, titanium dioxide.
Paraben-FREE and Cruelty-FREE. No dairy, wheat, gluten, sodium, yeast or preservatives. Our sea buckthorn is sourced through fair trade agreements with local harvesters in Tibet.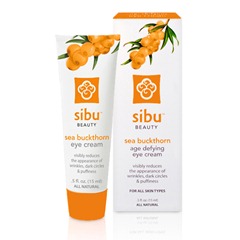 Sea Buckthorn Age-Defying Eye Cream
Smoothes fine lines and wrinkles
Firms and supports
Visibly reduces appearance of dark circles and puffiness
Long lasting hydration
Rich in plant-based anti-oxidants
Features rich cruciferous blend of ingredients
100% natural ingredients
For all skin types
Your face is often the first place to show the effects of stress and aging. The area around your eyes is especially vulnerable. But with the proper nutrients and care, you can maintain a bright, youthful tone and texture.
Our age defying eye cream is all-natural formulation specifically designed to gently support the delicate skin surrounding your eyes. The time-tested plant oils of sea buckthorn and pumpkin seed protect and firm skin while refining fine lines. This botanical (cruciferous) blend will leave the skin around your eyes feeling soft, smooth, and rejuvenated.
I have been using these products for several weeks now. I'm going to start with the facial soap, as that is the first step in my beauty regimen at night. I liked how it lathered right up, but didn't leave my face feeling dry or filmy. My face felt clean and fresh. My skin has been clearer and I am sure it's because I am removing all the impurities that have built up over the day!
The facial lotion is my first step in the morning after a shower, especially in the winter. I have been using a product (initials 3 O's) that I generally liked, but it always felt like it took forever for it to be absorbed. The Sibu facial lotion only took 2-3 tiny little squirts (this little bottle lasts a long time!) and it covers nicely. It absorbs quickly so I can get on with my makeup routine. I also have a mild case of rosacea (on my cheeks) and it seems to be minimizing the red lines over time!
Right after the lotion I put the eye cream on. It also only takes a tiny dabble to get it to cover the area around the eyes. Now, I must preface these statements with the fact that up until this point I have not used any eye cream at all. I have been noticing a little puffiness under my eyes, a few lines (crows feet) and my eyelids puffing a bit. After using this product for less than 1 week I made the comment to my husband that I felt like I looked younger. The puffiness under my eyes was much less, the crows feet weren't as noticeable and my eyelids seemed like they were sagging near as much (this is a hereditary trait that worsens and eventually leads to plastic surgery in my family). I have continued to use the eye cream and am slowly seeing an improvement and I am very pleased with this product!
I am very pleased with all 3 products and would recommend them to anyone looking for a new choice in facial care.
Check out this short clip of Sibu Beauty products featured on the show "The Doctors"
BUY IT!
You can purchase these products and more on Sibu Beauty's website
Facial cream is $19.95
Facial soap is $5.95
Antiwrinkle eye cream is $24.95
WIN IT!
One OurKidsMom is going to win all three products I reviewed!