See's Candies Review

For years I have heard about See's Candies, but believe it or not… I hadn't had a chance to try them! I've seen their store tucked in the front of our local furniture super store, but by the time we were done shopping I was exhausted and didn't want to fight the kids over candy. I didn't realize they had an online store and I jumped at the chance to try a variety of goodies.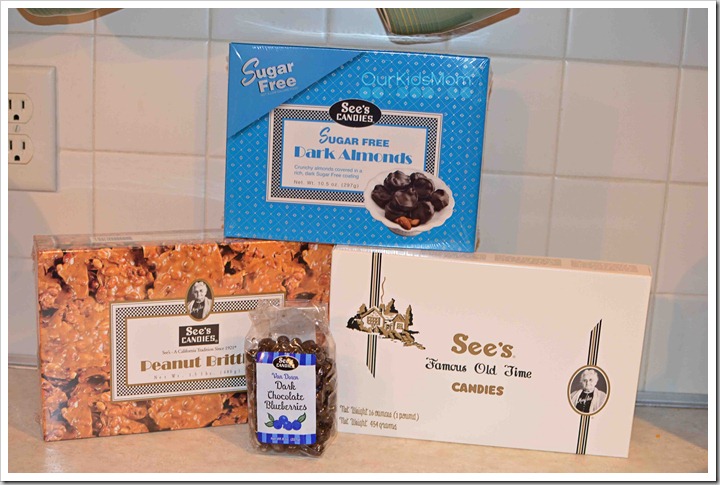 See's Famous Old Time Candies® are well known and loved throughout the West where the company was founded in 1921. If you were to visit a See's Candy store, you would find a sparkling clean black and white shop where your candies would be packed to order as you made your candy selection. See's reputation for friendly old-fashioned service remains unrivaled.
To produce the best possible boxed chocolates, we at See's acquire the choicest and finest grade raw ingredients from all over the world. Making over 100 varieties of candies, we have maintained our reputation for excellence by strict adherence to See's "Quality Without Compromise®" motto.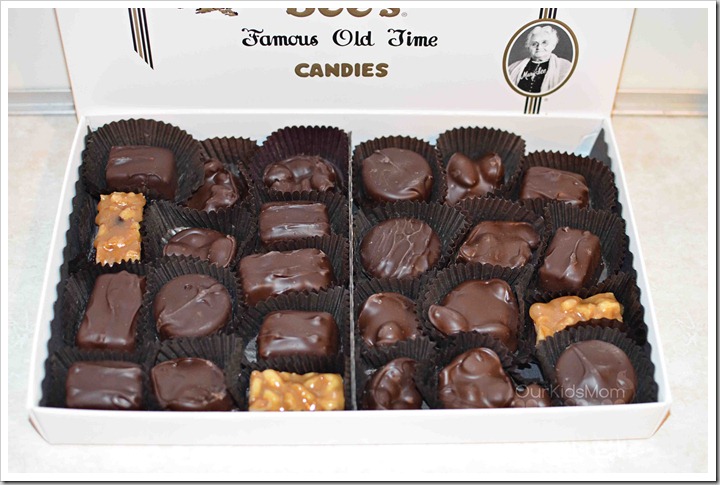 The variety box is a traditional item, but since we are a family of dark chocolate lovers I chose the Dark Nuts & Chews.
This traditional dark chocolate assortment is packed with top-quality peanuts, California-grown English walnuts, almonds, chewy Caramel, honey Scotchmallow® and more – all coated with dark chocolate.
My grandma used to get mixed boxes and we'd all bite into them and leave "halves" behind that we didn't like. Fortunately, we loved every piece in this box. I particularly enjoyed the carmel and peanuts, but there wasn't an "odd man out" in this box.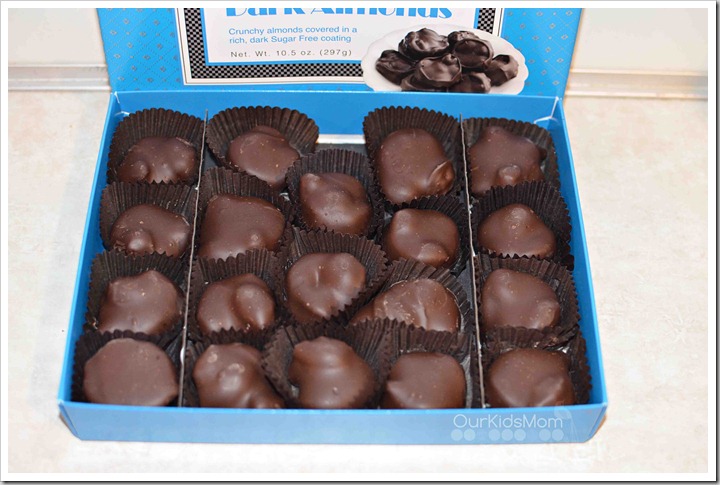 I don't handle a lot of sugar well, but I love to enjoy dark chocolate covered almonds. I was giddy when I found the Sugar Free Dark Almonds on the website.
See's Sugar Free Dark Almond Clusters are deliciously dark and nutty, made with fresh roasted almonds. They have the same high quality taste that you've come to love from See's.
I wasn't disappointed. Usually the cheaper sugar free chocolates have or leave an odd taste in your mouth. It's very noticeably sugar free. The See's sugar free made me double check the package and then grin with each bite. I intend to purchase a few boxes to put back for a special treat for myself.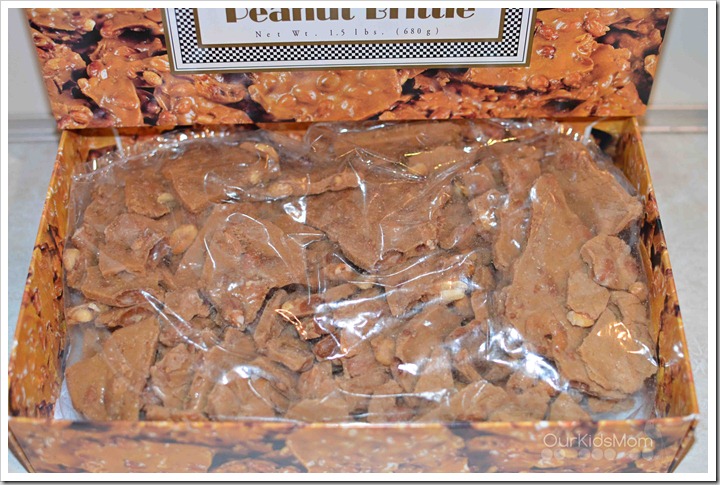 As a child, I loved peanut brittle but my memories are that it was terribly difficult to bite into and chew. I also remember picking it out of my teeth for long periods of time after eating it because it was so sticky. See's Peanut Brittle was exceptionally fresh, easy to bite into and chew and had a nice peanut flavor. It would make a great sweet to put out at holiday time.
With more peanuts per square inch, See's Peanut Brittle is unlike any other. It's made from Mary See's old-fashioned recipe – a blending of fresh AA-grade butter, pure sugar, premium whole peanuts, and our own proprietary ingredients.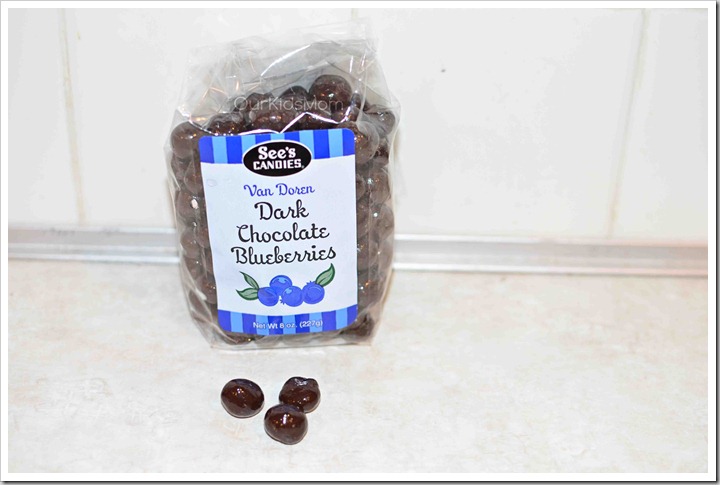 While surfing the site I stumbled on these Van Doren Dark Chocolate Blueberries. Yes, it seems like an odd combination and I have never seen it before… but I had to try them.
These bite-sized blueberries are covered in delicious dark chocolate. Perfect served alongside dessert or as a gift. One bag might not be enough, so be sure to pick up a few!
First let me warn you… these can become addictive. The minute you pop them into your mouth the tartness from the blueberries mixed with the delicious dark chocolate made me literally "mmmmmmm" out loud. Fortunately they are rich enough that only a few will do, otherwise the bag would be empty. I like to grab 4-6 of them and eat them slowly. They fight off a sweet/sugar craving and it's a nice treat.
I am a total See's Candy convert and the next time we are at that furniture store I just might head there first!
1Connect with See's Candies:

BUY IT:
You can purchase See's Candy online or check here for a store near you.
WIN IT:
ONE OurKidsMom reader is going to win a $25 See's Candy GC!
This giveaway ended at 11:59 PM EST on September 10, 2012.
Disclosure of Material Connection: I received one or more of the products or services mentioned above for free in the hope that I would mention it on my blog. I only recommend products or services I use personally and believe will be good for my readers. I am disclosing this in accordance with the Federal Trade Commission's 16 CFR, Part 255: "Guides Concerning the Use of Endorsements and Testimonials in Advertising." The opinions expressed in this post are entirely my own. Your experience with the product may differ from mine. The sponsor is responsible for prize fulfillment and will be shipping the winner(s) their prize(s). For more information read my disclosure policy.