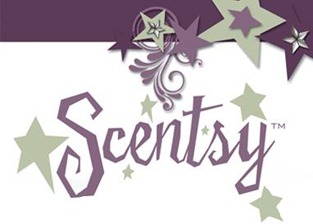 The idea for Scentsy was born in 2003 when two stay at home moms viewed an episode on Oprah about "millionaire moms". Kara Egan and Colette Gunnell started by breaking scented wax into potpourri burners. They soon traded in their open flame for a 25 watt light bulb. Scentsy was born.
Since it's conception in 2003, Scentsy has grown by leaps and bounds. May 2004 Orville Thompson purchased the idea from Egan and Gunnell and took Scentsy to the next level. The company has since grown from 66 independent consultants in 2004 to more than 100,000 independent consultants in 2011.
As a mother of four children, I have had my share of candle accidents in our house. My oldest, with the best intentions, blew out a candle with too much force. My living room wall was plastered in red candle wax. On another occasion, we were visiting friends (who at the time were childless). The wife was burning a lovely candle in the living room on the side coffee table. Unfortunately it was at child level and by the time Emma was done with it my Emma's hand (and their table) was covered in candle wax. Fortunately, she didn't get burned by the flame.
I love walking into a house with a lush candle burning… the fragrance the candle pust out fills the area and wraps around you as you enter. There is no better mood setter. Unfortunately candles are an accident waiting to happen. That is where Scentsy comes in…
Jana Jacob, an independent Scentsy consultant, reminded me of these dangers and offered a solution…. a Scentsy wickless candle!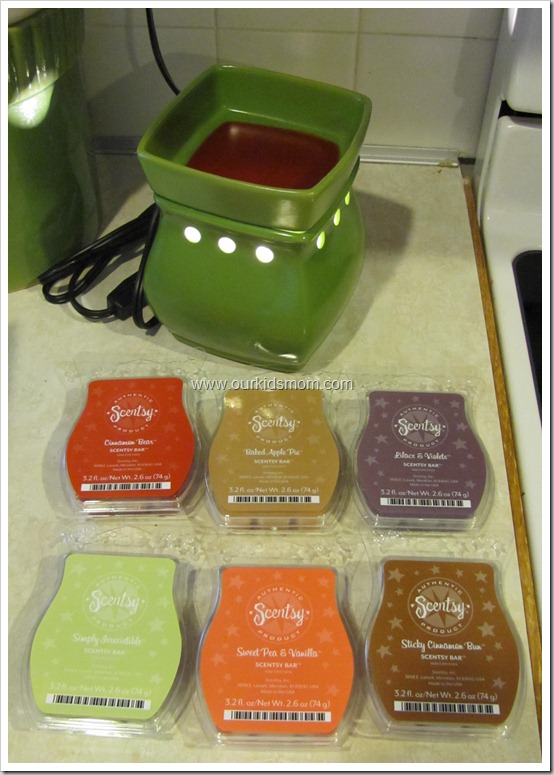 I received a Full-Size Scentsy Warmer and six scents to try. Like I said, I am a candle lover… so I am looking for something that will fill the house with a scent, not just an area. I eagerly took it out of the box and set it up. Set up is simple… screw in the light bulb and replace the lid. Voila! You are done!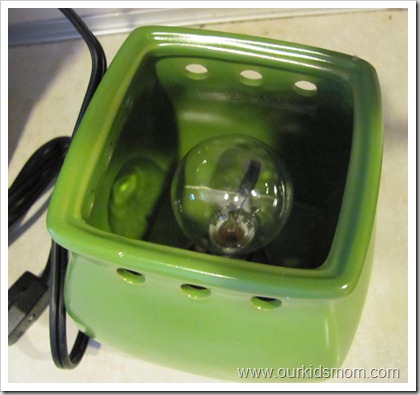 The scents come in packages with 8 scented cubes in them. Jana suggested that I start with 1 cube to see how well that fills the area and work up from there if wanted. You reuse the same cube over and again until the scent is gone, then pour it out and replace. The wax does not evaporate.
I started my Scentsy journey with cinnamon bear. I adore the scent of cinnamon in my kitchen but usually find it in combination scents like cinnamon apple. After several minutes the cube was completely melted and the scent filled the kitchen. I almost needed a bib… the scent was identical to the cinnamon bears that I occasionally crave and I swear I wiped a dribble of drool a time or two.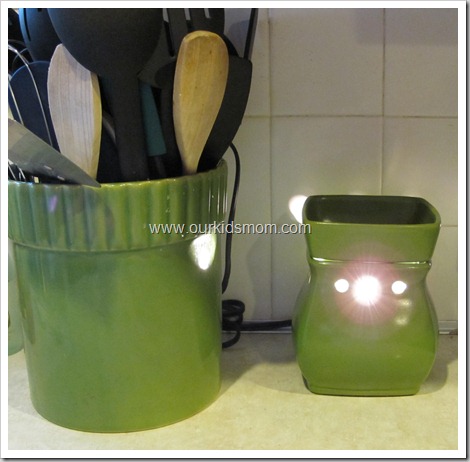 I have to say, I am in love with my Scentsy warmer. The scents are fabulous and one cube fills the entire room nicely. I have reused the scents time and again… when it is time to change the wax I dump the melted wax into an empty veggie can and toss. I also love the looks of the warmer I received. The style and color match my utensil crock perfectly! One thing that I can say about the Scentsy warmer that I can't say about a candle… I feel perfectly safe leaving this on in an unattended room. Overall, the prices are reasonable, I feel much safer running my Scentsy warmer than my candles and the aesthetics are very pleasing. They have a warmer for just about every personality and decor.
Scentsy carries more than warmers… they also have room sprays, scent circles (car fresheners), hand sanitizers, even cute stuffed animals (Scentsy Buddies) that you put a scent pack in the back.
BUY IT:
You can purchase the Classic Green Full Size Warmer for $30 and scent bars for $5 each
WIN IT!
One OurKidsMom reader is going to win their choice of warmer and 3 scents!
This giveaway ended at 11:59PM EST on April 7, 2011.
Disclosure:
This post was written me and was not edited by anyone. The opinions expressed in this post are entirely my own and have not been influenced in any way. I received product for the purposes of review only. The sponsor is responsible for prize fulfillment and will be shipping the winner(s) their prize(s). For more information please read my disclosure policy.