Is your New Years Resolution to watch your weight?
… reduce the sodium in your diet?
… drop a few pounds?
… eat a little healthier?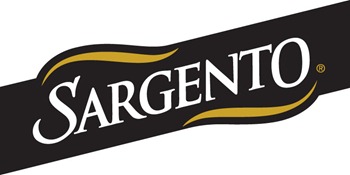 Persnickety People Exceptional Cheese
Research has long shown that foods containing protein help promote satiety and may help contribute to weight management.  So people looking to whittle their waistlines this winter can turn to Sargento cheese: a serving of most Sargento cheese varieties provides a good source of hunger-quenching protein, making it a perfect snack option.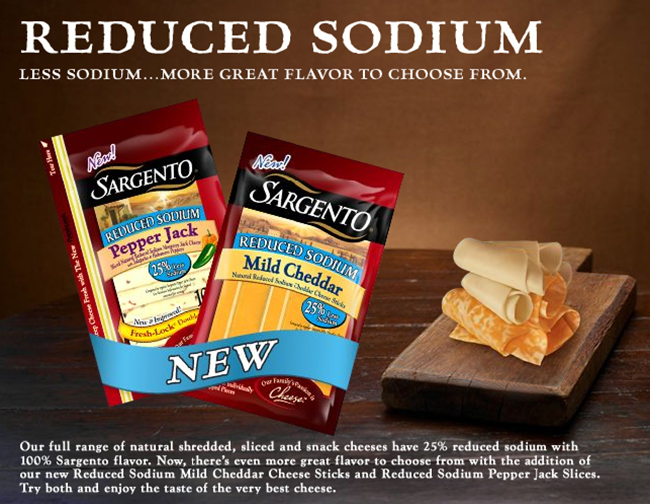 Sargento's new
Reduced Sodium products
, including Reduced Sodium String Cheese and Reduced Sodium Mild Cheddar Cheese Sticks, can help anyone who wants to cut sodium out of their diet, without losing the great taste they've come to love.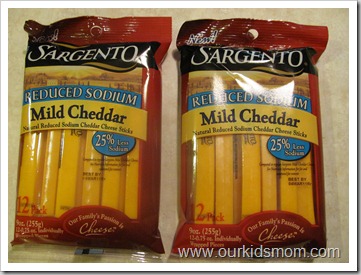 We received the new Mild Cheddar reduced sodium cheese sticks. In general, Ethan and I are the only real cheese lovers in our house. We will eat just about any type… yum! Kaytlin likes cheese… some cheese
(not all)
.
I decided to start the trial with myself and Ethan. Success! We both loved it. I was lucky to get Ethan to stop at 2 sticks.
So, I tried Kaytlin. She has tried several cheese sticks because she would love to have a portable cheese she can eat while at work. Up until now, she hadn't been successful finding one she liked. She loves these! In fact, she stops at the local QT for a stick while out and about (and hungry and unprepared) several times a week now.
I have to say… Sargento has gained a loyal following in our house. We have always been a "we'll buy whatever's on sale / cheapest" family. We have started only buying Sargento shredded cheese as well as sticks because the flavor is incomparable. You would never know that they've reduced the sodium!
BUY IT!
Check here to see where you can buy Sargento Cheese locally.
WIN IT!
One OurKidsMom is going to five FREE product coupons from Sargento!
This giveaway ended at 11:59 PM EST on January 25, 2011.
Disclosure:
This post was written by me and was not edited by anyone. The opinions expressed in this post are entirely my own and have not been influenced in any way. I received product for the purposes of review only. The sponsor is responsible for prize fulfillment and will be shipping the winner(s) their prize(s). For more information please read my disclosure policy.