Our Mission: Bringing The Magic Of Santa To You
Anyone standing near the Santa Claus at the mall can see that the happy moment parents hope to provide for their children doesn't always happen. Long lines, tired, crying children, and an exhausted Santa, often lead to a disappointing experience. And other than a quick hello, and a smile as he asks their names, and poses for the pictures, what does he know about your children? Not much at all. What happened to the Santa that "sees you when you're sleeping, and knows when you're awake, or have been bad or good'? The one we all remember from 'Miracle on 34th Street'.
At SantaSpeaking.com we offer live, interactive, personalized Santa Claus experiences that bring back all of the fun, magic, and wonder that is Santa Claus. We customize a truly believable experience that turns even skeptics into believers! When Santa calls, he's a kind, generous and "jolly old soul" who knows your child's name, whether they've been naughty or nice, who their best friends are, and for that matter – what kind of grades they got on their last report card, or how they did on their latest dance recital.
We know that children, both young and old, believe in the magical spirit of Santa Claus, and it's our commitment to foster this belief in goodness and generosity, by providing the very best Santa memories.
This Christmas has been so much fun for us so far. Emma turned four last month and is so aware of everything that is going on. She notices everything, from jingle bells in a song to Christmas cards coming in the mail. We recently put up the tree and she was giddy the night her big sister told her she could bring the wrapped presents up to put under the tree. That's why when I was asked if we would review SantaSpeaking.com, I couldn't resist!
The ordering process is fairly painless. You choose the day and a one hour time frame for Santa to call. After that is processed you then fill in the customization questionnaire all about the recipient of the call. It asks things like the child's favorite color, what achievements they are proud of, what they might be getting from Santa (but he promises not to promise or give that away) and what the child could "work on" (of course I put fighting with her brothers Josh & Ethan).
Emma was confused at first when I whisked her out of the room with my cell phone. After I quickly told her that Santa wanted to talk to her and that I was putting him on speaker phone she had immediate stage fright. My talkative opinionated child had become an icicle. That was okay, though. Santa had so much patience with her and her little one word answer "Yes". If only Santa could have seen how large her eyes got when he talked about not fighting with Josh & Ethan, or how she had recently learned to dress herself and clean her room. How could Santa know so much?! I think she let her guard down a little when Santa mentioned how much he liked cookies and if she would bake some for him. Baking with Mommy is a privilege that she thoroughly enjoys. Emma eagerly said yes and she didn't have to think long when he asked her what kind she was going to make for him. "Chocolate Chip!" she declared… which put Emma on the top of Santa's nice list.
Emma is still talking about her phone call with Santa and we cannot wait to get the phone call in the mail on CD. I am sure she will want to play it time and again for her baby brother Ethan. This is definitely one for the memory box… if only I had thought to video record it, too! That's okay, her wide eyes are burned in my memory…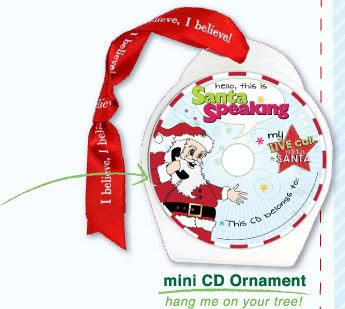 BUY IT:
You can order a live 3-5 minute call for $21.95, a live 3-5 minute call with MP3 recording for $31.95, a live 3-5 minute call with a CD recording for $37.95 and an extended call for up to 3 children with a CD recording for $49.95.
*an extra fee applies to calls on Christmas Eve and after 12/15
OurKidsMom readers will receive 10% off their order with Secret Santa Code: OKD2010
WIN IT:
ONE OurKidsMom reader will win a live call from Santa and a CD! 
Rules:
You do not have to be a blogger to enter/win. An email address is required to enter. Please leave it in your comment or make sure one is visible for me to find in your Google profile. The winner will be chosen via random.org and contacted via email. A reply to the winning email is required within 48 hours before a new winner is chosen. This giveaway ends at 11:59 PM EST on December 11, 2010 and is open to residents of the US.
Disclosure:
This post was written by me and was not edited by anyone. The opinions expressed in this post are entirely my own and have not been influenced in any way. I received product for the purposes of review only. The sponsor is responsible for prize fulfillment and will be shipping the winner(s) their prize(s). For more information please read my disclosure policy.