I am excited to tell you that I was accepted as a Purex Insider! What does that mean? It means I will be bringing you the inside scoop on new products before they hit the store shelves! There are only a select few of us and I am excited to be able to share Purex information and product with OurKidsMom readers!
NEW & on store shelves 12/28 (today)…
Purex Crystals is …
How so? Purex Crystals are 92% natural, not oil-based like other liquid fabric softeneres so instead of coating fabrics with oil, they work by penetrating the fabric and infusing fibers with freshness that lasts for weeks, not days.
WHAT IT IS > UNIQUE CRYSTAL FORM, 92% NATURAL FABRIC SOFTENER

Introducing Purex® Complete Crystals Softener; a purer way to get laundry that
smells clean and fresh for weeks. 92% natural, this product's unique crystal form works
differently than traditional oil-based softeners that coat fabrics with oily residue, because
it infuses fibers with long-lasting fragrance. In addition, since you add it directly with your
laundry, this means no more waiting for the rinse cycle, no messy residual gunk in your
washing machine, and no more stains from spilling liquid fabric softener.
Did you know that traditional fabric softener can:
interfere with the absorbency of fabrics like towels
(oily coating inhibits the towels ability to absorb moisture)
reduce the flame-retardant ability of your children's sleepwear
(oily residue coats clothing fibers leaving them less effective in resisting flames)
reduce the effectiveness of your sportswear

(oily residue left behind can reduce effectiveness of wicking fabrics)
WHY IT'S DIFFERENT > SAFE FOR ALL LAUNDRY AND BETTER FOR FABRICS
Do ALL of your laundry—worry free! Purex Complete Crystals Softeners are safe for all laundry and will not harm, wear down or discolor your fabrics like oil-based softeners.
Safe for all fabrics, including baby clothes, athletic wear, towels, and whites.
Unlike other  softeners, Crystals WILL:
• Preserve the flame retardant benefits of your children's clothes
• Retain your athletic wear's wicking ability which draws sweat away from your body
• Maintain your towels' built-in ability to absorb water
• Keep your white clothing from yellowing and graying vs. using traditional softeners
The product won't harm your clothes and is safe and convenient for the entire family!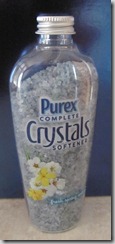 MY TAKE:
I have lost many a shirt to oil stains from fabric softeners. I had all but almost given up on the thought of using a fabric softener on my load of clothing (the spots seemed to target MY clothes!).
I reluctantly tried the Purex Crystals on a load of my clothes. The first thing I noticed was the incredible smell when I opened the bottle! I turned it over to read the directions and found that you add it directly to the load when you put the detergent in… hmmmm, strange but okay. I tell you what… it works great! The smell is fabulous and I didn't have a single oil spot.
I am excited to head to Wal-Mart and pick up a full sized bottle!
I have 3 coupons available for $2.00 off 1 bottle a FREE BOTTLE (this changed after I posted… surprise!!) (prizes range from $3.99 to $5.99 depending on store).
Want a coupon?
This is a simple easy peasy one folks…. 3 entries available…
This will close at 11:59pm on January 7, 2011.
This post was written by me and was not edited by anyone. The opinions expressed in this post are entirely my own and have not been influenced in any way. I received a trial product and a coupon for a full sized product for the purposes of review only. For more information please read my disclosure policy.