Who is PureFit?
We provide the key to your optimum health. PureFit was established in July 2000 with the express purpose of educating individuals about how to achieve optimum health and fitness through nutrition and exercise. With an extensive background in health and exercise physiology, Robb Dorf set out to design a program that would help individuals not only burn excess body fat but also improve overall wellness. Concerned with current trends in nutritional supplements that contain highly processed or even harmful ingredients, Robb conducted research that led him to production of Peanut Butter Crunch, an all-natural supplement to the PureFit Fat-Burning System. The emphasis on natural ingredients in our bars is a hallmark of the PureFit philosophy, which strives for a complete approach to health and fitness.
Protein is an important nutrient for overall health… for everyone. It doesn't matter what your age, gender, or workout goal is.
Protein repairs body cells, builds and repairs muscles and bones, provides a source of energy, and controls many of the important processes in your body related to metabolism.
Jason & Josh have been training for an upcoming 10k run, so when PureFit asked if I would consider trying their bars… I was eager to help out.
I worry about my guys, especially Josh. He is almost 14, growing like a weed, and I keep thinking (yes, nagging mommy voice in my head) that he just isn't getting either enough to eat, or enough quality food to eat. When they are training, they can burn a good 500-600 calories in one run!
Josh has enjoyed eating PureFit as a source of energy before a run. He comes home with spunk left in him, is not overly ravenous and I feel good that he is getting a boost in protein to help repair the muscles he just worked out.
PureFit protein bars pack around 210-220 calories, so they make a great meal replacement when dieting as well.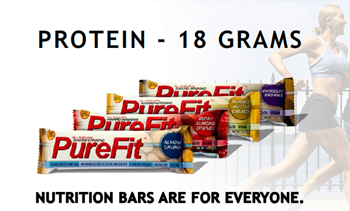 PureFit protein bars are available in granola crunch, almond crunch, berry almond crunch, peanut butter crunch and chocolate brownie.
What do I like most about PureFit protein bars?
BUY IT:
You can purchase a box (15 bars) for $34.35
WIN IT!
One OurKidsMom is going to win 1 (one) box of PureFit protein bars in the flavor of their choice!
This giveaway ended at 11:59 PM EST on February 10, 2011.
Disclosure:
This post was written by me and was not edited by anyone. The opinions expressed in this post are entirely my own and have not been influenced in any way. I received product for the purposes of review only. The sponsor is responsible for prize fulfillment and will be shipping the winner(s) their prize(s). For more information please read my disclosure policy.