Mothers of multiple children can tell you, it's a job in itself getting your children in and out of the car when going somewhere. Inevitably one of the children will dart around out of site while you are digging in the diaper bag, getting the stroller out or situating a younger sibling in their car seat. Parking Pal has the situation covered.
MISSION:
Help reduce injuries to children in parking lots

Heighten awareness of the dangers in parking lots.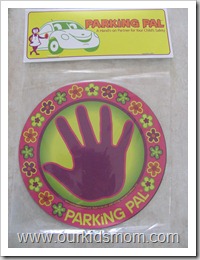 WHY IS IT NEEDED:
Adults can be easily distracted in parking lots. Whether they are loading/unloading packages, digging for the car keys, retrieving that tossed sippy cup from a younger sibling, or helping an elderly adult… precious attention is taken away from the walking children leaving them open to dangerous situations. Another driver backing up may not see the child because the car next to them is oversized or they may be distracted by their cell phones or GPS. Blind spots make it easy to miss seeing a small child that may be behind them. And we all know that children don't always do what they are told to do or stay where they are asked to. In just one second tragedy can strike.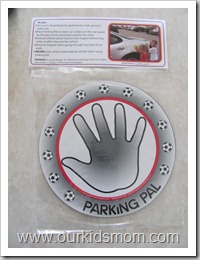 HOW IT WORKS:
The Parking Pal is a large magnet that is placed on the side of your vehicle, where it will remain attached at all times. It was specifically designed with bright colors, playful illustrations, and a small palm children love to place their hands on. It just takes a few learning sessions and your child will learn that the Parking Pal is a safe spot. In time you won't even have to mention it, they will know where to go the minute they are outside the car. It's never too early to teach your children that a parking lot is not a safe place to play.
BUY IT:
You can purchase a Parking Pal for $7.99 plus shipping from the  Parking Pal website
WIN IT!
One OurKidsMom reader is going to two Parking Pals! One SoccerPal and one FlowerPal.
This giveaway ended at 11:59PM EST on April 20, 2011.
Disclosure:
This post was written me and was not edited by anyone. The opinions expressed in this post are entirely my own and have not been influenced in any way. I was not compensated for this post. The sponsor is responsible for prize fulfillment and will be shipping the winner(s) their prize(s). For more information please read my disclosure policy.