Oz the Great and Powerful on Blu-Ray Combo Pack
I received a copy of Oz the Great and Powerful for review purposes only. All opinions are 100% my own.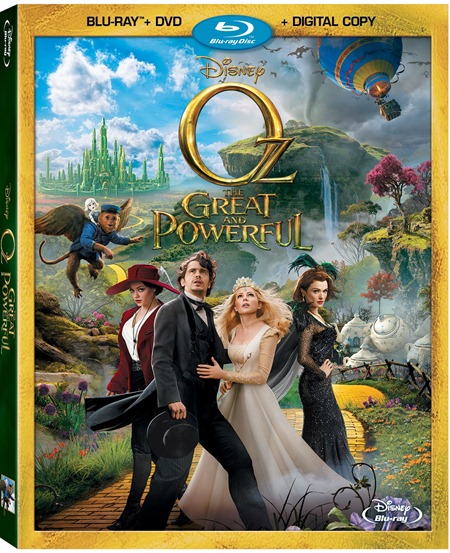 It seems like just yesterday I was invited to attend the red carpet premier of Oz the Great and Powerful at Hollywood's famous El Capitan Theater. During our time in California we were fortunate enough to have the chance to interview all of the main character actors as well as the director Sam Rami. If you have a few minutes, they are a fun read.
The film is directed by Sam Raimi who helmed the record-crushing "Spider-Man" trilogy, and produced by Joe Roth who fashioned Disney's billion dollar-plus earning "Alice in Wonderland." "Oz The Great and Powerful" boasts a stellar cast that includes Academy Award nominee James Franco ("127 Hours") as Oscar Diggs, the predestined wizard; Golden Globe nominee Mila Kunis ("Black Swan") as the tormented young witch Theodora; Academy Award winner Rachel Weisz ("The Constant Gardener") as Theodora's older sister, Evanora, the witch who rules over the Emerald City; and three-time Oscar-nominated actress Michelle Williams ("Brokeback Mountain," "Blue Valentine," "My Week with Marilyn") as Glinda, the Good Witch.
My review of the film centers on whether it is child friendly, but you can also read my overall impression.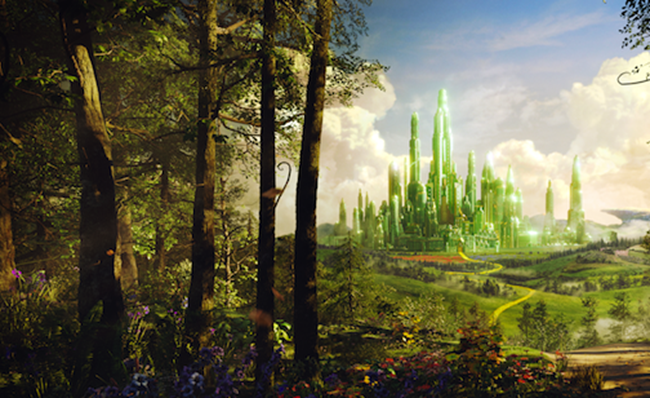 A must-own for any home entertainment collection, the Blu-ray Combo Pack (Blu-ray + DVD + Digital Copy) of "Oz The Great and Powerful" brings the epic adventure to life with its vibrantly colorful picture and sound, and boasts a sensational variety of never-before-seen bonus materials including: "The Magic of 'Oz The Great and Powerful' Second Screen Feature" that provides viewers with an immersive opportunity to journey into the fantastical lands of Oz; James Franco's personal story of his journey to the land of Oz that is produced and directed by the Oscar® nominated star himself; Golden Globe® nominee Mila Kunis' makeup metamorphosis which is hosted by Academy Award®-winning makeup artist Howard Berger; A back-stage journey through each of the visual effects process that brought China Girl to life including an interview with Joey King; and much more. Additionally, all Blu-ray and DVD products include a digital copy of the film allowing consumers to watch "Oz The Great and Powerful" at home, in their car, and/or anywhere they go.

Bonus Features:
Blu-ray:
*  The Magic of "Oz The Great and Powerful" (Second Screen Experience) – An immersive Second Screen experience that details all things Oz.  From an interactive map full of secrets and surprises, to an inside look at the spectacular world of Oz. All fans need to do is download the special "The Magic of Oz The Great and Powerful: Second Screen" App (which is free and currently available for immediate download at the iTunes Store for iPads) which provides fans with infinite opportunities to remain connected to their favorite film, its cast of characters and to dive deeper into the magical world of Oz. This App provides exclusive access to invigorating and exclusive content including:
*  The Enchanting Characters and Creatures of Oz – From Munchkins and Tinkers to good witches, bad witches, and flying baboons, this piece follows each character and creature of the Land of Oz from inspiration to final outcome.
*  The Sounds of Magical Oz – What adds fragility to the sounds of China Girl's footsteps; ferocity to the tornado; or weight to the flutter of Finley's flapping wings?
*  Sleight of Hand: Zach Braff Puppet Theater – Actor, and voice of Finley, Zach Braff introduces viewers to the Finley mockup.
*  Mariah Carey Music Video
*  Bloopers
*  My Journey in Oz by James Franco – A personal story produced and directed by James Franco.
*  Mr. Elfman's Musical Concoctions – An interview with composer Danny Elfman unveils his inspiration in scoring "Oz The Great And Powerful."
*  China Girl and the Suspension of Disbelief – This feature uncloaks the several forms of movie magic employed to bring China Girl to life, from the initial artwork and character design, to the on-set puppeteering during filmmaking, and finally, through each stage of the visual-effects process; and includes an interview with Joey King, the voice of China Girl.
*  Before Your Very Eyes: From Kansas to Oz – Production designer Robert Stromberg takes viewers through the set design of the Land of Oz, from sketching his original ideas on a napkin, through to the final set pieces and the accompanying visual effects.
*  Mila's Metamorphosis – Lead makeup artist Howard Berger expands on one of the oldest, most tried-and-true forms of movie magic: makeup design and effects.
*  Walt Disney and the Road to Oz – It is well known that Walt Disney had a fascination with the Land of Oz since he was a child.  See how that fascination grew into inspiration as he began planning for his own adaptation of the stories in the classic Baum books.

DVD:
*  Bloopers
*  Walt Disney and the Road to Oz

To learn more and stay connected with the film, please…
"Like" Oz on Facebook: facebook.com/OzTheGreatAndPowerful
Follow Oz on Twitter: twitter.com/DisneyOzMovie @DisneyOzMovie
Follow Oz on Pintrest: pinterest.com/disneystudios/oz-the-great-and-powerful
Website and Mobile Site: http://www.disney.com/TheWizard
BUY IT:
You can purchase Oz the Great and Powerful at Amazon.com
          Disclosure of Material Connection: I received one or more of the products or services mentioned above for free in the hope that I would mention it on my blog. I only recommend products or services I use personally and believe will be good for my readers. I am disclosing this in accordance with the Federal Trade Commission's 16 CFR, Part 255: "Guides Concerning the Use of Endorsements and Testimonials in Advertising." The opinions expressed in this post are entirely my own. Your experience with the product may differ from mine. This post may contain affiliate links. The sponsor is responsible for prize fulfillment and will be shipping the winner(s) their prize(s). For more information read my disclosure policy.