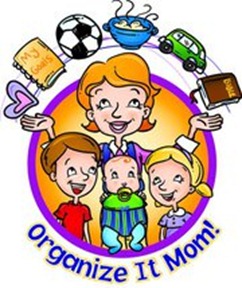 Having a large family can sometimes give a mom a headache! Usually the Mom ends up being the family coordinator as well as the chauffeur, meal planner/shopper/preparer… you get the drill! Sometimes I feel like I am running around with my head cut off!
Organize It Mom! is here to help us! My recent challenge has been potty training Ethan. I thought we had it under control. He was going #2 in the potty consistently and only having a few #1 accidents in his pants. Something changed and all our hard work went out the window. When Organize It Mom! agreed to send us a potty chart to try out I was excited to give it a shot.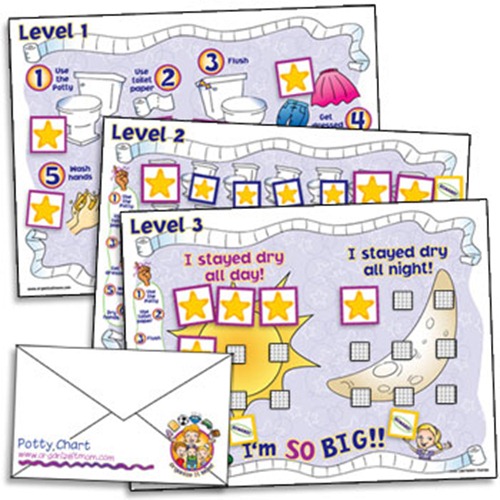 The potty chart set comes with 3 laminated charts, a laminated envelope to hold the reward stars in,  28 large and 28 small reward stars (you will need to cut), 4 reward pieces and 2 strips of velcro (again, cut and apply to stars). Ethan had the hang of the process of using the potty, so we skipped level 1. Level 2 can be used for motivation with immediate rewards. It is suggested to use the small stars for going #1 and the large stars for going #2. At your determined interval the child will earn the reward piece and a prize from you!
We skipped ahead to level 3. We were aiming for all day dryness. I had a cute photo of Ethan using the chart, but sadly the folder containing my digital photos from the last 3 months has disappeared from my desktop (sob sob).
Ethan really related to the star method and was eager to earn those stars. I know of a couple of times that he purposefully went #1 just to earn that star. We changed up the chart a little bit (that is the beauty of these charts… they are adaptable to the user). You can do one star at the end of the day for staying dry all day. We went more of the route of chart 2… each time he used the potty he earned a star. He knew to put it on the sun because it was daytime and we wanted to stay dry all day. At the end of day one of being dry we used a reward sticker, did a HOORAY! Potty Dance and had a potty party with cupcakes!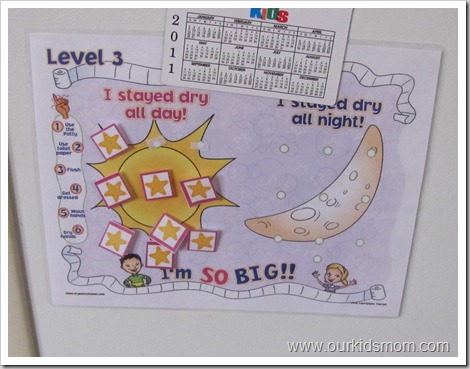 Organize It Mom! is here for us to help organize and stay in control of all areas of our life! From "media money" (to help control media time), schoolwork charts, nutrition charts and clean it cards to routine cards, reading charts and budget envelopes.
How about a job chart, a good girls charts (can be used for chores or to help change negative behavior),  or a grocery/menu list?
BUY IT:
You can purchase the Potty Chart set for $11.00
WIN IT!
TWO OurKidsMom readers are going to win a free item up to $11.00!
HERE'S HOW TO WIN!
MANDATORY entry (1 entry):
You must do both actions for this entry and then leave one comment that you did so. This entry is required before any others will count.
* Follow OurKidsMom via Google Friend Connect (found on the right sidebar under "Followers")
* Visit Organize It Mom's website and tell me something you like, want or learned.
Additional Entries! You may do any or all of these in any order after the mandatory entry above has been completed. If you have already completed these actions let me know you did! If I allow 2 entries for a particular action, please leave 2 separate comments.
[tweetbox width=500 height=50 label=Retweet! content="#WIN a Chart to Help You Organize Your Family and Life from @orgmomdotcom @ourkidsmom ends 4/1 %u "]
1 entry per giveaway entered- Enter any of my current giveaways and leave a comment here

2 entries- Grab my button and leave the direct link to where I can find it

2 entries- Add my link to your blog roll and let me know where to find it

3 entries- Blog about this giveaway with a direct link to this giveaway. Come back and leave a direct link to your post so I can see it.

1 entry each- Share this on Facebook, Digg, Stumble, Google Buzz, etc (you can find the buttons at the bottom of this post labeled with "share the love")
1 entry each- Share this giveaway on a blog hosted giveaway linky and leave the direct link to the post below. Please double check that you are not double posting. (This can be done 1x a day for 1 bonus entry per day).
If you enjoy my blog and my giveaways I would love a vote on Top Mommy Blogs. It only takes 1 click and you're done! (allowed once per 24 hours)
Rules:
You do not have to be a blogger to enter/win. An email address is required to enter. The winner will be chosen via a the WordPress plugin "and the winner is…" and contacted via email. A reply to the winning email is required within 48 hours before a new winner is chosen. One entry per household. This giveaway is open to US only.
This giveaway ends at 11:59PM EST on April 1, 2011.
Disclosure:
This post was written me and was not edited by anyone. The opinions expressed in this post are entirely my own and have not been influenced in any way. I received product for the purposes of review only. The sponsor is responsible for prize fulfillment and will be shipping the winner(s) their prize(s). For more information please read my disclosure policy.