From the Website:
The On The Fly Bottle Warmer Starter Kit includes one black and white cow print bottle sock and two air-activated 12 hour warming pads. This bottle warming system works on all 4-5oz. wide mouth bottles. One warmer will provide convenient multiple feedings throughout a day with no pre-preparation – no boiling water, no metal disk to click, no electricity, no microwave.
The On The Fly Bottle Warmer provides a perfect tepid (90-104 degree) bottle in 30 minutes, the temperature recommended by pediatricians. Wherever you and your baby go, you can always have a perfect bottle with On The Fly Bottle Warmer. Great for the car, air travel, shopping, theme parks, sporting events or anytime you are On The Fly. The ONLY portable bottle warmer that is truly portable. Not for use with drop in liner bottles.
My Experience:
When I need to leave the house with Andrea I would usually grab a bag of breast milk, warm it up while at home and then try to feed it to her while we are out. In the past this has failed.. BIG TIME.. my little girl does not like a cold bottle.
So what happens?
She refuses to eat the bottle and protests until I can drop what I'm doing to go and nurse her. I don't mind nursing her while I'm out of the house but sometimes it really isn't too convenient to do that. Having a warm bottle on hand while I'm out shopping, at the park or whatever it is I'm doing would be a huge convenience factor for me.
This weekend I had the chance to use the On The Fly bottle warmer. I grabbed a cold bottle from the fridge, slid on the bottle warmer and went shopping. The bottle warmer takes 30 minutes to bring the bottle to the perfect temperature which was perfect. I had time to drive to the store, do some shopping and by the time I really got into what I was looking for Andrea was ready to eat (that's how it usually works right?) We grabbed the warm bottle from the diaper bag and instantly Andrea was happy and willing to take the bottle! I was happy, Andrea was now happy and I'm sure all of the  customers around me were happy to not hear a hungry fussy baby.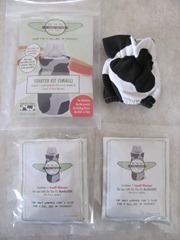 What I Love:
I really like this this is a true portable bottle warmer! No batteries needed! You don't have to warm up water, no microwave needed and your bottle will never overheat! A perfectly warm bottle every time you need it.
My Only Complaint:
The inserts for the bottle warmer sleeve are a one time use and at $6.99 for a package of 2 inserts that can quickly add up. I would have to hold onto this bottle warmer and use it more on occasions when I know that I won't be able to nurse Andrea for a long period of time. I could see this benefiting a formula mom as it is a little harder to locate warm water to mix a formula bottle when you are out shopping.
BUY IT:
You can purchase an On the Fly Bottle Warmer set for under $20!
WIN IT!
ONE OurKidsMom reader is going to win an On the Fly Bottle Warmer!
This giveaway ended at 11:59PM EST on March 11, 2011.
Disclosure:
This post was written by my baby tester and was not edited by anyone. The opinions expressed in this post are entirely her own and have not been influenced in any way. She received product for review purposes only. The sponsor is responsible for prize fulfillment and will be shipping the winner(s) their prize(s). For more information please read my disclosure policy.