Fanboy and Chum Chum Brain Freeze DVD
Coming to DVD August 16, 2011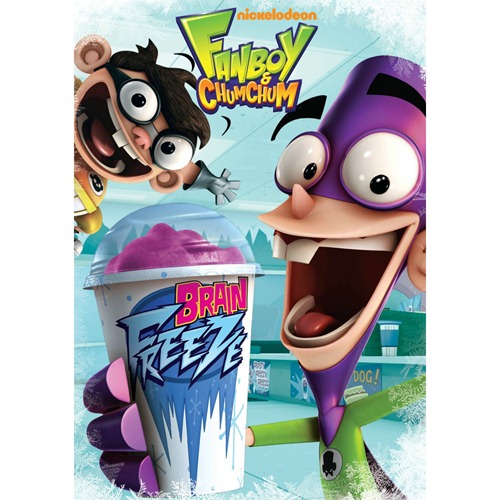 Fanboy and his trusty sidekick, Chum Chum, are celebrating their favorite treat, a cup of Frosty Freezy Freeze in Fanboy and Chum Chum: Brain Freeze. This DVD honors the Frosty Freezy Freeze with seven full-tilt, hilarious adventures with a voice cast that includes Josh Duhamel and Jamie Kennedy. Watch as they fight the discontinuation of their favorite flavor, try to create the new Frosty Mart jingle, help a Viking and battle Man-Arctica. Created by Nickelodeon Home Entertainment and distributed by Paramount Home Entertainment, Fanboy and Chum Chum: Brain Freeze hits shelves on August 16, 2011 for the suggested retail price of $16.99.
Created by Eric Robles, Fanboy and Chum Chum is the story of a boy named Fanboy and his best friend and trusty sidekick, Chum Chum, two endlessly energetic "super fans" of all things sci-fi and fantasy. Their world is full of comic adventure (and misadventures) as they share a hyper imagination that enables a wide-eyed acceptance of the bizarre. They're fearless! They're adventurous! They wear underwear on the outside of their costumes! They're Fanboy and Chum Chum.
Fanboy and Chum Chum: Brain Freeze Episode Synopses:
Brain Freeze
Fanboy and Chum Chum discover that their favorite Frosty Freezy Freeze flavor, Berry Pink, is about to be discontinued. Determined to have as much as they can before it's gone forever, they end up with a massive brain freeze. The next morning, Fanboy and Chum Chum wake up with no memory of what happened and their signature tighty-whiteys are missing. They must retrace their steps to find out how their crazy night unraveled so they can find their precious underwear and restore order.
Berry Sick
During a summer heat wave, the boys discover the Frosty Freezy Freeze machine is on the fritz. It's up to Fanboy and Chum Chum to get the Berry the Ice Monster, the machine's operator, back in good health.
 
Refill Madness
Lenny and Boog learn that Fanboy and Chum Chum have a valuable cup that entitles them to endless free refills at the Frosty Mart. The two decide to work together to try to steal the cup.
The Frosty Bus
Fanboy and Chum Chum are waiting for the Frosty Bus to buy a Frosty Freezy Freeze. Unfortunately, Boog is driving and torments them by always keeping their beverages just out of reach.
Jingle Fever
When Fanboy and Chum Chum find out they can win a million Frosty Bucks by writing the new Frosty Mart jingle, Lenny does everything in his power to stop them.
Back from the Future
After Fanboy and Chum Chum show Lenny that Dollar-nator is a time machine, he decides to use him to travel back in time and prevent Fanboy and Chum Chum from ever tasting a Frosty Freezy Freeze. But despite his greatest efforts, the boys somehow always end up discovering Frosty Freezy Freeze.

Norse-ing Around
Fanboy and Chum Chum discover a frozen Viking in their icebox and decide to help him "achieve glory" so he can get into Valhalla.
DVD Running Time: 88 Minutes
BUY IT:
You can pre-order now and after 8/16 you can purchase a copy on Amazon for $11.99 (RV $16.99)
WIN IT:
TWO OurKidsMom readers are going to win a copy of Fanboy & Chum Chum Brain Freeze on DVD
TO ENTER:
Simply follow the directions in the widget below. It's that simple.
COMMENTS DO NOT COUNT AS ENTRIES…
but they are still very much appreciated and adored :O)
If you enjoy my blog and my giveaways I would love a vote on Top Mommy Blogs. It only takes 1 click and you're done! (allowed once per 24 hours)
Rules:
You do not have to be a blogger to enter/win. An email address is required to enter. The winner will be chosen via Rafflecopter and contacted via email. A reply to the winning email is required within 48 hours before a new winner is chosen. One person entering per household please. U.S. only.
This giveaway ends at 12:01 AM EST on August 24, 2011.
Disclosure of Material Connection: I received one or more of the products or services mentioned above for free in the hope that I would mention/review it on my blog. I only recommend products or services I use personally and believe will be good for my readers. I am disclosing this in accordance with the Federal Trade Commission's 16 CFR, Part 255: "Guides Concerning the Use of Endorsements and Testimonials in Advertising." The opinions expressed in this post are entirely my own. Your experience with the product may differ from mine. The sponsor is responsible for prize fulfillment and will be shipping the winner(s) their prize(s). For more information read my disclosure policy.