Neato Robotics Pet & Allergy Robotic Vacuum XV-21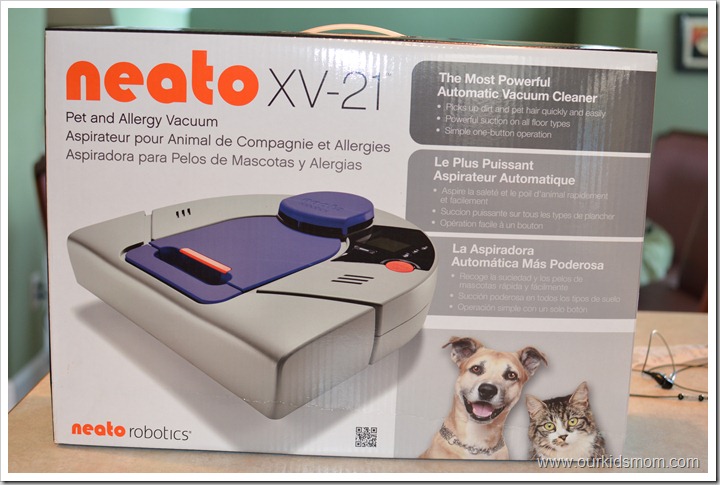 We live with two very big puff balls also known as Mocha & Jasper. I knew when rescuing two Maine Coon kitties that I would have to deal with pet hair, but actually having to do it often makes me groan from frustration. When I heard about a robotic vacuum that was specifically made to attack pet hair I knew I had to give it a try.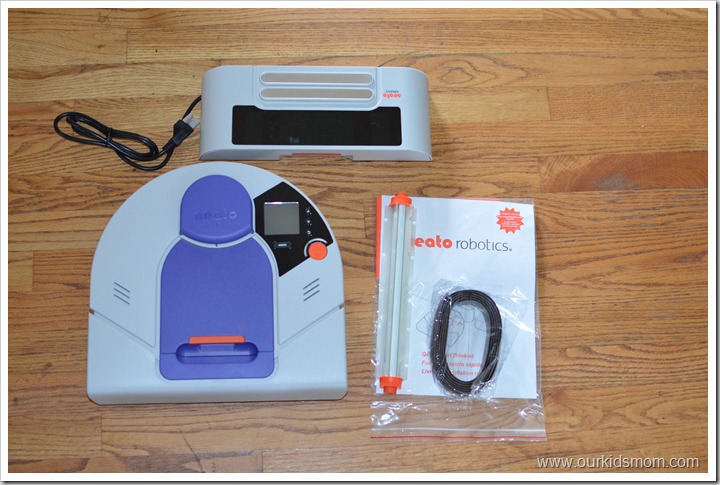 The Neato XV-21 Automatic Vacuum Cleaner is specially designed for pet owners and allergy sufferers. With the most powerful suction of any robot vacuum, the XV-21 picks up dirt, debris, and even the toughest pet hair. The Neato XV-21′s special filter retains more than three times the amount of fine dust particles as standard filters, which is perfect for removing allergens from the home. A new combination bristle and blade brush improves the pick-up of pet hair, dander and fibers.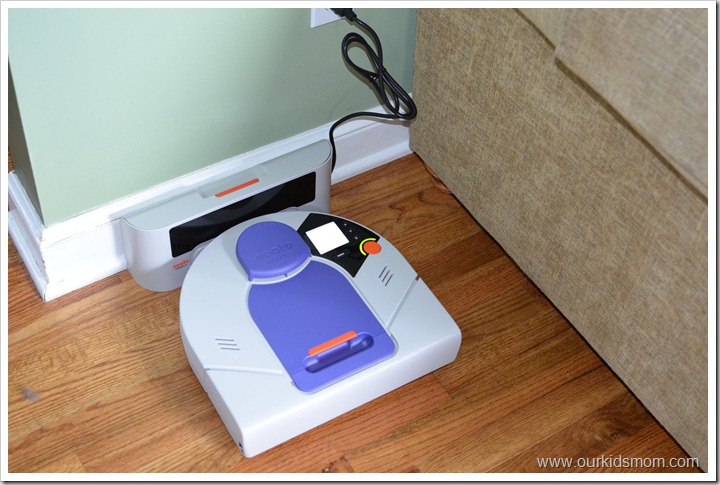 Setting up the Neato was amazingly easy. After plugging in the charging base I docked the vacuum to start charging it. I hoped that vacuuming the floor would be just as easy. I am happy to say… it was!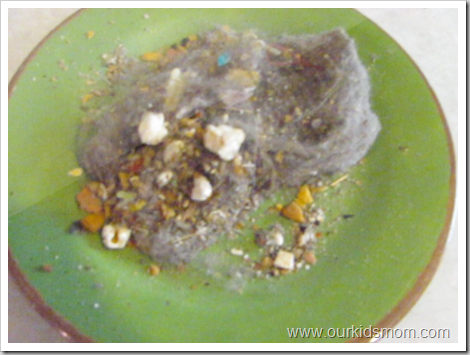 From just one trip around my kitchen and front living room floor the Neato picked up all of those food crumbles from the kids (you know the ones… they turn sideways in their chair and all their crumbs fall on the floor?) and it picked up a gob of cat hair to boot.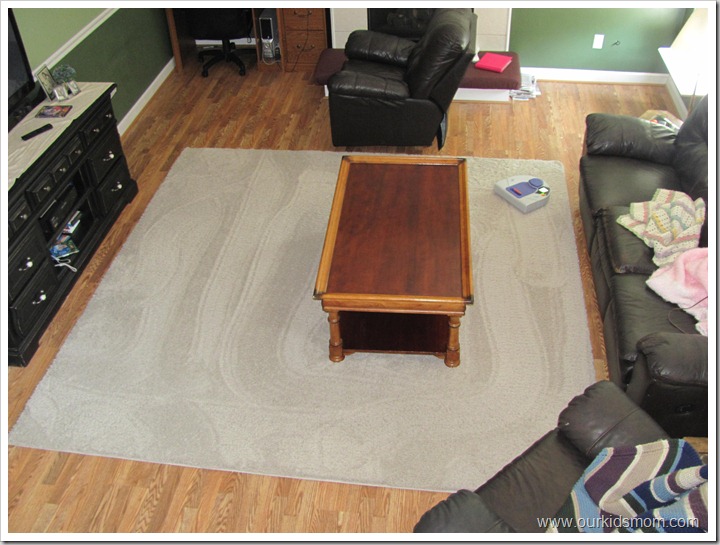 My front living room has a very short pile rug in it, so I knew Neato could handle a multi surfaced room. My lower living room has a deep pile, almost shag, rug that I would love Neato to tackle for me but I was a bit worried. I didn't want to over burden the vacuum as I had grown to love him like he was a pet (*giggle*). I went ahead and turned him on (yep… it's a he 🙂 and watched protectively. As you can see from the photo above (and the vacuum lines in the rug), he handled it just fine. I noticed that the battery drains a bit quicker in this room… I'm assuming it's because of the extra effort it takes to crawl through deep pile but I am very pleased with how Neato handled both my hard wood and multi-surfaced rooms!
I've been using Neato for a few months now and I use him on almost a daily basis. I tend to tackle a couple of rooms a day, just enough to last through most of Neato's battery reserve. This is usually the long hallway, three bedrooms and two landings… all of which are carpeted. On the opposite days I will run the vacuum on the main level which is the kitchen and front living room…. sometimes the lower living room as well. It's so easy to grab Neato, put him in a room that needs attention, turn it on and shut the door. When I return the floor is clean and Neato is where I left him (if he can't find his charging station he will go back to where you started him). If Neato is able to get back to his charging station he will back up to it until touching and begin charging all on it's own. If I want to spot treat just part of an open area Neato comes with a long strip that you can put on the floor to divide the room. When Neato comes along the strip he will turn away and treat it like it was a wall or piece of furniture.
The only issue I have found with Neato is that he doesn't do corners and edges well. This isn't an issue for me, though, as I've trained myself to "prep" the room by sweeping the dirt/food/hair from the edges and corners into the room and then I place Neato where needed and turn it on.
Neato has become a huge time and energy saver for me. There are so many other more important issues that need me besides vacuuming… so many that my floors were beginning to suffer for it. Now I can have my clean floors, vacuum lines in my carpets and still tend to the more important things in life…. like my family.
Connect with Neato:
Check out this short video of how Neato works!
BUY IT:
You can purchase the Neato XV-21 Pet & Allergy Robotic Vacuum on Amazon.com
WIN IT:
ONE reader is going to WIN a Neato XV-21 Pet & Allergy Robotic Vacuum!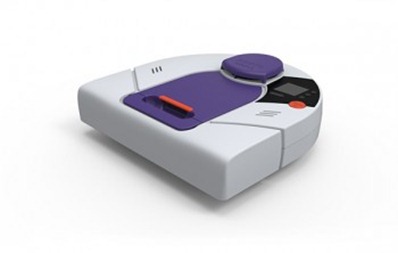 This giveaway ended at 11:59 PM EST on November 23, 2012.
Disclosure of Material Connection: I received one or more of the products or services mentioned above for free in the hope that I would mention it on my blog. I only recommend products or services I use personally and believe will be good for my readers. I am disclosing this in accordance with the Federal Trade Commission's 16 CFR, Part 255: "Guides Concerning the Use of Endorsements and Testimonials in Advertising." The opinions expressed in this post are entirely my own. Your experience with the product may differ from mine. The sponsor is responsible for prize fulfillment and will be shipping the winner(s) their prize(s). For more information read my disclosure policy.