Littlest Pet Shop: Little Pets Big Adventures
Available on DVD January 15th!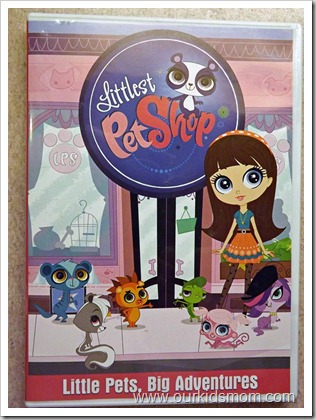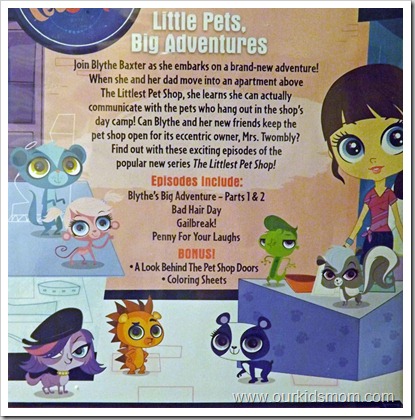 The first DVD from the Littlest Pet Shop brand new animated series is coming soon!  Available in stores January 15, 2013 fans will be able to purchase their own DVD featuring five episodes, and bonus content including color sheets and a featurette called, "A Look Behind the Pet Shop Doors". 
The show follows Blythe Baxter and her dad as they move into an apartment above the Littlest Pet Shop store.  Blythe discovers that she can hear all the pets talk and she can understand them!  Here is a short clip of Blythe's Big Adventure – Part 2
[youtube http://www.youtube.com/watch?v=UgDpOQoLUsc]
Episodes include: Blythe's Big Adventure – Parts 1 &2
Bad Hair Day
Gailbreak!
Penny for Your Laughs
DVD Bonus Content
"A Look Behind the Pet Shop Doors" featurette
Color Sheets
My youngest has quite a collection of Littlest Pet Shop, so I knew she would really like the new DVD.  On one of our early morning drives to take the older 2 kids to school, I popped the Littlest Pet Shop movie into our van's DVD player for my youngest to watch.  We are in the van for about an hour, so I knew it would give her a chance to at least get a taste for the movie.
When I first turned it on, my 10-year old sighed and asked what in the world we were watching, but by the time we got to school about 15 minutes later, she was watching with just as much interest as my 5-year old.  From the driver's seat, I can't see the screen, but I was listening and was chuckling at some of the antics and jokes being said.  When it was time for the 10-year old to get out & head into school, I had to practically pry her out the door.  She was really enjoying the show.
Besides the fact that it's Littlest Pet Shop, I like the quality of the show.  There are some great one-liners and and comic relief to keep even me entertained.  It even has some pretty good music.  It's not the typical little kid music that drives me crazy!  🙂
When we got home from taking the kids to school, I knew we had a hit when Mikenah asked if we could bring it in the house to finish watching it.  We did get some of the way through, but we reluctantly had to stop it for her turn to head to school.  She normally loves school, but that day, she wanted to stay home to watch.  That tells me everything I need to know.  Yep.  We give it a "6 thumbs up" from my 10 & 5 year old girls and myself!
BUY IT:
Fans can pre-order their DVD by visiting Amazon.com
Here are a few fun activities to keep you busy while you wait!
Do you enjoy OurKidsMom and the giveaways?
Please take a second to vote for us on Top Mommy Blogs! One click on the banner below and you're done…
Thank You!
Disclosure of Material Connection: I received one or more of the products or services mentioned above for free in the hope that I would mention it on my blog. I only recommend products or services I use personally and believe will be good for my readers. I am disclosing this in accordance with the Federal Trade Commission's 16 CFR, Part 255: "Guides Concerning the Use of Endorsements and Testimonials in Advertising." The opinions expressed in this post are entirely my own. Your experience with the product may differ from mine. The sponsor is responsible for prize fulfillment and will be shipping the winner(s) their prize(s). For more information read my disclosure policy.