LG Come Dine With Me…

It's been many years now since I "took over" being the Christmas host. As the years pass, the extended family has grown immensely. To add to the chaos of cooking for the masses, several of us have made the lifestyle choice of becoming vegetarians. Although we are in the minority, I still try to make something special for everyone for dinner. So now I am cooking for 11 people… two different dinners.
My dream… an LG Double Oven.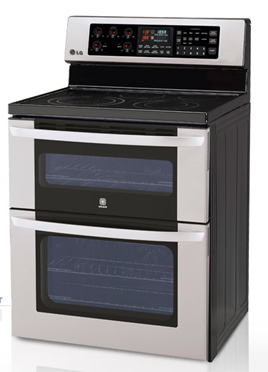 Double-Oven Range

·      LG's double-oven range offers versatility, advanced cooking technology and a modern aesthetic.

·      With two separate ovens that can operate independently at different temperatures, consumers can prepare two dishes at the same time, perfect for home chefs entertaining or coordinating a large meal.

·      It also includes an Infrared Grill system that allows the oven to reach broil temperature quickly, providing more efficient cooking and juicy results.

·      It's available in stainless steel and black or white finishes, with stainless steel touch points, sleek controls and a brilliant blue interior, helping make any kitchen look its best.
Isn't it pretty? I salivate just looking at it.
I can imagine it now. The lower oven can be used for the turkey and green bean casserole while the upper can be cooking the ToFurky and maybe the pies. No more juggling which item goes in next and which one needs to be reheated. On one side of the stove there is usually a line of dishes/items on the counter waiting for their turn in the oven. On the opposite side are the foil covered items that I am hoping will stay warm enough to serve when everything is done. Life would be sane and I might actually enjoy the guests arriving and sit down to chat with them while the dinner finishes cooking.
LG makes a full line of items that would help me immensely with my holiday planning and preparation… heck my daily life!
Refrigerator with Smart Cooling technology
Even when cooking two holiday meals and adding in my weeks worth of fresh foods & veggies for my family there's still room for that surprise chocolate pudding pie.
·      Close your eyes… no really, do it. Now imagine not having to make the decision of which item to not put in the fridge because it's full. When your guests bring that surprise jello salad you will have room to keep it cool. That's right… this beauty offers a full 31 cu. ft. capacity offering the largest capacity in its class.

·      So how much will 31 cu. ft. hold? We are talking 51 gallons of milk in the fresh food compartment!
·      With our increased purchase & consumption of fresh fruits and vegetables, LG's Smart Cooling Plus system is a life saver. This fridge does all the thinking for you and regulates the internal atmosphere. It adjusts itself for the most optimal humidity and temperature, which extends the life of fresh foods. This means fewer trips to the store and fewer items spoiling when I stock up.

·      Improved airflow helps reduce odor from old or leftover food, keeping it fresher for longer.

·      An organized freezer? Yes, you can. Put your most commonly used items in the top two bins and the bigger or your stock up longer term storage items in the bottom. The new 3-Tier Organization™ Freezer system helps you prioritize what's in the freezer so (hopefully) nothing gets forgotten.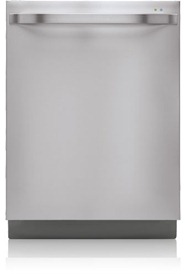 Dishwasher
Who wants to wash mountains of Christmas dinner dishes by hand while the kids are waiting anxiously to open their presents? Not me… that was done to me as a child. Torture… pure torture folks.
·      After the dinner is consumed and the dishes piled by the sink, head for your LG Dishwasher. These babies aren't just a pretty face (stylish)… they offer powerful performance to boot.
·      For the eco-minded… all LG dishwashers are high efficiency, are low in water consumption and offer other eco-friendly features.
·      No more having trouble thinking when the dishwasher is on. These dishwashers are among the quietest on the market with a built-in food disposer and self-cleaning filter.

Vacuum with Kompressor Technology
Between my kitties leaving their fur in clumps around the house, the dust my electronics like to collect, and the trail of snacks my kids "accidentally" (btw, when do they outgrow that?) leave on the couch, down the hall and around the kitchen table, I always run the vacuum cleaner throughout the house before our guests arrive. I grew up with "lines" in our carpets… somehow the carpet isn't ready for company without them.
·      No more worrying about the family allergies… LG's Kompressor™ Technology compresses the dust intake to hold three times more household dust than non-compressor models.
·      My little monsters like to leave a trail of goldfish crackers to let me know where they've been. LG included DualForce™ Suction Technology that adds two additional air pathways to pick up from both sides of the vacuum head. This is in addition to the traditional center section, providing a wider suction area to collect dirt and debris, even on hard-to-reach edges.
·      I mentioned family allergies… this includes pet dander as well as the dust. LG vacuums include a Pet Hair Turbine tool that uses an air turbine powered brush to remove the pet hair that embeds itself in our furniture and carpets. Its True HEPA filtration system captures dust mites, pollens and other common household allergens.
Oh to have the entire line of LG appliances. My life would be a tad more simplified, more energy efficient, eco-friendly and we could save a lot of money in the long run!
WIN IT:
ONE lucky OurKidsMom reader is going to win a $250 American Express gift card!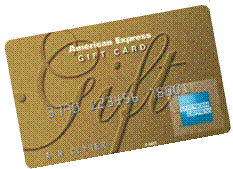 TO ENTER:
Simply follow the directions in the widget below. It's that simple.
COMMENTS DO NOT COUNT AS ENTRIES…
but they are still very much appreciated and adored :O)
This giveaway ended at 11:59 PM EST on December 21, 2011.
 Disclosure: I received a gift card for my time investment and work on this campaign. All opinions are 100% my own.