Kolcraft Cuddle'n Care 2 in 1 Bassinet & incline Sleeper

As you already know, baby number three is due this summer. Thankfully Kolcraft sent us an inclined option bassinet, the Kolcraft Cuddle'n Care 2 in 1 Bassinet & Iincline Sleeper, so that he can sleep close by but be safe in his own bed. The Cuddle'n Care has the option to turn your flat sleeping area into a inclined sleep surface. I have never had a child that suffered from colic, but cold and congestion happens. I have used books or boxes to incline the cradle just to help relieve the congestion to make it easier for him to sleep.
Taking the bassinet out of the box I noticed that there is assembly that is required. Honestly I was a little curious what some of those pieces were for, but with the easy instructions that were in the box it was actually really easy and quick to assemble… no screws or hammers needed! It took me about 10 min to put it together.
I can't express how excited I am about this bassinet. The incline feature is a separate piece that you can add and remove whenever needed. There are clips that snap onto the sides of the bassinet and hold it securely in place. It also comes with a fitted cover that fits on top of the incline base for easy for removal to clean in case of messes.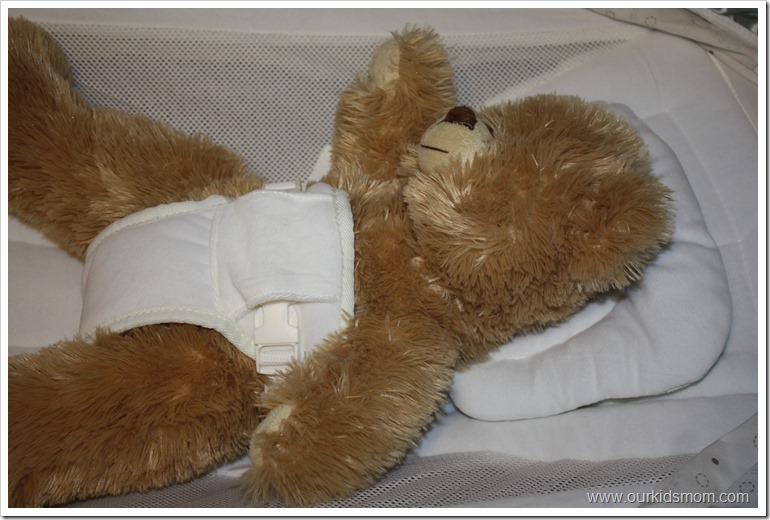 Sometimes on an incline your baby can slide down slowly into the bottom. Kolcraft added a harness that you can strap your baby into to prevent any sliding. Also on each side of the incline is mesh, incase some how your baby squirms and ends up in a corner there is still air flow to prevent any accidents.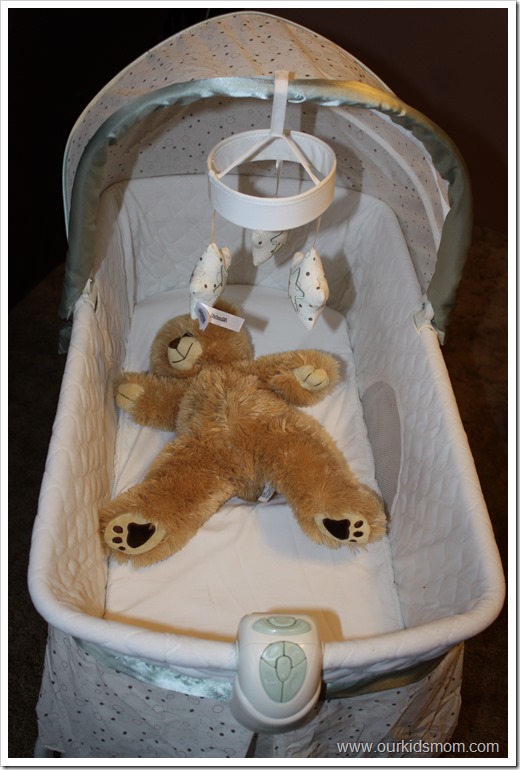 When the incline is removed, there is a nice flat firm sleep surface. The canopy is designed to be easily raised and lowered making it fully open to place your baby inside without trying to scoop them under the canopy and avoid hitting their head. There is a cute canopy mobile with three soft hanging stars as well. This mobile can also be easily removed if not needed.
Included on the end of the bassinet is a removable electronic unit. This features a soft-glow light to check on your baby in the night, a vibration option, classic music, lullabies, nature sounds, storybook (lullabies song with vocals), and a + and – button to control the vibration speed and volume for the music, nature and storybook modes.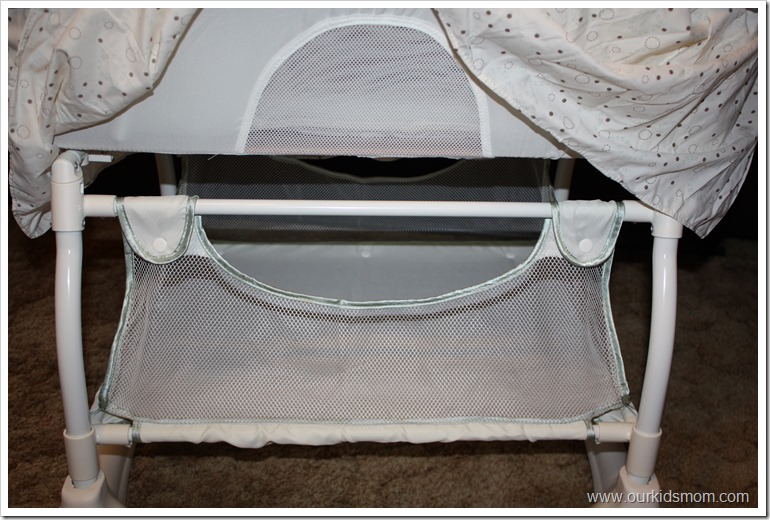 Underneath the bassinet is the nice large basket for those much needed items with a newborn. In the middle of the night feeds with my son I always had a stack of diapers, wipes, extra sleepers, and receiving blankets by my bed. I'm actually pretty excited to have a place to have these items that you need on hand to go.  Once the skirt is down most of it is hidden from view.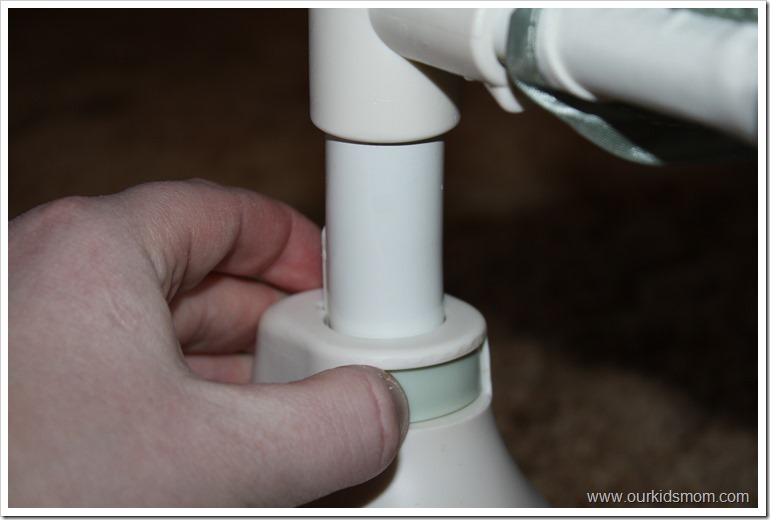 On the legs of the bassinet is a button. When pressed this lowers or raises the wheels making it nice and convenient to move from room to room. When the wheels are raised it turns into a rocking bassinet.
The front two wheels each have a lock. I'm personally thankful for this feature. My two year old is all about pushing the bassinet around the house. It's nice to know I can put the locks on to prevent the new baby being pushed around by my two year old.
My personal feelings on this bassinet… I'm instantly in LOVE with it. Everything about it, from the safety features, the ease of removing any feature that you don't need at that time, to the convenience of making being mom so much easier and quicker with getting your baby to sleep and staying asleep. I even love the pattern of the bassinet a lot more in person then I did looking at it online. This bassinet is going to be a lifesaver for me when this baby decides to show up.
BUY IT:
Do you enjoy OurKidsMom and the giveaways?
Please take a second to vote for us on Top Mommy Blogs! One click on the banner below and you're done…
Thank You!
             Disclosure of Material Connection: I received one or more of the products or services mentioned above for free in the hope that I would mention it on my blog. I only recommend products or services I use personally and believe will be good for my readers. I am disclosing this in accordance with the Federal Trade Commission's 16 CFR, Part 255: "Guides Concerning the Use of Endorsements and Testimonials in Advertising." The opinions expressed in this post are entirely my own. Your experience with the product may differ from mine. The sponsor is responsible for prize fulfillment and will be shipping the winner(s) their prize(s). For more information read my disclosure policy.