About Us
KinderGlo is a trademark of Blue Moon Lites Incorporated and the result of a convergence of technology and the emergence of the many children we are associated with.
Blue Moon Lites is headquartered in Pittsburgh, Pennsylvania. Our staff has a 25+ year span of experience in the consumer electronics world and a breadth of combined experience in multiple markets and countries. We build products on the belief that the designs should first fit a need and demand of the consumer while maintaining the most current quality and standard of technological excellence achievable in today's market.
Blue Moon Lites has a number of OEM and  staged products in and coming to the market place based on energy efficient lighting. Promotional lights, recreational, patio and children's markets are our focus.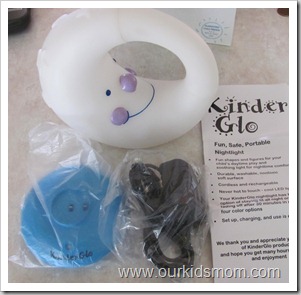 Ethan has always had a nightlight… from day one. In the beginning, the purpose was to allow me to enter his room to take care of business and not wake him completely with a bright light in his face. Now that he's older and I am not beckoned to his room at night… well it's a habit that's hard to break. He's asked me to turn it out, only to call me back in a few minutes later to turn it back on. It's totally a security issue now.
I found Kinderglo night lights by accident. After sifting through their products I was hooked… I had to have one. When it arrived I was pleasantly surprised by it's size. It is a decent size, 5.5" x 5.5" x 2.75". It fits perfectly in Ethan's chubby hands. I like that the handle makes it easy for him to hold on to and carry. We have it charging in the kitchen (to discourage rough day time play with it) and he carries it up to his room at nap and night time. As I mentioned, it has a charging station. See the blue base in the picture? That is the charger (with a 6' charging cable). The night light nests quickly and easily onto the blue base and charges. Even Emma (at 4) can put it on the charger without help. I love this aspect of the night light… because… I hate buying batteries!
I also love that these are made of a safe, non-toxic, BPA free material so if they were to be chewed on (or licked… yes, my kids lick things :O), there are no worries. The material is soft and pliable, not a hard plastic that might poke them when they roll over in the middle of the night.

The underside of the night light has two buttons. One larger one that the child can press to change the colors of the light while drifting off to sleep. It has a rotating option and the solid colors as well. Ethan loves to watch the colors change and say the color as he recognizes it. The other button allows the parent to set a 30 minute timer (auto shut off) or allow it to remain on all night (runs 8-10 hours on a single charge).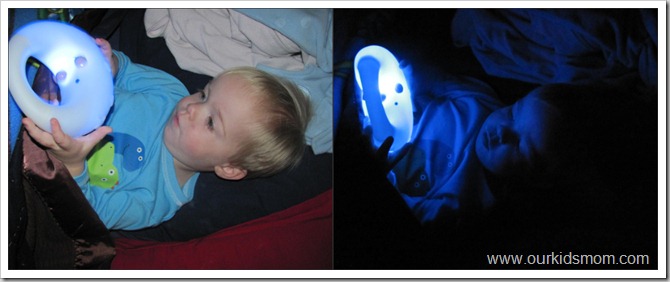 The quarter moon night light was a hit from the instant I handed it to him and turned it on. Ethan has had a problem with staying in bed lately, and his "moon light" has kept his attention long enough for him to drift off to sleep and not get out of bed and play… which makes me one happy Momma! I am loving our Kinderglo and would love to have a second one for Emma.
BUY IT:
You can purchase the Quarter Moon Night Light at Kinderglo's online store for $24.95.
OurKidsMom readers can save $3 with this exclusive promo code: 7LZFTLZM7J0Z


WIN IT:
One OurKidsMom reader is going to win a Kinderglo Portable Night Light of their Choice!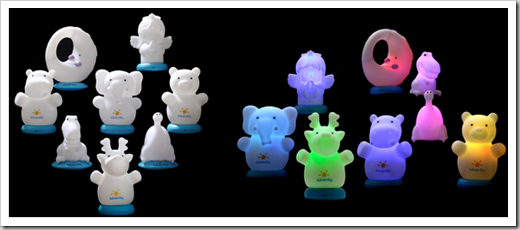 Rules:
You do not have to be a blogger to enter/win. An email address is required to enter. Please leave it in your comment. The winner will be chosen via random.org and contacted via email. A reply to the winning email is required within 48 hours before a new winner is chosen. This giveaway ends at 11:59 PM EST on January 5, 2010 and is open to residents of the US.
Disclosure:
I received one or more of the products mentioned above for free using Tomoson.com. Regardless, I only recommend products or services I use personally and believe will be good for my readers. I am disclosing this in accordance with the Federal Trade Commissions 16 CFR, Part 255 Guides Concerning the Use of Endorsements and Testimonials in Advertising. Tomoson Product review & giveaway Disclosure.
Sponsored by Tomoson.com