Joovy Race Car Ride-On Review

With summer weather in full force my kids clamor on a daily basis to go outside and play. With our outside toy choices on the slim side, I was thrilled when Joovy agreed to send us a Race Car Ride-On to review.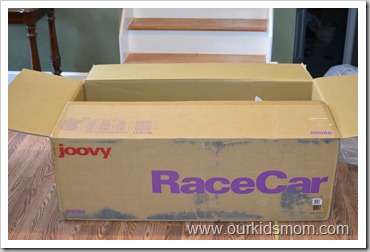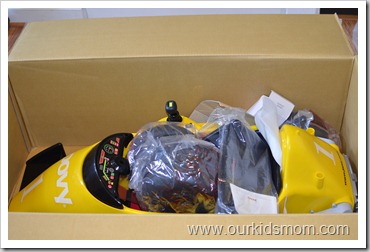 I was a little surprised at how small the box was when it arrived, but as you can see… everything was inside nearly fully assembled. After emptying the box onto the floor I was happy to see that I only had a little assembly in front of me as both kids caught a glimpse of the bright yellow body and were instantly intrigued.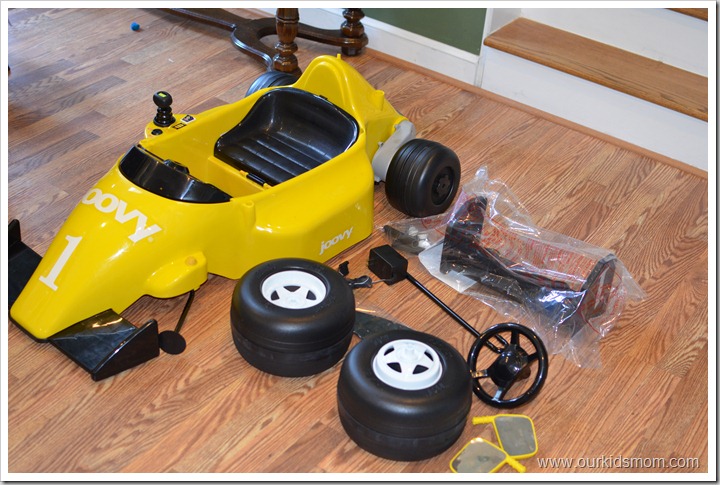 The wheels went on smoothly and the tail piece and rear view mirrors were almost literally a snap. I was a little concerned about how small the race car looked as I had intended it for both Emma (5 1/2) and Ethan (4). My fears were alleviated quickly as soon as I let the kids hop in, though. I think that I am just very used to the oversized ride-on vehicles that all of their friends have. Joovy is compact and just the right size to do the job.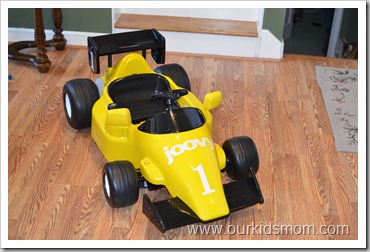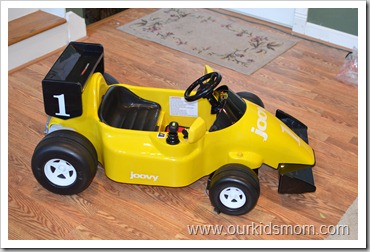 Isn't it pretty? It was inviting enough that even Mom and Dad wished we could go for a joy ride!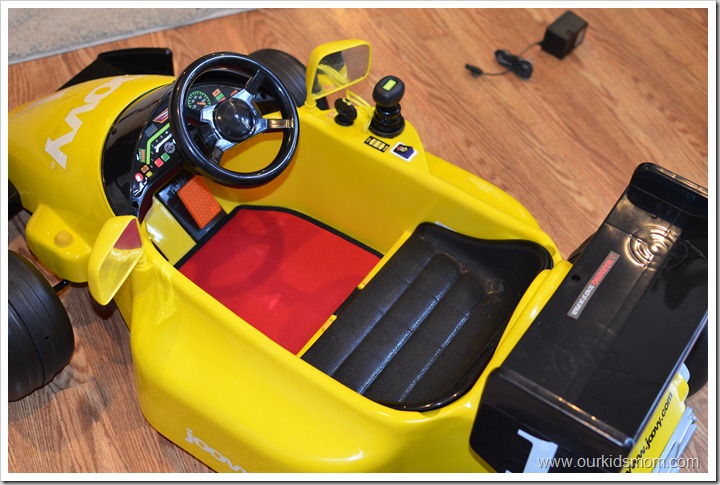 The Joovy Race Car Ride-On is a top-of-the-line battery powered vehicle for children. You will see in the video that even though it is small, it is a super-powered vehicle! Each motor is designed to power a rear wheel, where many competitors use only one motor to operate both wheels. With it's two top grade motors it has a top speed of 5 MPH.
Joovy has used every inch of space and the two 6-volt batteries batteries are tucked in neatly under the child's seat, which is hinged in back and lifts up for charging.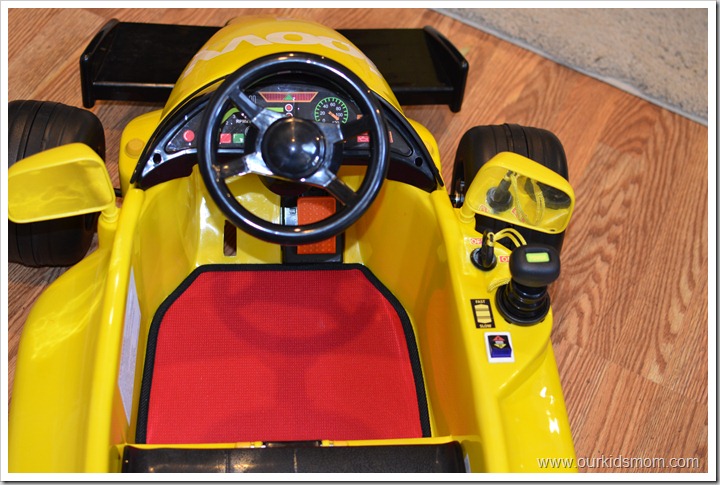 The Race Car Ride-On has an "ON/OFF" key with motor sounds and a forward and reverse button switch. The speed is controlled by what looks like the stick shift. There is a low speed of 2.5 MPH and a high speed of 5 MPH.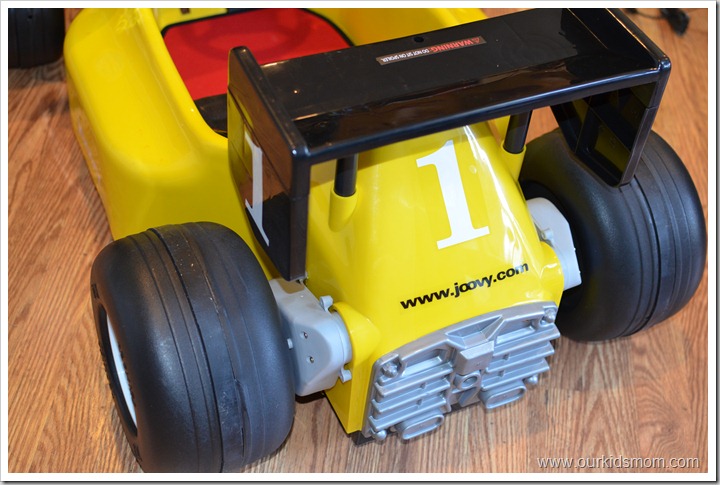 I love how Joovy pays attention to every little detail with the manifold in back and the detailed spoiler. Another feature I appreciate is the rubber strip on each of the four tires. We've had experience with other brands that didn't include that strip on any of the wheels and they would  oftentimes spin instead of gripping the road.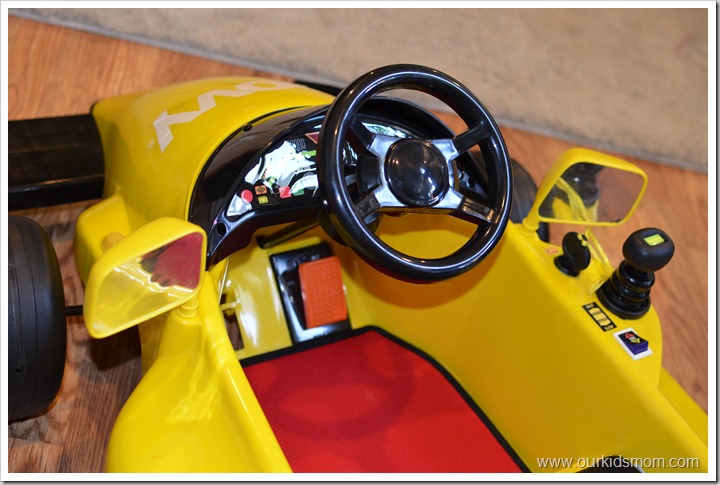 To vehicle is easy for children to operate. They simply place the key in the ignition and push down on the accelerator pedal. To slow down or stop the vehicle, the just need to release the accelerator pedal. I also love that this vehicle is installed with an automatic thermal shutdown system. When it is overloaded, the power will cut off automatically for 15 to 20 seconds before it will restart.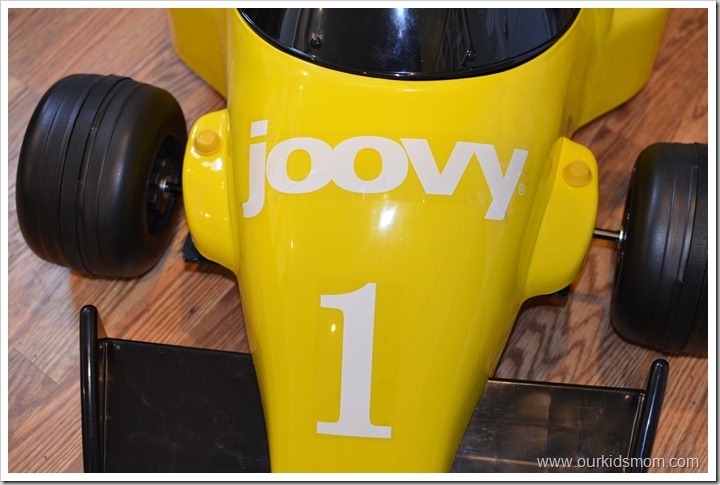 Another thing I need to thank Joovy for is that they have all of the stickers already adhered. I have assembled many toys in my lifetime and nothing is more excruciating for a child than to have to wait for Mommy to put all of the stickers on the toy before they can play with it. (Thank you Joovy!)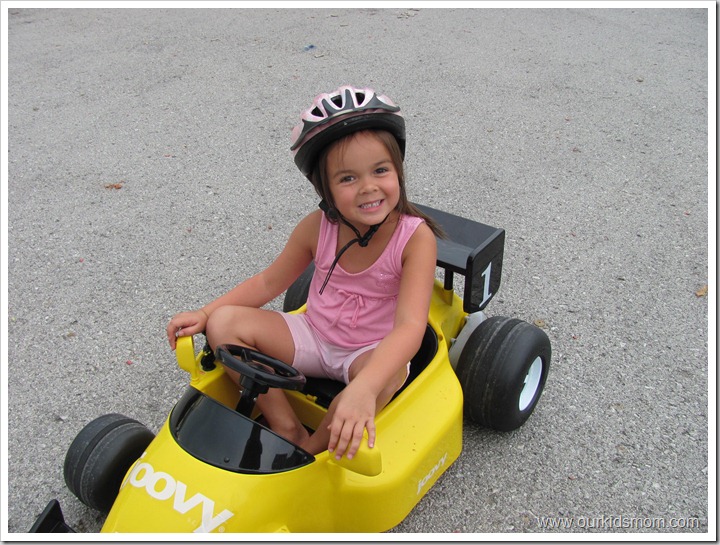 As you can see, Emma was all grins when I finally gave her the go ahead. She spent a little bit of time getting acquainted with the key, button and stick shift and then she was off.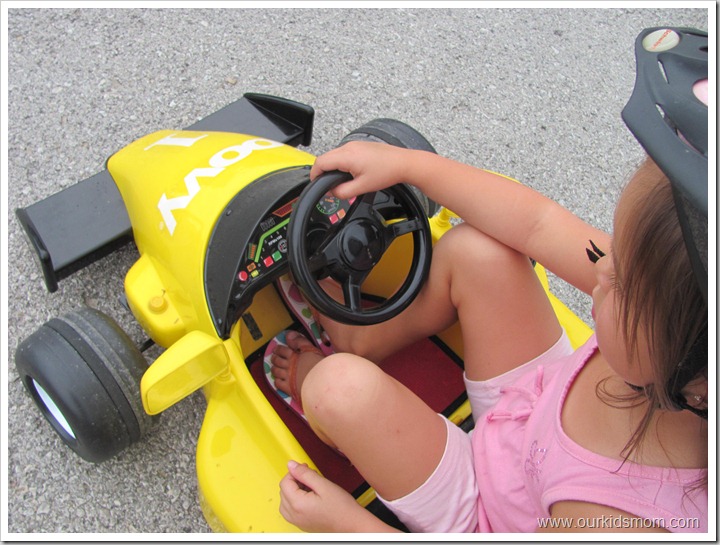 As I mentioned early, the Race Car Ride-On is compact but gets the job done. Emma did have her legs bent, but she was comfortable and could press and release the gas peddle with ease.
Joovy recommends the age range for the Race Car as 3-5 years and up to 80 pounds. Although Emma is small for her age, Emma is the taller of my two and at 5 1/2 she is only 45 pounds. I can see that she will probably be able to use this again next summer if she doesn't grow too quickly. If you happen to have a taller 5 year old, you might be tight on space.
Check out Emma demonstrating the Race Car Ride-On…
BUY IT:
You can purchase a Joovy Ride-On Race Car on their website.
WIN IT:
ONE OurKidsMom reader is going to win $100 Joovy $ to use towards anything on Joovy.com (they carry strollers, slings, playards, potty chairs, walkers, high chairs, bikes and more!)  !
This giveaway ended at 11:59 PM EST on August 31, 2012.
Disclosure of Material Connection: I received one or more of the products or services mentioned above for free in the hope that I would mention it on my blog. I only recommend products or services I use personally and believe will be good for my readers. I am disclosing this in accordance with the Federal Trade Commission's 16 CFR, Part 255: "Guides Concerning the Use of Endorsements and Testimonials in Advertising." The opinions expressed in this post are entirely my own. Your experience with the product may differ from mine. The sponsor is responsible for prize fulfillment and will be shipping the winner(s) their prize(s). For more information read my disclosure policy.