"Fun on the Farm"
Helps Cultivate the Curiosity of
Young Animal and Machine Enthusiasts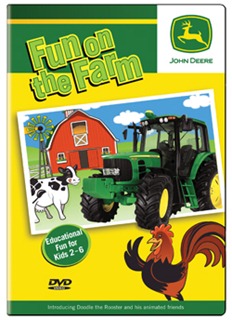 Fun on the Farm Plows Onto DVD February 8, 2011 from TM Books & Video
TM's new Fun on the Farm takes you on a fascinating trip where you learn how farmers grow their crops, what kinds of animals live on a farm, and where the food in the produce aisle comes from. This latest DVD from TM Books & Video will arrive in stores on February 8, 2011.
The 30-minute Fun on the Farm is an engaging foray into the growing cycle. It starts in the spring with planting, then the fields are cultivated, and finally, in the fall, when the leaves change to beautiful shades of red and gold, the farmers harvest their crops using a combine.
Host Doodle Rooster and his friends Bell Cow and Harvey Horse take turns introducing young viewers to the marvels of big farm machines all set to a delightful soundtrack of singer/songwriter James Coffey.
Take a trip to the "Farm in the Zoo," a big attraction at Chicago's Lincoln Park Zoo that teaches city kids about farm life. Then travel to the John Deere Harvester Works in East Moline, IL to see how John Deere makes their combines. Learn about tractors, cultivators, combines, plows, balers and more.  Take a laugh-filled trip to the Wacky Farm and lend a hand and work the land as you explore the many chores kids do on a farm.
Along with games like "Name the Letter" and "The Cloud Game" (finding clouds that look like animals), your little farming enthusiasts are sure to cultivate new seeds of knowledge and have a great time exploring the many facets of life on the farm.
Ethan is now 2 1/2 and is into all things BIG with an engine. His favorite is a trash truck, but he really enjoyed seeing tractors and other farm equipment in this video. He learned some new words and got to see "trucks" in action. I have a feeling this particular video will be re-played several times before the week is over!
Fun on the Farm is recommended for ages two to five.
BUY IT:
John Deere Fun on the Farm can be purchased for $14.95
WIN IT!
One OurKidsMom readers is going to win a copy!
This giveaway ended at 11:59PM EST on February 21, 2011.
Disclosure:
This post was written by me and was not edited by anyone. The opinions expressed in this post are entirely my own and have not been influenced in any way. I received product for the purposes of review only. The sponsor is responsible for prize fulfillment and will be shipping the winner(s) their prize(s). For more information please read my disclosure policy.