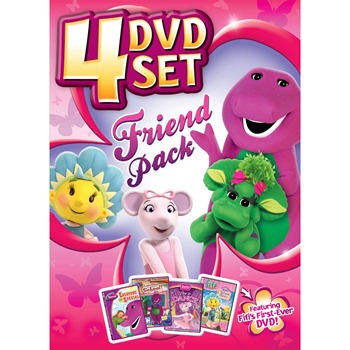 PROGRAM DESCRIPTION
Preschool favorites Angelina Ballerina™, Barney™ and Fifi and the Flowertots™ are celebrating the joys of friendship with lots of fun along the way in the Friend Pack 4 DVD Set arriving in stores February 1, 2011 from Lionsgate and HIT Entertainment. This 4-disc collection includes the debut of Chapman Entertainment's Fifi and the Flowertots full-length DVD "Fifi's Talent Show." In addition, the set features the all new CG animated series from Angelina Ballerina and the loveable, huggable Barney.  This set is sure to become every girl's favorite Easter basket gift item!
HIT Entertainment continues to create entertaining content and rich characters that become lifelong friends to children.  The programs encourage kids to explore their imaginations and the world around them and teaches early lessons to grow in both heart and mind.
DVD SYNOPSIS
It's the ultimate girls' night in!  Get your groove on as Angelina Ballerina, Barney and Fifi and the Flowertots teach you what friendship, dancing and playtime are all about while showing you how great it is to be you!  And get a front row seat to the premiere, full-length DVD, "Fifi's Talent Show", exclusive to this 4 DVD set!"
DVDs include:
Angelina Ballerina: Love to Dance: Put on your dancing shoes and get ready to take center stage with Angelina Ballerina! On Angelina's first day at Camembert Academy she discovers new forms of music and dance, like jazz, tap and hip-hop. Get ready to step, leap and groove as you discover your own love of dance in these fun-filled episodes!
Bonus Features: "Angelina Says" Game • "Get Up and Dance" Music Video • "I Will Be a Star" Karaoke Video
Barney: Let's Play School: The children enjoy a fun-filled day at "Baby Bop™'s School" where every lesson includes unexpected surprises. Join Ashley, Hannah, Robert and Jeff as they sing an alphabet song, eat macaroni and cheese and bounce into gym class. When the day is just about done, settle in with Baby Bop and her "blankey" for an afternoon nap. It's an unforgettable day of learning and laughter!
Bonus Features: "Barney – Let's Play School!" Sing-Along•
"Barney's ABC Animals" Read-Along • "It's a Great Day for Learning" Song Sampler • "Behind the Scenes" Special Features (Meet the Dinos and Cast)
Barney: Everyone is Special: Join Barney and his friends on a dino-mite day in the park as they celebrate all the things that make them special! From special talents and skills to their very own color, the kids find the fun in being unique. Young or old, short or tall, big or small – Barney knows that from head to toe, everyone is special!
Bonus Features: "The World's Greatest Toy" Interactive Game • "A Healthy Snack" • "Picture Yourself" • "Barney's Jukebox" • DVD-ROM Activities
Fifi and the Flowertots: Fifi's Talent Show: In a magical garden full of excitement and adventure, watch Fifi and her bunch of flowery friends put on their very own talent show. Fifi is so busy helping her friends that she forgets to rehearse, but don't worry – Fifi's friends come to the rescue! Join Fifi and the budding starlets as they sing, dance, laugh and learn in these stories filled with flower petal fun!
Bonus Feature: "Fiddly Flower Petals" Sing-Along
What's better than a video with some of your favorite clips? FOUR videos of your favorite clips from multiple shows! This set is a HIT in our house. Barney and Angelina Ballerina were already a couple of Emma's favorites to watch. Barney has been in our family for nearly 19 years… Angelina was picked up just recently.
Because of our lack of cable, Emma hasn't been exposed to Fifi. Well…now I need to find more Fifi! Of the four discs in the set, Fifi has been viewed the most. HIT Entertainment has some of the best shows and the mixture of these three characters was perfect.
BUY IT:
You can purchase a copy of HIT Favorites Friend Pack for $15.99 (sale price… regular $19.98)!
WIN IT!
ONE OurKidsMom reader is going to win a copy of HIT Favorites Friend Pack 4 DVD set!
This giveaway ended at 11:59PM EST on March 11, 2011.
Disclosure:
This post was written by me and was not edited by anyone. The opinions expressed in this post are entirely my own and have not been influenced in any way. I received product for review purposes only. The sponsor is responsible for prize fulfillment and will be shipping the winner(s) their prize(s). For more information please read my disclosure policy.