Since its beginning in 1983, HearthSong has been committed to helping parents follow their instincts to provide their children with age-appropriate, wholesome, quality playthings. That's because at HearthSong, we believe childhood is a vital chapter in life-a special time when children can be occupied with the joy of being children. And, equally importantly, a time when children need to experience as much creative, imaginative play as possible because kids experience so many of life's first lessons through play.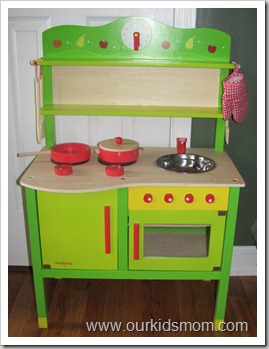 One of the first places kids begin to role-play is in the kitchen and this adorable wooden Mini Kitchen will inspire hours of creative play.
Kids can set the time (the clock's hands move), then "get cooking" with the included pots, pans and utensils.
The stove's knobs even make real clicking noises! When they're finished they can "wash" everything in the removable stainless steel sink. The kitchen's display shelf is also great for stocking favorite "foods."
It's just the right size for a couple of little chefs to play gourmet together. Side handles and a great compact size make the kitchen easy to move around.
For ages 3 and up. Adult assembly required. Sorry, gift wrap is not available.
Kitchen includes:
•  cooking pots
• 3 utensils
• oven mitt
Size
Approx: 22″L x 14″W x 33″H
MY TAKE: 
Emma has been showing an interest in helping in the kitchen and, as of lately, has been begging for a play kitchen. When HearthSong sent use this adorable mini kitchen and deluxe kitchen set (pots, pans, plates, cups etc) I knew Emma was going to be over the moon.
The kitchen arrived in pieces in a tiny box that I thought "There is no way a kitchen is in here!".  There was and it was in approximately 12 pieces with various screws and an instruction sheet (which, btw, was all illustrations).
It took me about 30 minutes, but I finally deciphered the pictures and had the kitchen up and ready for Emma when she woke up from her nap. Kaytlin and I had a great time arranging the additional kitchenware that came in the deluxe kitchen set.
After having it put all together, I stepped back and wondered if this set was just too small (short) for Emma to really enjoy. My husband and I wanted to keep this on the small side because Emma's room is a bit crowded and we are trying to avoid excess clutter. It is only 33" high and didn't even touch the door knob on the closet. For me, though… this kitchen seemed just right. Would Emma like it?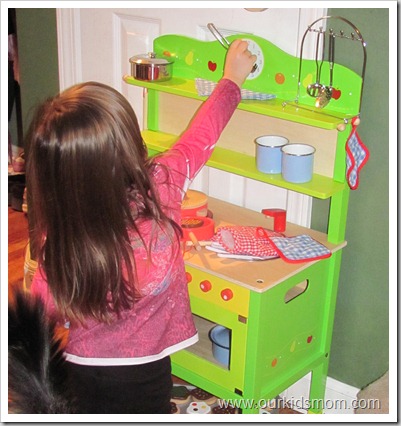 Emma was beyond excited when she saw the kitchen. She ran to her room and grabbed her food sets that she had received for previous gifts. At first, she was a little disappointed that her Melissa & Doug cookie sheet didn't fit in the oven (it was too wide), but then decided she was going to put it under the stove to bake them (if you look close you can see it in the photo above).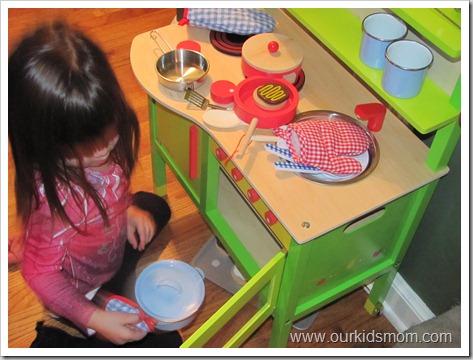 She even grabbed hot pad holders to bring her pots out of the oven because they were "hot". I received many meals that evening. All of them delicious and served with a huge heaping side of love.
I love this little kitchen. It's "footprint" is small, but it's big enough to stimulate children's creativity and imagination. I like that it is a wooden set and the details are super cute. Notice the wooden kitchen faucet, the removable metal bowl for the sink, the wooden stove and oven knobs, the coils on the stove are red because they are "hot" and on the side of the kitchen there are little knobs to hang hot pad holders and wooden spoons (those came with the kitchen set).
The deluxe kitchen set is perfect for our household… it contains a place setting for two. This set is made of stainless steel with an enamel coating that gives it the vintage look with a little extra durability. I think the miniature serving utensils and the gingham napkins & hot pad holders add that little extra touch to help your little personal chef serve you meal after meal.
This set will see many hours of playing house in it's future!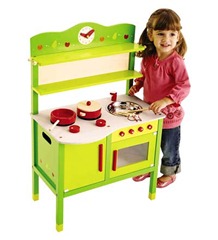 BUY IT:
You can purchase a Mini Kitchen for $49.99 (sale price… regular $79.98).
You can purchase the deluxe kitchen set for $19.99 (sale price… regular price $34.98)
WIN IT!
The generous folks at HearthSong are giving ONE OurKidsMom reader a Mini Kitchen of their own!
This giveaway ended at 11:59PM EST on March 14, 2011.
Disclosure:
This post was written by me and was not edited by anyone. The opinions expressed in this post are entirely my own and have not been influenced in any way. I received a DVD for review purposes only. The sponsor is responsible for prize fulfillment and will be shipping the winner(s) their prize(s). For more information please read my disclosure policy.